Print On Demand services are here to stay for the long term. On the Internet you can find multiple POD marketplaces where you can sell your own designs together with other sellers or you can also sell them through your own online store. Amazon Merch on Demand, also known as Merch by Amazon, is one of those marketplaces where you can promote your designs in the biggest online store on the planet.
If you plan to sell through a marketplace, your main task will be to create amazing designs that arouse the passions of potential buyers. If you want to know everything surrounding this Amazon service, stay with me in this guide around Amazon Merch on Demand. Let's get started 😃
What is Amazon Merch on Demand?
Amazon Merch on Demand is a Print On Demand (POD) platform that allows you to sell your designs printed on apparel and accessories on Amazon.
After many years as the leading retail online company, Amazon Inc has become the most important online store on the planet and, since 2015, offers a section known as Merch by Amazon, based on Print On Demand.
If you are a graphic designer, an artist, an entrepreneur or you own original artwork, you can list your designs on Amazon without the need to have products in stock. If you are able to create your own designs, you can start for free and even if you are not a graphic design professional, you can always hire designers on platforms like Fiverr or Upwork to help you with the creation of those designs.
How does Amazon Merch on Demand work?
The way Merch by Amazon works is very simple, you only need to upload your designs, choose a product type and color, and add a product description. In that moment, Amazon will create a product page that will be visible to any buyer. When someone buys your product, Amazon will take care of production, shipping and customer service at no cost to you. Finally, you will receive a commission or royalty for the design sold.
Amazon Merch on Demand works in a similar way to other platforms such as Redbubble, Zazzle or Spreadshirt, among others. As we will see below, the only thing that changes with respect to other marketplaces is the registration and admission process.
To start selling on Amazon Merch on Demand, you will need to follow these steps:
Submit an approval request to Merch by Amazon
Get Merch by Amazon approval
Decide what kind of products you want to sell
Create your designs using Amazon's templates
Upload your designs to the platform
Optimize your product pages to be more visible
Start receiving commissions for the sales you generate
Amazon Merch Pros
Below, we show you in detail some of the most outstanding benefits of this platform.
Popularity: Selling on Amazon means selling on the most popular platform in the world. Every day, hundreds of thousands of people visit this platform and can buy your designs. Associating your designs with the Amazon brand will make customers feel secure.
Prime Shipping: Amazon will quickly produce and ship all your designs via Prime.
It's free: Starting your own Print On Demand project is possible thanks to this platform. Since it's completely free to use, you just need to make sure you create great designs.
Peace of mind: Working with Amazon gives you peace of mind. It means that there are no distribution, shipping or storage problems. This company is probably the most reliable and has the best infrastructure.
Passive income: One of the biggest advantages of this business model is that you can collect royalties in the long term without having to do anything in particular. You can leave a product for sale and it will continue to generate sales.
Amazon Merch Cons
Amazon Merch also has some disadvantages that you should be aware of:
Tiered system: If you sell your designs through Amazon Merch on Demand, one of the biggest obstacles is its system of design levels or "tiers", which can slow you down to some extent. We'll talk more about design tiers later on.
Pre-acceptance: To participate in this program, you will need to submit an application and wait for Amazon to accept you, which can take up to 60 days.
High competition: To get sales you will need to create very good designs that stand out from the competition. Amazon is a platform full of sellers and this can be a downside.
Limited product catalog: Merch by Amazon only allows you to print your designs on these products: t-shirts, sweatshirts, iPhone and Samsung cases, cushions or tote bags. Other Print On Demand platforms, such as Redbubble, have a much more extensive product catalog.
Requirements and lack of control: Amazon's intellectual property and content policies are very strict. Additionally, Amazon may suspend your participation in the Amazon Merch program without notice deleting your account. Try to comply as strictly as possible with the terms and conditions to avoid exposure to this risk.
How to get Amazon Merch on Demand approval?
To get Merch by Amazon approval, you first need to go to their registration page and click on the "Sign Up" button to start the registration process. Next, you will be asked to log into your Amazon account (if you don't have one, now is the time to create it). Once you log in, the application process will begin.
Then, you will be asked to fill out three different pages with information about your business, your bank account and payment information, as well as your tax information. At this point, it is crucial that the information is filled in honestly and correctly, as Amazon will take some time to confirm that everything you have provided is correct. After you have filled in this information, you will land on the invitation form to join the program, and this is where the real application takes place.
At this last stage, you will need to answer several questions:
Type of industry: If you have a business, indicate the type of industry it belongs to. If you are an individual wishing to start your own business, choose the "Individual".
Company name: Here you will enter the name of your company or your proper legal name.
Website (optional): If you have a company website, enter the URL.
Additional information (optional): This is the most important part of the application process. This is where you will write down why you should be admitted to Amazon Merch.
The key to this whole process is to provide correct and honest information so that Amazon Merch on Demand can see that you are reliable.
If you want to increase your chances of being admitted into Amazon Merch, you can include any of these details in the last "Additional Information" section.
Website: Having a website is a good way to showcase your design expertise. If you don't already have a website, I suggest you create one before you start the application process.
Proven experience: If you already have experience in the Print On Demand business, you can leave links to your online stores.
Other marketplaces: Showing Amazon that you already sell on other Print On Demand platforms will validate your selling experience and prove you have the necessary skills to create high-quality designs that can be sold.
Once you have submitted your request, Amazon will provide you with an expected timeframe for review and notification of your request. On average, Amazon indicates that it takes about 60 days to respond to your request. You will receive a notification at the email address you provided during the application process.
What are the Amazon Print On Demand design levels or tiers?
Another feature of Amazon's Print On Demand services is the range of designs, also known as "tiers". Once your account is approved, and you can start using Amazon Print On Demand, you can publish up to 10 designs and create a maximum of 640 products in the marketplace.
To go beyond level one, you must sell at least 10 of the products you have created to move to level two. Once you have managed to sell that amount, the Amazon Merch on Demand team will manually level you up to give you access to the next level. This is Amazon's way of making sure you are a good seller.
Once you increase your level, you are allowed to upload more designs per day and eventually increase the total number of designs available to sale on Amazon.
These are the levels you will find on Amazon Merch on Demand:
Level 1 = 10 designs
Level 2 = 25 designs
Level 3 = 100 designs
Level 4 = 500 designs
Level 5 = 1,000 designs
Level 6 = 2,000 designs
Level 7 = 4,000 designs
Level 8 = 8,000 designs
That said, you are probably wondering why Amazon manages accounts by levels, and this has several explanations. On the one hand, it allows them to be selective with those successful sellers who really make successful, high-impact designs. On the other hand, they can better control production volume, and therefore be more predictive when it comes to inventory.
How to get started with Amazon Merch on Demand
Once you receive the official confirmation of the activation of your Amazon Merch account, you must access your account from the official page by clicking on "Sign in" in the upper right corner. Once you log in, you will be redirected to a page similar to this one.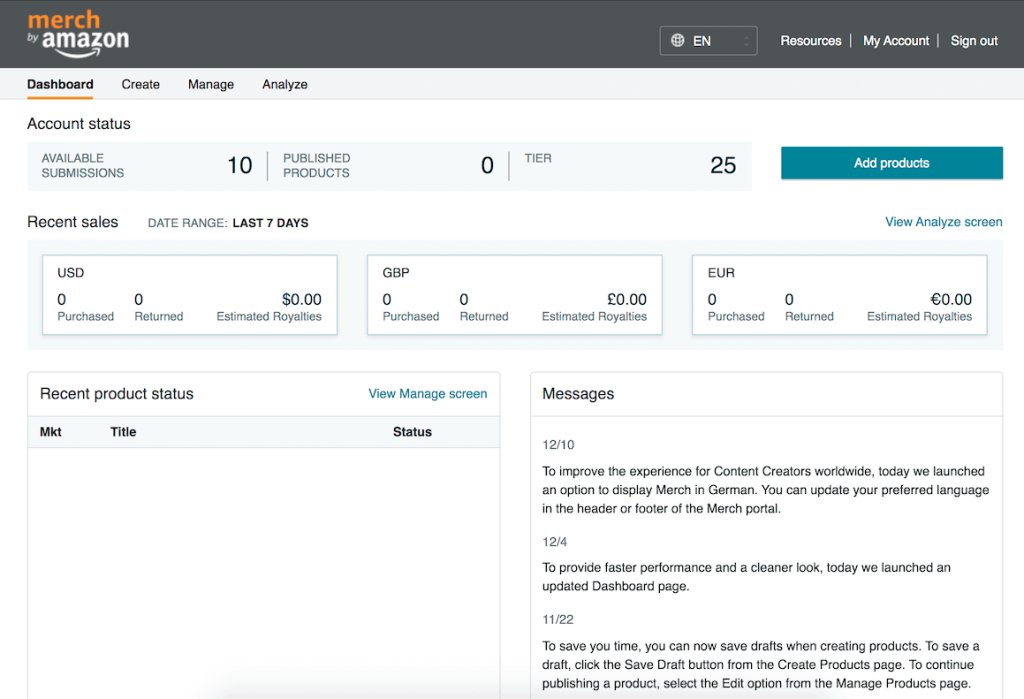 Amazon Merch has a very simple user interface and navigation menu, so it will be easy for you to find the different sections. The default one in the preview image is an overview of your dashboard, where you can track your sales.
In order for Amazon to accept your designs, you will have to stick to specific measurements provided by Amazon. Ideally, you should use the templates that you can download from the "Resources" section of Amazon Merch.
Amazon Print On Demand products you can sell
If your goal when you are just starting on a marketplace is to sell a huge range of products, let me tell you that this is not your ideal platform. Merch by Amazon focuses mainly on textile items, something that simplifies and makes it easier to offer these types of services without the need to invest in creating a complex infrastructure.
The Amazon Print On Demand products that you will be able to sell are short and long-sleeved t-shirts, hooded and non-hooded sweatshirts and some accessories such as cell phone cases, cushions and tote bags.
In the "Create" section of the menu that appears in the control panel, you will be shown a list of products available for sale. Click on the "Select products" button in the upper right corner to select the products you want to customize and also the marketplace you want to sell on.
The Amazon Merch program operates in the following markets: United States, United Kingdom, Germany, France, Italy, Spain and Japan. Products may not be available in certain countries.
Pricing and Profit Margin as an Amazon Print On Demand seller
At this point, you are probably wondering: How to make money with Amazon Merch? What commissions or royalties will Amazon pay me?
The answer is that it depends on the selling prices you assign to your products. Commissions are based on your product's selling price minus applicable taxes and Amazon's costs (materials, production, logistics management, customer service and returns). Of course, Amazon will set a minimum price that you can never drop below.
Determining the selling price is a key aspect that you must carefully consider since it will condition the sales of your designs. Shoppers who land on your product page will see your design and should consider buying. Therefore, your first goal should be to offer the best possible design, which is eye-catching and attracts attention. Also your second objective will be to offer an attractive price to the potential buyer.
To give you an idea of how much you can earn with a product sale, let's see a concrete example: suppose you sell a t-shirt on Amazon US. What are the commissions based on the selling price you have assigned?
Example of royalties for each sale of a T-shirt on Amazon US based on different selling prices you assign:
Tip: The U.S. market is the largest, and consumers are often willing to pay more. Selling your products in other markets may bring you lower profits, but there is less competition. We recommend testing on Amazon's different marketplaces.
How to create and sell your designs on Amazon Merch On Demand
Are you ready to sell on Amazon Merch on Demand? If you want to know how to sell your designs and take advantage of this platform, here are some tips.
1. Choose a niche and be the best
Make sure you choose a specific niche that is emotional where customers buy for their passions. It is important that you research the designs that other competitors have uploaded and try to improve on their proposals.
If you don't have any idea about what you want to sell, look at what other designers and vendors are creating. The goal is not to copy, but to inspire you to create new designs within a specific niche. If you don't connect with the emotional side of people, it's unlikely you're going to generate sales.
Here are just a few examples of niches that generate emotions in buyers:
Dogs: The dog niche is one of the most popular, as they are common pets and excellent human friends.
Fishing: The fishing niche is well known and is linked to a hobby loved by many people.
Memes: Making people smile through memes is another niche that works well in print-on-demand.
Vegans: They are a great community, and Print On Demand designs connect very well with this profile of people.
⮕ Read our article on Print On Demand Niches
2. Make your own designs
Once you choose a niche, you need to consider whether you will be designing on your own or delegating the task to someone else.
If you are just starting, it may be a good idea to make your own designs, but if you want to sell a large volume of designs on different marketplaces,I recommend that you delegate that task to a designer.
The favorite tools I rely on to make original designs are Envato Elements, Canva and Vecteezy. Remember to modify the artwork and make your own unique and original designs. Otherwise, Merch by Amazon can close your account overnight.
It is important that you comply with all their guidelines. Make sure your work is not a copy, derivation or imitation of pre-existing designs. Also, designs must respect intellectual property rights, including trademarks, copyrights and patents.
3. Outsource design creation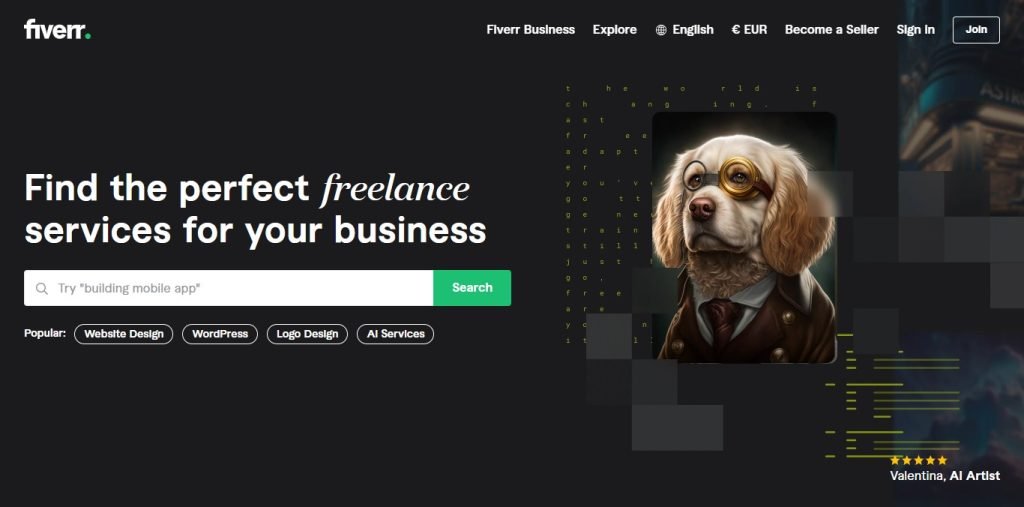 If you don't have enough time or knowledge in graphic design, you can always outsource graphic designers. You can find graphic designers on platforms like Upwork or Fiverr to do your designs at low cost.
From my experience with these platforms, I have been able to scale the volume of designs for sale and that has a direct impact on profits. To hire a designer you simply have to register, look for a good designer and hire their services. My recommendation when choosing a designer is that you compare similar services from different designers and look at the ones that have more and better ratings.
Amazon Merch on Demand Alternatives
At this point, I guess you already have an idea about how Amazon Merch on Demand works 😉 If you plan on selling your designs, it is interesting that you consider selling (in a complementary way) in other marketplaces similar to Amazon Merch, and opening your own online store to have more control over customers and profit margins.
1. Sell on other marketplaces
Redbubble is one of the main Print On Demand marketplaces, and one of the most varied product-wise. Established in 2006, currently offers more than 70 items available on which your designs can be printed. It allows you to choose your profit margin, and its customer service is truly excellent.
⮕ Read our guide on how to sell on Redbubble
Spreadshirt is another well-known Print On Demand platform established in 2002 in Leipzig (Germany). A highly experienced company that offers you the possibility to sell your designs across their entire product catalog.
⮕ Read our guide about how to sell on Spreadshirt

Zazzle also deserves a spot on this list of Merch by Amazon alternatives. It is a popular online marketplace that empowers artists, designers, and entrepreneurs to sell their unique creations on a wide range of customizable products.
⮕ Read our guide about how to sell on Zazzle
2. Sell through your own online store
The most recommended option is to sell your designs through your own online store. Basically, you avoid having your designs displayed next to your competitors (as it happens in marketplaces) and you have much more control over your customers.
To do this, on the one hand you must choose an e-commerce platform and on the other hand a partner among the best Print On Demand companies.
And what are the reasons for creating your online store?
Decrease dependence: Being present on platforms that you don't manage directly can give you lots of headaches, especially if they close your account at some point (I hope it's not your case).
Higher profit margin: Selling in your own store will allow you to set the profit margins you want, and therefore, have a higher profit per item sold.
Greater control over customers: Having an online store will allow you to have your own customer database, make specific marketing campaigns and, ultimately, make a more sustained business over time.
As we have already mentioned, in order to market your products, you will first need to choose an eCommerce platform to create an online store. From our experience, Shopify is the best option in general as it is the most complete ecommerce software on the market. Also other options like Wix eCommerce or PrestaShop are good choices for eCommerce.
When it comes to Print On Demand providers, we have worked with all kinds of companies but our favorites are Printful and Printify. Each company may have a better fit depending on the characteristics of your project, so we recommend that you read the reviews (links below).
Summary and conclusions
Merch by Amazon is a platform that we recommend because it allows you to open up a world of possibilities in terms of print on demand. While at the beginning you will only be able to sell 10 designs, over time if sales progress, you will be able to sell more volume. It is important that you focus on creating incredible designs and that they awaken people's passions.
Among the most outstanding advantages is that you can associate your designs with a popular brand like Amazon, a platform with millions of potential buyers. Also, you can start for free and it is a relatively passive source of income.
On the other hand, the biggest disadvantages of Amazon Merch is that it offers you a very small range of products, especially focused on textile items. Also, you have no control over the customers and you have to move up through the tiers.
Ideally, you should combine this platform with others like Redbubble, Zazzle or Spreadshirt and also consider selling your designs through your online store to have more control over all aspects.
If you liked the article, feel free to leave your comments 😉
Want to Learn More?
Frequently Asked Questions
Is Amazon Merch on Demand profitable?
In short, yes, Merch by Amazon is one of the most interesting programs offered by Amazon. Selling within this marketplace without the need to have products in stock and simply getting commissions or royalties for the sales generated is something you should value.
How does the Amazon Merch on Demand registration process work?
You must submit an application through Amazon Merch and wait to be accepted into the program. After receiving your application, Amazon will review it and send you a decision by email within several weeks (sometimes it can take up to 8 weeks).
Is Amazon Merch on Demand free?
Yes, indeed. You don't have to assume any initial costs to be able to sell through Amazon Print On Demand program. You only have to upload your original designs to the platform and depending on the sales generated you will receive commissions.
Can the designs be used on platforms similar to Amazon Merch on Demand?
Yes, of course. Keep in mind that intellectual property rights will always belong to you, the creator. Therefore, you can market that design on as many platforms as you wish.