If you're looking for the best landing page WordPress themes that not only capture attention, but also convert visitors into loyal customers, you're in the right place.
In this article, I've made a handpicked selection of the best WordPress themes optimized to maximize conversion rates. These templates are more than just eye-catching designs; they are designed with the goal of generating leads and sales.
Before making a decision, it's critical that you also consider factors such as loading speed, landing page design, and configuration versatility, as your choice can make all the difference in the results of your marketing campaigns.
So, without further ado, I invite you to dive into this complete list 🙂
🏆 Our Top Picks
You may be in a hurry and want a quick overview.
In our extensive research, OptimizePress is from our point of view the best choice for building high converting landing pages in WordPress. Unlike other more generalist builders and themes, this solution has a high focus on conversion and sales funnels. Its real-time editor and wide range of customizable elements make it one of the best options for marketers, entrepreneurs and businesses looking for maximum ROI.
That said, I also recommend other solid alternatives such as Divi (probably the most flexible tool), SeedProd (perfect for quick creation of landing pages) and Elementor (for creative people who want to customize as much as possible).
Each of these options offer different solutions for landing page creation, so I suggest you evaluate them as well. If you want to check out some of the best WordPress themes for landing pages, keep reading!
What are the Best Landing Page WordPress Themes?
In this article I'm going to try to help you choose the best landing page template for WordPress.
To compile this list, I used these criteria to choose a landing page template:
High conversion oriented landing page themes
Recognized providers specialized in landing pages
Templates with a great user experience
Modern and fast loading themes
Templates that we have already used
Choosing the right theme will help you increase your conversion rates, so keep an eye on the following list.
OptimizePress is definitely one of the best options if you are looking for a webinar landing page for WordPress. If you are planning to create an event and want users to register, this is a perfect choice.
These themes are designed to present essential information about the event in a structured and compelling way to drive registrations. There is no doubt that these themes use a perfect color scheme, outstanding typography and design to deliver a compelling and cohesive user experience. My recommendation is to add OptimizePress to your favorites list, as you will not be disappointed.
Some of the elements we liked:
50+ page builder elements available
You can attach relevant, quality visual material (videos and images)
You can show replays of your online events
These themes use large, eye-catching call-to-action buttons
Address common questions and objections attendees may have with a FAQ section
Native integrations with Zoom, Demio, WebinarJam or Everwebinar
Integrates with the best email marketing providers
Divi, by Elegant Themes, stands out as one of the most versatile and easy-to-use WordPress themes available today. With its drag-and-drop functionality, you can create stunning, professional-looking landing pages without writing a single line of code.
In addition, Divi has a library and marketplace where you can find templates of all kinds, including landing page templates. I recommend you take a look at "Landing Plus" or "DiviWP". Overall, I can't say anything negative about Divi, without a doubt one of my favorite options for creating landing pages.
Some of the elements we liked:
You can adjust fonts, colors, and elements to suit your brand
It has an easy drag-and-drop builder, so no coding skills are required
Speed up your design process with pre-designed layouts
Optimize conversions by testing different design elements (Divi Leads)
Create impressive motion effects that interact with your visitors
Seamlessly integrates with a variety of tools (email marketing, social sharing and popular WordPress plugins.
OptimizePress also offers great lead magnet WordPress templates to invite the user to download a free guide or e-book. This is a must if you want to create a digital marketing funnel, specifically designed to capture visitor information.
These templates are used to create squeeze-pages that display an embedded or pop-up form to capture leads by offering them a free downloadable lead magnet. Basically, the visitor submits their email address in exchange for an e-book, a free report or a valuable mini-guide.
Some of the elements we liked:
You can edit your landing page by Drag & Drop
Easily convert your visitors into email subscribers
Change colors to match your brand identity
50+ available form integrations
The designs are simple, but really effective
Connect with the most popular email marketing providers
SeedProd is a popular WordPress plugin ideal for creating landing pages easily and efficiently. It offers an easy-to-use drag & drop builder and features a library of pre-designed templates.
In general, SeedProd landing page designs are elegant, flexible and highly customizable. Moreover, among the templates you can create a variety of landing pages including sales, optin, coming soon, maintenance mode, webinar, login and thank you pages.
Some of the elements we liked:
150+ landing page WordPress themes
Provides an easy-to-use page builder
Customize any page in real time on the front-end
One of the fastest ways to create landing pages in WordPress
Professionally designed pre-built sections
Integrates with best-of-breed email marketing providers
PageBolt is an easy-to-use WordPress theme specialized in landing pages that offers a wide range of pre-designed templates compatible with Elementor. This sample template you can see above is ideal for promoting digital products and, with just a few clicks, you can create an impressive and professional landing page. I invite you to take a look at the rest of the high converting templates.
I invite you to take a look at the other templates that includes PageBolt as they are very varied and you can create any type of landing page. Great for web designers, freelancers and entrepreneurs who want to create a landing page in WordPress.
Some of the elements we liked:
Easily convert your visitors into email subscribers
Change colors to match your brand identity
Easily insert an opt-in form
Over 200 design elements that you can add
One click demo import
Fully compatible with Elementor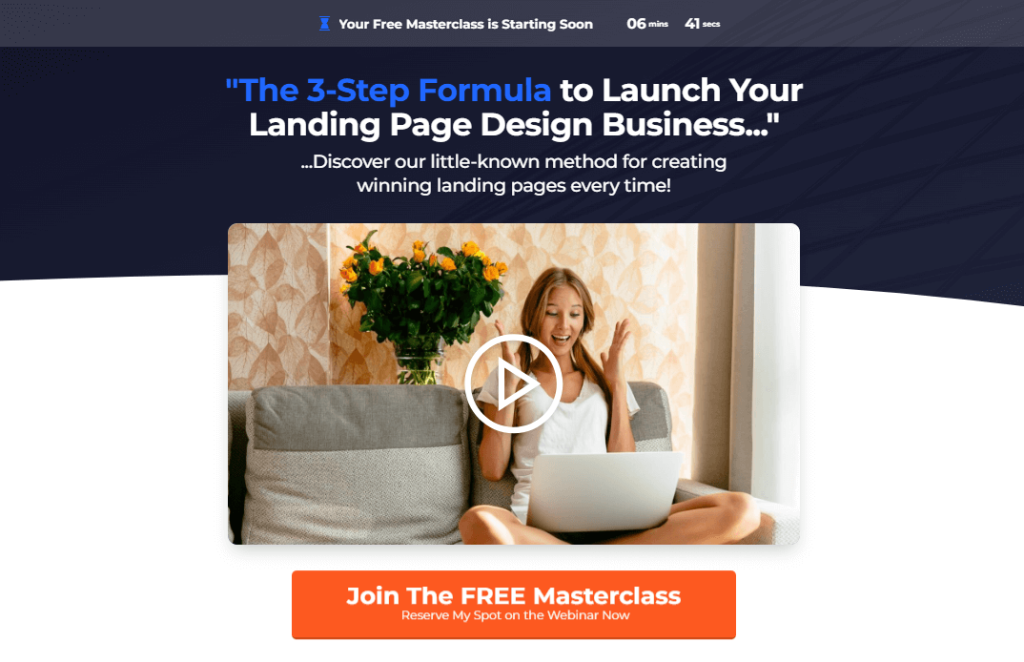 If you are planning to implement a masterclass landing page WordPress theme, OptimizePress is definitely fantastic. They certainly have a great collection of high converting templates.
Their overall design makes it likely that visitors will be interested in the content, and their approach leverages the psychology of reciprocity: when people receive something of value for free, they often feel an innate desire to give it back, either through loyalty, further engagement, or a purchase. That's why they have created this landing page with very well-structured elements that allow you to achieve high conversion rates.
Some of the elements we liked:
Conversion focused design
Drag & drop page editing
50+ page builder elements available
You can show replays of your online events
Native integrations with Zoom, Demio, WebinarJam or Everwebinar
You can implement a checkout to sell your digital products online
Convertio offers a set of pre-designed landing page themes (compatible with Elementor) for professionals who prioritize usability and aesthetics in their web projects.
In this eBook landing page example, you can see a clean and modern design that provides an exceptional user experience. The template offers a one-click demo import tool that allows you to set up your website effortlessly.
Some of the elements we liked:
Extensive collection of conversion-oriented templates
Easy to change fonts and colors globally
More than 200 design elements that you can use
Eye catching built-in elements animations
The theme is compatible with Elementor and WooCommerce
Smartic is a really creative and modern theme if you are looking for a product landing page template and want to find really eye-catching designs.
This product landing page theme is specifically designed to showcase and promote a single product or a set of closely related products. Its structure displays all the information needed to convert visitors into customers and can send users to the checkout to purchase products.
Some of the elements we liked:
Over 42 product page demos available
Dedicated sections to highlight key product features and benefits
They offer different structures for creating an effective landing page
You can sell products in a way that is more optimized to convert
Set it up quickly with the one-click demo import plugin
The theme is compatible with Elementor and WooCommerce
Landio is a multipurpose template compatible with Elementor and perfect for creating landing pages for software, creative agencies or web apps.
This template is useful if you plan to create a landing page to promote and provide information about a certain software, app or service. With this template you can convert visitors into users or subscribers, either by offering them a free trial or simply offering them something of value in exchange for collecting their data for future marketing efforts.
Some of the elements we liked:
Complete set of inner pages included
Use Elementor with more than 190 custom elements
Includes great pop-up designs to generate conversions
One-click demo installation
Allows you to choose from any Google font or upload your own fonts
Martex is an awesome landing page WordPress theme for those looking for software, SaaS & startup designs. Aesthetically, it is very eye-catching and offers a very well-defined structure from the point of view of maximizing conversions. It is also fully compatible with Elementor.
Some of the elements we liked:
27 beautiful handcrafted designs for you to choose from
One click demo import
Call to action buttons are strategically located
Allows you to modify colors, typography, layout and content sections
You can incorporate captivating videos for visitors
Elementor page builder supported
Summary table of the Best Landing Page WordPress Themes
Below is a table-summary of some of the best WordPress landing page templates out there:
| Landing Page Theme | Pricing | User rating |
| --- | --- | --- |
| MarketerPro (OptimizePress) | From $129/year | 4.5 / 5 (Capterra) |
| Divi | From $89/year | 4.9 / 5 (Trustpilot) |
| SaaSlander (OptimizePress) | From $129/year | 4.5 / 5 (Capterra) |
| SeedProd | From $31.60/year | 4.9 / 5 (WordPress) |
| PageBolt | $59 | 4.8 / 5 (Themeforest) |
| Masterclass (OptimizePress) | From $129/year | 4.5 / 5 (Capterra) |
| Convertio | $59 | 5 / 5 (Themeforest) |
| Smartic | $59 | 4.8 / 5 (Themeforest) |
| Landio | $59 | 5 / 5 (Themeforest) |
| Martex | $39 | 5 / 5 (Themeforest) |
How to choose among the best Landing Page WordPress templates?
Simplicity is key. Don't think that choosing a landing page with thousands of flashy elements will be better for your interests. It's just the opposite, as landing pages are designed to make the user convert. They should only communicate a single idea, just as CTA buttons should also contain a single, direct and clear message.
Don't make a landing page like a web page. This is a mistake. These pages should capture the attention of your audience and guide them through the conversion funnel. After seeing this list of what we think are the best landing page WordPress themes available, what's the best way to know which template is perfect for you?
Below, we delve into the key features you should consider when choosing a theme for your landing page:
1. Use a clean design
If your goal is to get leads or sales, you should keep in mind that a landing page is your digital storefront. Its presentation can significantly influence visitors' perception and actions.
The importance of using a clean design template is crucial to eliminate unnecessary distractions and focus the user's attention on the main content and call to action. With fewer elements competing for attention, visitors are more likely to focus and perform the desired action.
Take advantage of every second the user spends on your site to increase the conversion rate. That's why a clean, optimized design ensures that key information and CTAs are immediately accessible, improving the user experience and, therefore, conversions.
2. Choose a popular template with regular updates
One of the most common problems users have to deal with is the lack of updates that often exists with WordPress landing page themes. Rest assured that the templates we have listed above are constantly being updated 😉
Regular updates of these themes are vital necessities for you. For one thing, older themes that are not updated may have vulnerabilities that hackers can exploit. Regular updates ensure that security holes are fixed quickly, protecting your landing page.
On the other hand, having updates implies that there is a team of developers actively working behind it. Unfortunately, there are many templates that are abandoned in the market because they are either not profitable for their creators or they don't dedicate the necessary resources to support or updates. Choose a popular theme that is a top seller to ensure that the developers can fix small bugs or errors that may arise with WordPress updates.
3. Select a theme with a strong conversion orientation
If you've visited other WordPress template listings, you've probably noticed that there are a lot of captivating designs out there. And many times that's the main problem when it comes to building an effective landing page.
Many templates, despite being visually appealing, lack one fundamental aspect: a strong conversion orientation. Many templates available on the market are designed with a generalist approach. That's not good for your interests. While they can often be versatile, they are not focused on converting visitors.
I definitely recommend you choose a landing page template with a strong conversion orientation that is meticulously designed just to direct the user towards a specific action.
4. Use highly customizable landing page themes
The last point I want to emphasize is to use highly customizable themes. Yes, this is important so you can make variations in the structure of your landing page and test which format works best.
The advantage of using a customizable theme is that you are not limited to a set design or layout. Instead, you have the freedom to tweak, modify and customize various elements, ensuring that your landing page can be more effective with a specific design.
For your peace of mind, the templates mentioned in this post use very flexible builders that will give you that possibility.
Final conclusions
To conclude, I recommend that you choose a premium template focused on conversions, as it can make the difference between a landing page that simply exists and one that consistently achieves your marketing goals.
To make this selection we have analyzed dozens of WordPress landing page templates and without a doubt OptimizePress stands out as a gem that makes the difference. Its templates are highly conversion-oriented by combining aesthetic appeal with functionality.
Finally, we value feedback so if you found this article useful, feel free to leave us your comments below!
Frequently Asked Questions
Do all landing page WordPress templates work with the most popular page builders?
Not necessarily. Although many modern templates are designed to be compatible with popular page builders (such as Elementor), it is essential to check the theme documentation or ask the developer to ensure compatibility.
What are the primary elements to look for in a conversion-oriented template?
A conversion-oriented template should have a unique and clear call to action, intuitive navigation, clean design, optimized loading speeds and ease of implementing lead capture forms.
Why opt for a premium WordPress theme instead of a free one?
While free templates may offer basic features, premium templates often offer advanced customization options, better support, regular updates, and often have a more refined and conversion-optimized design.