If you've come to this article, you may be looking for information about click-through landing pages, inspiring examples and best practices for creating them effectively. Do not worry because we are going to analyze this type of pages in depth.
Before we dive into the ins and outs of click-through landing pages, it's essential to understand their function and how they can be optimized to drive online engagement and conversions. Let's get started!
What is a Click-Through Landing Page?
Click-through landing pages are a specific type of landing page with the primary goal of persuading visitors to click on a call-to-action (CTA) button or link and then redirecting them to another page where the final conversion will occur.
One of the most common characteristics of a click-through landing page is its simplicity and the focus on converting users into leads or customers. These pages typically have minimal navigation, few (or no) external links and a design that guides the visitor's eye to the CTA.
These pages have the mission to warm up users and bring them closer to conversion by promising to solve their problems, raising their level of expectations and using persuasive language. In essence, a click-through landing page acts as a bridge, nudging visitors along the path from initial interest to final conversion.
🏆 Best tools for creating Click-Through Landing Pages:
Click-through landing pages vs Lead generation landing pages
If you are familiar with the different types of landing pages, you will probably have doubts when it comes to differentiating between lead generation pages and click-through pages. This is something common.
Click-through landing pages are pages typically used in e-commerce to inform and persuade the visitor about a particular product, service or offer. These pages usually display a strong call to action in order to get users to click and redirect them to a page where they are often invited to complete a purchase or registration. They are also occasionally used to convince users to leave their data in a next step.
Lead generation landing pages, on the other hand, are pages focused on collecting user information, such as names and email addresses. The main goal is to generate leads for future marketing efforts. These pages usually have a form and offer something in exchange for the user's information,
Anatomy of a Click-Through Landing Page
When we talk about the structure of this type of pages, it is important to be clear that the objective of these pages is to warm up the users before they take action.
These are transition pages, where the objective is to convince them of the advantages of our products and services. Often, when we want to lead people directly to a purchase or registration, they are often wary because they are not "ready" to make a decision.
Once we have a clear idea of their function, we must plan the design. What is the ideal structure for these pages? What elements should they contain?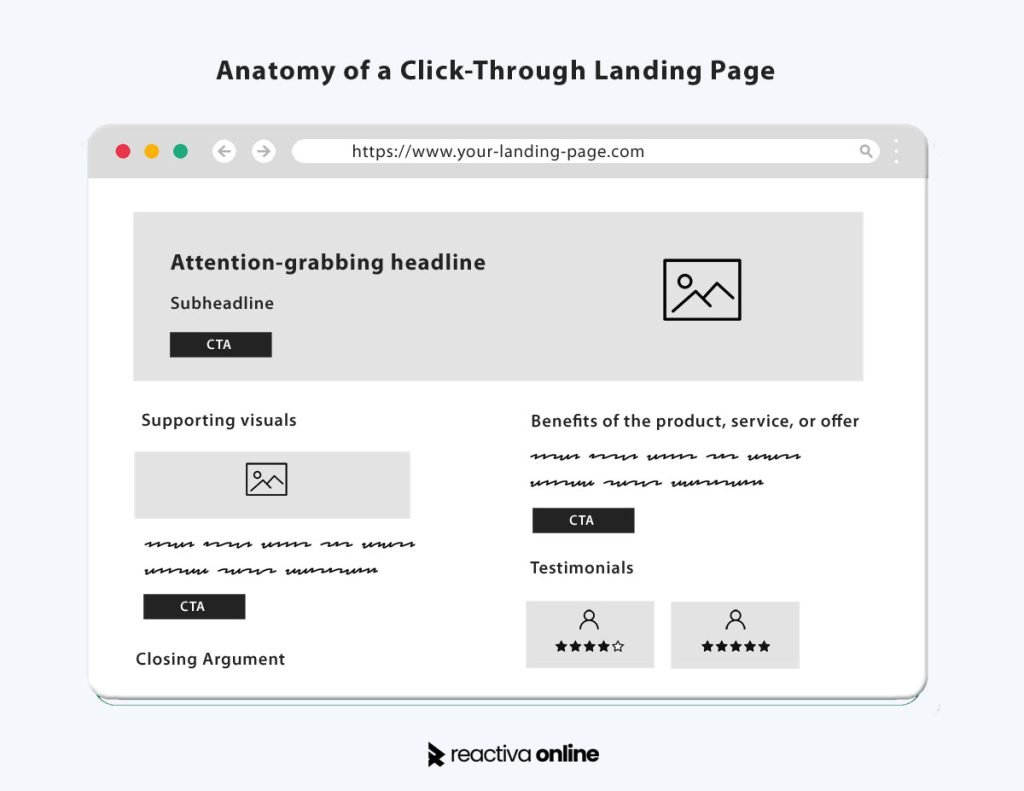 To convince the user to follow your sales funnel process, you have to focus on providing enough information and incentives about the product, service or offer to motivate the visitor to click on the CTA. This is the typical anatomy of a click-through landing page:
List of common elements in click-through landing pages:
Hero image: It is common to find this type of images on these landing pages. Hero images are large in size covering the width of the screen and visually striking. They are placed at the top of sites.
Heading: The headline must be powerful so that it can immediately communicate the proposal. It is usually placed above the hero image.
Subheading: You can use a subtitle to develop the message and reinforce the value proposition. Use it to add details or clarify the benefits of the offer.
Benefits and features: It is common to find texts below the hero images that develop the main message. It is important that you clearly describe the benefits and features of the products, services or offers.
Supporting visuals: You can attach other images or videos to better explain the offer, product or service. This allows you to develop the message in greater depth.
CTA (Call to Action): CTAs are perhaps the most important part of this type of landing page. The goal is to get users to click and move them to the next level of the sales funnel. It is common to find several calls to action on these pages and it is advisable to use compelling copy to encourage the visitor to click.
Testimonials: They are usually included to generate trust and credibility around the products or services offered.
Closing argument: You can include a closing message near the bottom of the page, to reinforce the value proposition and reasons to click on the CTA.
Note: Among the items mentioned in the list, not all components need to appear on these type of landing pages.
Before ending this section, I would like to remind you that the goal of a click-through landing page is not to close the sale, but to get the visitor to move on to the next stage of the conversion process. Take an approach in that direction.
How to create a Click-Through Landing Page
When creating this type of pages you should consider three main possibilities. You can use a landing page builder, a CMS like WordPress or hire a freelancer or a digital marketing agency.
Depending on your time availability, your digital skills and your budget you will have to choose a way to create it.
Using a Landing Page Builder
The first scenario is that you use one of the many popular landing page builders, such as Leadpages, Landingi or Unbounce. These tools are designed to make the process simple, even for people with little or no digital experience.
Creating a landing page with these softwares is very easy and the process is fast. Almost all tools offer a wide range of preconfigured templates where you just have to choose and modify the one that best suits the purpose of your landing page.
Some of these platforms also offer advanced features, such as A/B testing and analytics, which can help you optimize your splash page for better performance.
Using a CMS like WordPress
The second scenario you can consider is to use a content management system such as WordPress. For this it is advisable to have some digital knowledge to be able to use these tools correctly.
Thanks to the flexibility of these CMS you can install a plugin that allows you to create a landing page on your website. Tools such as Elementor, Beaver Builder or OptimizePress (our favorite) can help you create a landing page at the click of a button.
Start by installing and activating the plugin that suits you best. Once this is done, you can create a new page specifically for your landing page. Depending on the plugin you use, you will have a variety of templates to choose from, or you can start from scratch.
As with landing page builders, you can customize your page with your own content and images. Once you have designed and tested your page, you can publish it directly from the WordPress dashboard.
Hiring a freelancer or agency
We come to the last scenario. If you don't have the time or technical knowledge to create a landing page, you can hire a freelancer or a marketing agency.
Platforms like Upwork or Fiverr are full of experienced web designers and developers. I recommend you to research the services they offer, the level of quality of their work and check out some testimonials explaining the experience of clients. My experience using these platforms is really good.
Finally, you have the possibility to hire a marketing agency specialized in digital marketing. This is probably the most expensive option, but probably the one that offers the most professional result.
10 Click-Through Landing Page Examples
In this section we have compiled some click-through landing page examples from real brands.
We have focused on companies from different industries and tried to choose landing pages that are effective due to unique aspects in design, content and strategy.
I hope these examples will inspire you and allow you to analyze the elements that have made them effective. Let's dive in and take a closer look.
1. Inspired Go
Inspired Go is a health food company that offers a selection of packaged meals. To warm up users and bring them closer to the brand, they have created this landing page that displays an offer.
What do we like the most?
The structure of the page is really good using most of the key elements
Call-to-action buttons use different and clear messages
The main image and supporting images are of high quality
Customer testimonials on the landing page add a lot of credibility to visitors
What can be improved?
Some sections include quite detailed texts, which may be too long for some users
2. Pipedrive
Pipedrive is a popular CRM solution that helps teams stay organized and focused. In this click-through landing page, the company explains its product in depth and invites the user to start a free trial.
What do we like the most?
CTAs appear on many places to facilitate user click-through
The color and images used fit very well with the brand identity
Navigation menus have been eliminated, which helps the user to stay on the page
What can be improved?
A sticky bar appears while the user scrolls, which may be annoying for some people
The logo is linked to the home page, so users may leave the landing page
The TrustRadius badges shown are from the year 2021 which may lead the user to perceive it as obsolete software
3. BoxyCharm
BoxyCharm is a popular monthly subscription service for high-end cosmetic and beauty products. It is very common to find this type of landing pages in this e-commerce model, where the objective is to warm up the user before they subscribe.
What do we like the most?
Large CTA buttons are used to encourage users to click on them
The copy could be more detailed, but in general terms it is well presented
Call-to-action button indicates "Join now" to encourage the visitor to click
What can be improved?
There are no customer testimonials, something that would provide consistency
Some text would be missing and a final argument for the bottom of the page would be nice
4. College Ave
College Ave is a consumer finance company specializing in education loans for students and their families. To get new customers, the company has created this click-through landing page that is very visual and, overall, explains the proposition really well.
What do we like the most?
The structure used in this landing page is very good
The main title, subtitle and bullet points explain well what is offered
The color and size of the CTA buttons stand out perfectly
What can be improved?
The logo has a link to the home page so users can leave the page
Links to social networks that appear in the footer should be removed
Only three reviews are shown and a button appears that directs people to another section. It would be interesting to show more reviews and hide that button.
5. Lumosity
Lumosity is a company known for its full range of cognitive training games. On this page, the company wants to provide users with more information and give them access to the games through the web and mobile applications.
What do we like the most?
The hero image, heading, subheading and CTA button are amazing
The text used in the body of the landing page explains well the benefits for the user
Closing arguments at the bottom of the page reinforce the message and the reasons to click on the CTA
What can be improved?
Only two testimonials appear, which makes the section poor
Navigation menus should be hidden
6. Jira Software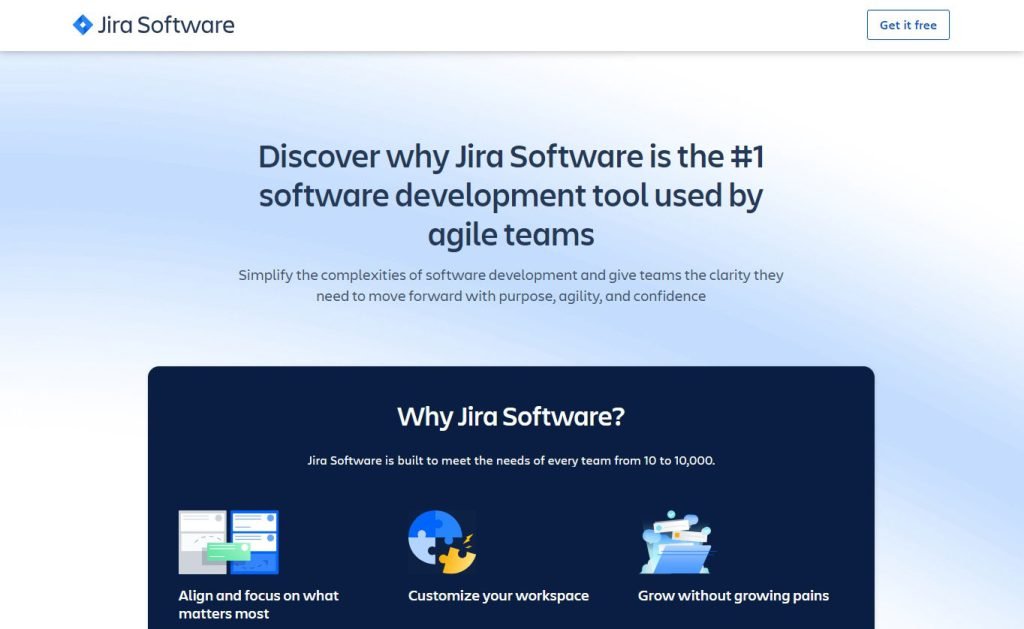 Jira Software, developed by Atlassian, is a project management tool used primarily by agile teams for software development. In this landing page they want to explain and warm up the user so that they start a free trial.
What do we like the most?
Attention-grabbing headline and clear subtitle
The buttons use a clear and precise text: "Get it free"
The menu in the top navigation bar has been hidden to avoid distracting the visitor
Nice design to match the corporate identity
What can be improved?
Only one testimonial is shown, so it is advisable to increase the volume
The menu that appears in the footer may cause users to leave the site
7. Stripe Checkout
Stripe Checkout is a service provided by Stripe, which offers to simplify the process of accepting online payments. On this detailed page, the company tries to convince visitors to click on the CTA buttons.
What do we like the most?
This headline conveys a great benefit, which attracts the user's attention
The texts clearly describe the benefits and features of the service by using bullet points
A second CTA button "Try the demo" is displayed to directly show the user what the tool looks like.
What can be improved?
There are excessive blocks of text which make this landing page look a bit overwhelming
CTA buttons would attract more attention if they were larger. It is also a good idea to display more buttons along the page.
It is advisable to hide the navigation menus
8. Scribd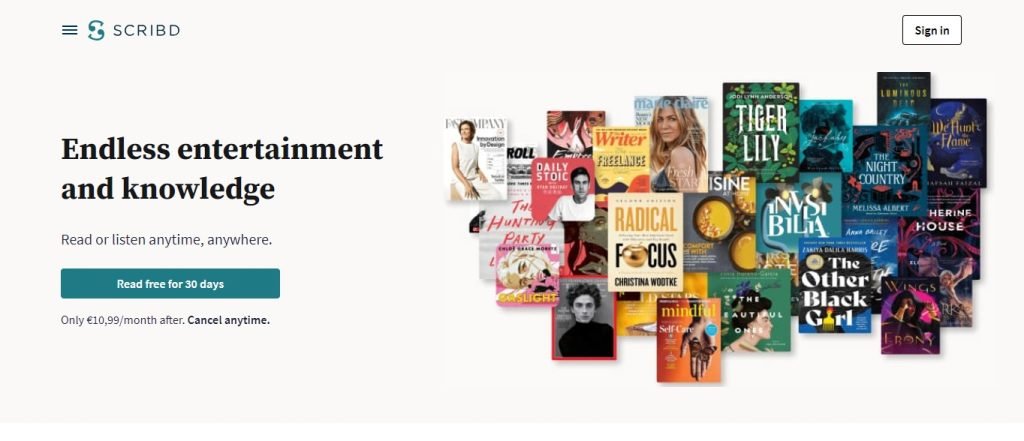 Scribd is a digital reading subscription service that offers users an extensive library of books, audiobooks, magazines and documents. On this simple but effective page, the user is invited to start a 30-day free trial.
What do we like the most?
They use a good headline that stands out for its size and strength
They use a comparison table to show the differences between Scribd, Storytel and Kindle Unlimited, something very useful for the visitor.
Clean and minimalist design in line with the brand's identity
What can be improved?
The explanatory texts are very brief. It is advisable to extend the information to the user.
The footer is overloaded and can distract potential customers
9. Creatorpreneur
Ali Abdaal is a well-known productivity guru, content creator and entrepreneur. One of his courses known as Creatorpreneur is presented through a landing page in which he tries to warm up users before converting them into customers.
What do we like the most?
The level of design of this landing page is amazing, taking care of even the smallest detail
Uses a clear CTA that matches colors and typography
Navigation links have been hidden so that potential customers do not leave this click-through page
Showing a video at the top of the page provides security to the user
What can be improved?
The CTA copy could be improved, as "Enrol" is too basic and is not strong enough
10. Mailchimp
Mailchimp is an all-in-one marketing platform designed to help small businesses grow and reach their customers. On this page we see how the company offers to create a website for free. To warm up the user, they explain in detail how the web page builder works.
What do we like the most?
The headline is benefit-oriented, telling users that they can create a website for free
Uses supporting images to support explanatory texts
Many different types of text are used in CTAs
The closing argument before reaching the footer is well created to maximize the clicks
What can be improved?
It would be convenient to add testimonials from customers who use this website builder
Two sticky buttons "Feedback" and "Talk to us" appear, which can be distracting to users
Tips and best practices for Click-Through Landing Pages
Creating effective landing pages is a task that involves refinement and testing. These two elements will bring very different results to your marketing campaigns.
It's true that creating an optimal landing page is a big challenge, but, if you do it right, you can significantly skyrocket conversions, making it an incredibly effective tool in your digital marketing strategy.
Here I bring you some best practices and tips for creating high-performing landing pages:
Tips for creating Click-Through Landing Pages:
Define the structure: Before starting, it is essential to think about the objective and the structure of the page. Take some time to think about what elements you are going to include.
Simplify your design: Keeping the design clean, simple and focused on the goal of getting the user to click through is essential for these pages to work.
Persuasive CTAs: You can use one or several CTAs using persuasive language. Don't forget that the goal is to get the user to click and move on to the next commercial phase.
Social proof: Testimonials, reviews and case studies can significantly increase trust and conversion rates. It is highly recommended that you use them in these types of landing pages.
Run A/B tests: This is perhaps the most important point to optimize the level of conversions. I recommend that you test different versions of your page to see what works best. Try different headlines, texts, images and CTAs.
Give your brand consistency: Your landing page should be consistent with your brand image and voice. Use a color palette that matches your brand and a copywriting style similar to other sections of your website.
I hope this guide has provided you with valuable information and practical tips for creating click-through landing pages. Feel free to experiment and innovate to see what works best for your particular audience and goals.
Want to learn more?
Frequently Asked Questions
When should a click-through landing page be used?
Click-through landing pages are great when a complex product or service is being offered and requires additional information before the user is ready to buy or subscribe. These pages are designed to warm up visitors and get them to click on the CTA to move to another screen where the conversion takes place. They are typically used in e-commerce, software services and for longer sales cycles.
What are the differences between click-through landing pages and lead capture landing pages?
Click-through landing pages are designed to guide visitors to another page where conversion (purchase or registration) will occur, while lead capture pages are designed to capture information from users. These are two different approaches.
What are the best click-through landing page builders?
There are several excellent tools for creating click-through landing pages. In our own experience, Leadpages, Unbounce and Instapage have worked very well for marketing campaigns. We recommend you test several options to see which one works best for you.