The online sales world is constantly growing, and the need for good tools is becoming more and more evident. Helium 10 has turned into a great help for those who are looking for practical ways to manage their business on Amazon. Are you one of them? Take a look at this in-depth Helium 10 review to find out if it suits your needs.

Review of: Helium 10
Price: Starting at $39 /month
Guarantee: Money-back guarantee for the first 7 days
Rating
Features: 10/10
Ease of use: 8/10
Help and support: 7/10
Overall rating: 8.3/10
Pros
✔️ It offers a basic free trial plan
✔️ Clean and simple control panel interface
✔️ All-in-one tool that integrates multiple functions
✔️ Software that allows for excellent competitive analysis
✔️ Constant updates and new functionalities
Cons
❌ Prices are somewhat high
❌ Technical support is a bit slow
❌ Can be somewhat complex to understand for beginners
Summary
Helium 10 is a software created in 2015 by Manny Coats and Guillermo Puyol focused on Amazon sellers.
Designed and tested by top Amazon sellers, it is one of the most complete tools on the market.
REACTIVAONLINE10 (10% off every month)
REACTIVAONLINE6M20 (20% off the first 6 months)
Over the last few years, Helium 10 has earned an excellent reputation proving itself as a great software. Each of the features this tool provides fulfills a specific function that is very useful and which we will analyze in depth throughout this article.
Below, I will tell you all about the features of this popular tool, how it can help you sell on Amazon and its free Chrome extension. Let's get started!
What is Helium 10 and how does it work?
Helium 10 is probably the best known software for Amazon sellers on the market. This company was created in 2015 by Manny Coats and Guillermo Puyol, two Amazon sellers who decided to create a research tool for this marketplace. In reality, it is an "all-in-one" toolkit, as it has a lot of functionalities.
Helium 10 is a tool for both beginner and experienced Amazon sellers. If you are going to start as a seller or if you are already a seller, I recommend you to use the tool for a while, so you can see first hand if it really meets your needs. This tool has some very useful features such as listing optimization, PPC, product research, etc.
Helium 10 Pros
Integrates all the tools you need to build your business on Amazon
It allows you to perform an excellent analysis of your competitors
The results it offers are very accurate
Excellent for managing lists, advertisements and SEO
The interface is easy to understand
Cutting-edge software with constant updates and new functionalities
Offers a free trial plan
Helium 10 Cons
The Starter plan is affordable, but the Platinum and Diamond plans are a bit pricey
Export functions are somewhat inefficient
Technical support is a bit slow
The software can be a bit complex to understand for beginners
Is Helium 10 right for you?
If you have come to this point, you may be wondering if this tool is right for your current needs. Having used several Amazon tools, I can say that Helium 10 provides huge value, as it integrates excellent features that you'll really need.
Below, you can see in which cases it can be a good tool for you and in which cases it is not:
✔️ Helium 10 is a good choice for you
If you are sure you want to sell on Amazon and you are looking for one of the best software
When you want to study the market in depth
If you are wondering which product categories and brands are trending
If you would like to predict sales and stock volume
When you want to research your competitors on Amazon
❌ Helium 10 is not a good choice for you
If you are not sure if you want to start selling on Amazon
When you think it is not a good idea to invest in software and you prefer to do research on your own
If you don't plan to spend time learning how to use the software
Helium 10 Pricing
One of the most interesting things about Helium 10 is that it has a free version, which you can acquire simply by registering for free.
It is true that this option offers you a very limited version, since it has usage restrictions, but it is great to get to know the tool. Without a doubt, I recommend you try it to get a clear idea before purchasing a plan.
Below you will find a list of all Helium 10 plans and prices:
Free Plan ($0 /month): Very basic features for you to try the software.
Starter ($39 /month): It is an interesting plan to get started but you have limited access to the tools. The price would be $29 per month if you take the annual subscription.
Platinum ($99 /month): As you evolve, I recommend that you use this plan, as you will have access to many more functions in an almost unlimited way.
Diamond ($279 /month): Unlimited access to all functions allowing teamwork under the same user and you can connect multiple Amazon accounts.
Note: Prices correspond to monthly plans. If you subscribe to an annual plan you have a significant discount.
Helium 10 Coupons & Discount Codes
Here we bring you two exclusive offers provided by the Helium 10 team for our readers:
If you want to enjoy a 10% discount on every monthly payment of Helium 10, write the code REACTIVAONLINE10 in the checkout process. If you want a 20% discount on your first 6 months, use the code REACTIVAONLINE6M20.
Helium 10 Tools
To dig a little deeper, I'm going to tell you about some very valuable tools that Helium 10 incorporates.
As I mentioned before, this is perhaps the most used software by Amazon sellers, as it includes more than 20 fantastic tools to increase your sales. Each one of them is essential to develop a solid business.
Some of the most relevant tools in Helium 10 are listed below:
1. Black Box – Research the product
The Black Box tool allows you to research in depth the products you are interested in. With it you will have access to its database of about 450 million items in a few seconds. You can use the advanced filters to search for winning niches within the popular marketplace.
With this function, you can search by product category, estimated monthly sales revenue, price, weight, review ratings, number of images, number of sellers and much more.
2. Xray – Chrome extension
Helium 10 also has a free Chrome extension, which displays useful product information and is ideal to start with your searches since it helps you discover the potential of different products. The extension has a feature called X-Ray, similar to Jungle Scout, but it has more features.
The extension is quite handy and has many functions, but its free version has limited features. If you want unlimited use of this tool you should consider subscribing to a plan.
3. Trendster – Trend search
The Trendster feature is useful for finding products that are gaining popularity on Amazon.
Trending products can be interesting to try to align with what is popular on Amazon. This tool is very useful but it is indicated for users with some experience in the Amazon business. Choosing this type of products is not recommended for beginners.
The tool works entering a product's ASIN (Amazon Standard Identification Number) code to see its evolution.
4. Magnet – Keyword Search
The Magnet tool is perfect for keyword research. Keywords are essential in Amazon since they will place you in the search ranking position. The higher you rank for a keyword, the more sales you will get.
Magnet will help you find the most relevant keywords for your product, and help you boost your sales. From my point of view, both Magnet and Cerebro are two of the most important tools included in this toolkit.
5. Cerebro – Reverse ASIN Search
With Cerebro, you can quickly locate all your competitors' keywords and analyze their strategy to rank on Amazon. This information is crucial, as these are the keywords that competitors are using to boost their sales.
Combining the results from Cerebro and Magnet gives you a complete list of the most important keywords for a product.
6. Frankenstein – Save time and effort with your keywords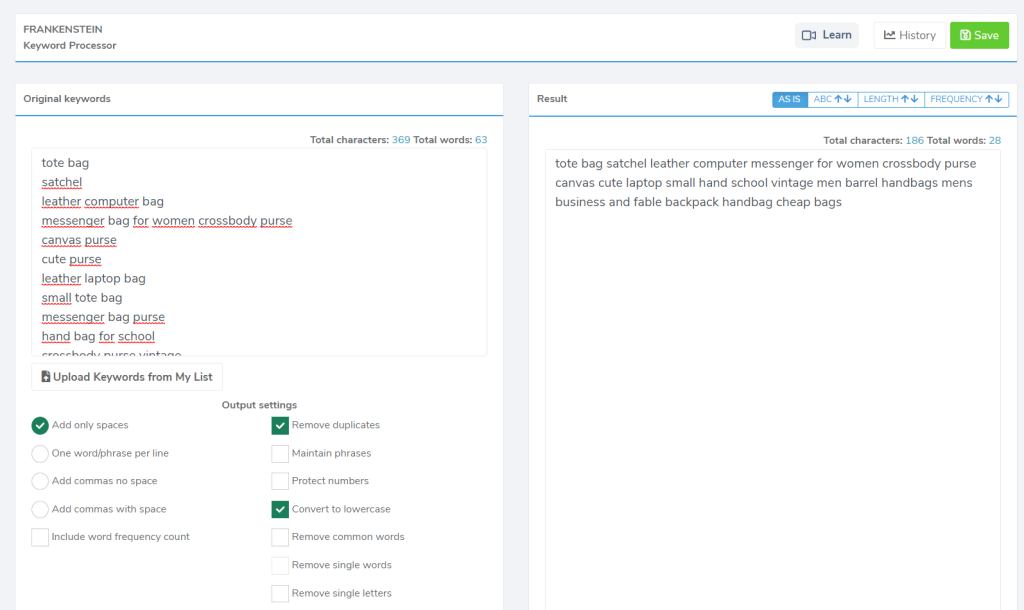 Frankenstein is a tool that helps you instantly organize and process your keywords into lists. Thanks to it you can transform a huge list of keywords into a smaller set of terms so you can optimize your Amazon listing optimization efforts.
7. Scribbles – Helps to create listings
Scribbles is another useful tool that helps you write keyword-based product titles and descriptions. It is designed to prevent you from overlooking important keywords and makes it much easier to create product listings.
Thanks to this feature, you will ensure that your listings are fully optimized, which will also translate into more sales.
8. Index Checker –  Find out what Amazon has indexed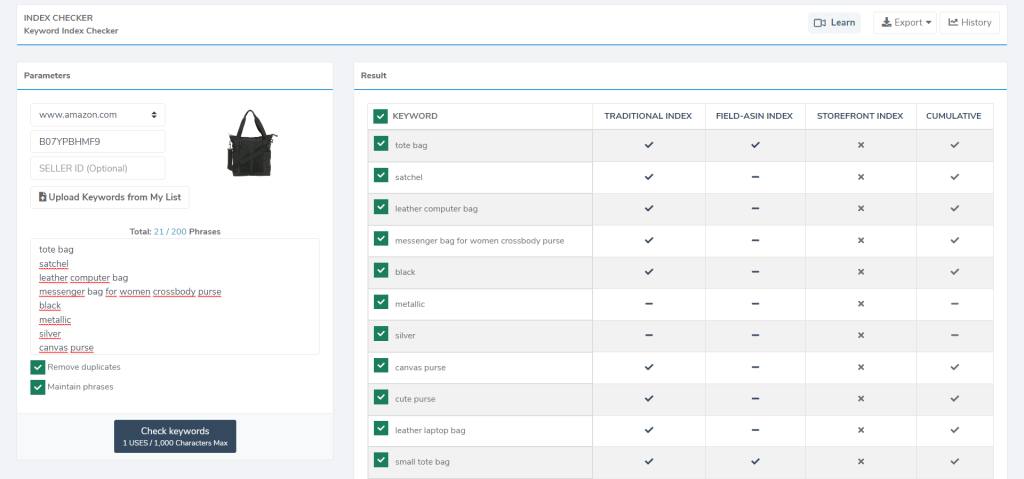 The Index Checker tool allows you to check which keywords in your product listing have been indexed by Amazon. From my point of view this is a crucial task that you should always try to do. Make sure your products are always indexed correctly.
9. Profitability Calculator – Calculate your ROI
The Profitability Calculator helps you calculate how much it will actually cost you to sell your product. Thanks to it you can get an accurate idea of your ROI and profit margins by evaluating associated costs such as storage, shipping and manufacturing fees. It works with the Chrome extension.
10. Other tools
The tools I have listed above are essential to me, but there are many other tools included within Helium 10.
Here is a brief overview of some of the other functions:
Review Insights: Get instant information about customer reviews (extension).
ASIN Grabber: Grab hundreds of product ASINs instantly (extension).
Listing Analyzer: It helps you simultaneously get a broad view of your current or potential competitors' listings.
Refund Genie: Receive Amazon refunds faster with the seller's automatic refund requests.
Inventory Management: Helps you manage your inventory, sales and purchasing processes.
Alerts: Receive alerts about any suspicious activity on your account.
Follow-Up: Fully automated email tool to improve the customer experience.
Is Helium 10 better than Jungle Scout?
Deciding between Helium 10 and Jungle Scout to help you with your Amazon FBA business depends on several factors depending on your needs, budget and level of experience.
Both are good platforms for product research, keyword optimization and analysis, but each has its own advantages and limitations.
Helium 10 is a more robust tool than Jungle Scout, ideal for intermediate and advanced users, although you can also use it if you are a beginner. It stands out for its comprehensive set of more than 20 integrated functionalities and is ideal for those who need in-depth analysis and a wide range of features. In my experience it has a steeper learning curve compared to Jungle Scout due to its extensive toolset.
Jungle Scout is known for its simple interface and ease of use, and is an ideal choice for beginners. It offers a more basic set of features than Helium 10, but enough to discover products, find suppliers and perform sales analysis. Although Jungle Scout does not offer a free plan and the Chrome extension can only be used with a paid plan, it is a good option.
Conclusions of the Helium 10 review
From my experience with Helium 10, I can say that it is the most complete and valuable tool on the market for Amazon sellers. It is suitable for all types of sellers, but it will take you some time to learn how to use all the features.
I have also used other tools like Jungle Scout but I prefer this option. If you are a beginner you may struggle at first because it is a more complex tool. I recommend you try both the free plan and the Chrome extension to see it first hand.
Frequently Asked Questions: Helium 10 review