Like many other large e-commerce marketplaces, Redbubble gives you access to a platform full of possibilities where you can sell your own designs. If you want to sell on Redbubble, you should know that it's free, something very interesting if you want to start selling your designs online without the need to have your own online store.
In this article we are going to analyze the pros and cons of this platform and what are the steps you need to follow to start selling print-on-demand products. If you want to know everything that Redbubble can offer you, stay until the end of the article 😉
What is Redbubble?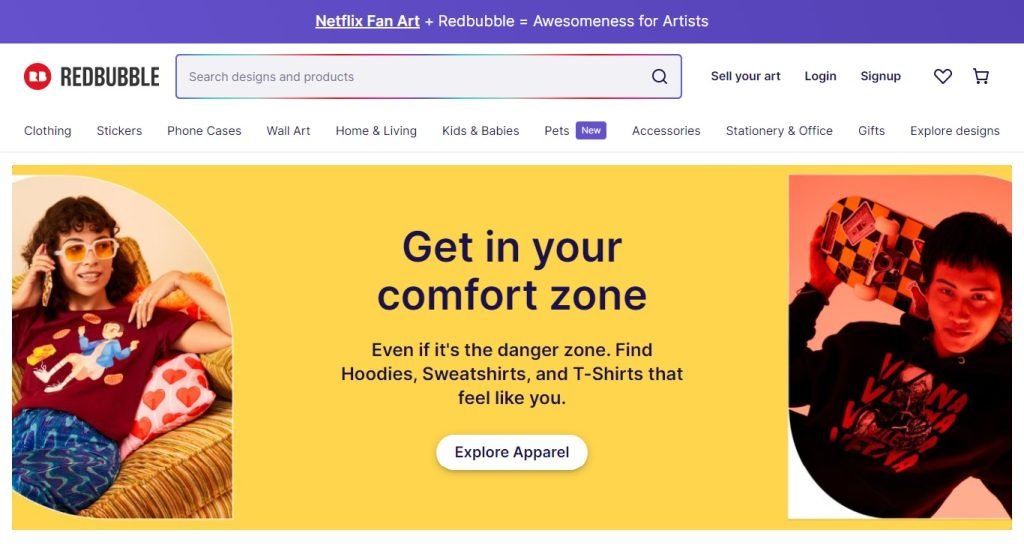 The world is full of untapped talent, especially when it comes to artistic creations. A reality that, far from going unnoticed, was an inspiration for the founder of Redbubble, Martin Hosking. Together with co-founders Peter Styles and Paul van Zeller, he decided to offer a space where he could bring together the best designs of all those creative people around the world.
Thus, in 2006 Redbubble was born in Melbourne (Australia), one of the Print On Demand sites where designers from all over the world can sell their designs without having to deal with production, shipping, returns or customer service.
Redbubble is a POD marketplace that manufactures and ships products purchased by users with designs uploaded by artists. Since it opened more than 700,000 independent artists have uploaded their designs on the platform. A success that led Redbubble to bill a total of 701 million USD in 2021, distributing a total of 104 million USD among the artists.
How does Redbubble work?
In this video, you can see an example, somewhat funny, of how Redbubble works.
It is very simple. If you already have creative and original designs, you just need to create an account as a seller on Redbubble and upload your designs. From here, you will only have to wait for the first sale, which you will be notified by email with all the details about it.
When a sale is made, you will have to wait a few days until the order is completed and shipped. After that, Redbubble will reflect the balance in your account so you can withdraw it to your bank account.
From a seller or designer's point of view, this is how Redbubble works:
You sign up as an artist on Redbubble
Once inside, you open a store and upload your designs adapting them to the different products
At this point, you must create the product pages. Therefore, in order for customers to find you, it is important to write attractive titles, catchy descriptions and add relevant tags (keywords).
Finally, you publish the design applied to the products you have chosen
Each time one of your designs is sold, you will receive a commission or royalty.
Why sell on Redbubble?
Nowadays there are many print on demand services available and you can choose between having your own online store (and working with a Print On Demand company) or selling on marketplaces together with other sellers. Here are some of the reasons why choosing Redbubble as a platform to sell your designs might be interesting for you.
1. Selling on Redbubble is free
With Redbubble you can earn money without any upfront costs. All you need to do is to create winning designs and upload them to the platform.
Furthermore, when a sale is made, and unlike when you have your own online store and work with a POD provider, you don't have to pay the cost of the item to this company. The service is also free of any subscription or membership fees.
2. Passive income
Redbubble offers artists the opportunity to earn passive income by selling their designs.
It is true that at the beginning you will have to make an effort to create the designs and upload them to the platform, but afterwards you won't have to actively work to earn income. Most of the work is concentrated at the beginning until you have uploaded a good number of designs.
3. Free visibility
Since Redbubble is one of the most visited online stores in the world, sellers can get visitors without having to pay for advertising. You can get visitors when customers search within the platform as well as when they search in the SERPs where products are ranked.
That is, all Redbubble product pages are also indexed in Google, so your designs can also appear in organic search results. That's why it's very important that you do the right job for each product page.
Redbubble Pros
Now that you know how Redbubble works, let's go deeper into the advantages that this marketplace offers you. We hope they can help you in some way.
Profit control: Redbubble allows you to choose your profit margin on the designs you upload to the platform. By default, the margin set and recommended by the platform is 20%, but you can adjust it to your preferences for each product.
Multiple products: With a single design you can get sales on more than 70 products available on the platform. This allows you to generate passive income from the same design on multiple products.
Customer experience: This Print On Demand platform has an excellent customer experience, so you don't have to worry about providing good service. Redbubble offers very tight production deadlines and fast shipping. If the customer requires a return, you won't have to worry about it since they will be the ones taking care of the whole management process.
Visibility and sales: Redbubble is one of the POD marketplaces with more visitors and buyers. It currently has more than 14 million customers, and in 2022 generated sales of $630 million.
Value for money: The products sold in this marketplace have an affordable price from a consumer point of view, and the quality used in production is good.
Redbubble Cons
As always, we bring you the other side of the story, and some of the disadvantages when selling on this type of platform.
High competition: Just like you, there are hundreds of thousands of independent artists selling their designs on this platform. This high competition makes it difficult to generate sales unless you upload a large number of high-impact designs. The alternative is to create an online store where only your designs are displayed.
Payment inflexibility: You will not be able to withdraw your profits when you decide to do so, or before exceeding the threshold of $20 accumulated. By default, Redbubble sends payments on the 15th of each month, and it can take up to 7 days for the money to reach your account.
Dependence and little control: Using platforms like Redbubble means having no control over nearly any parameter. Unlike having your own online store, where you can have direct control over the customers and the different processes, here you can't. You are in Redbubble's hands and if you violate their policies they can unilaterally cancel your account.
Limited customization: While some elements of your Redbubble store can be customized, you will not be able to include your branding on labels or product packaging.
Redbubble Products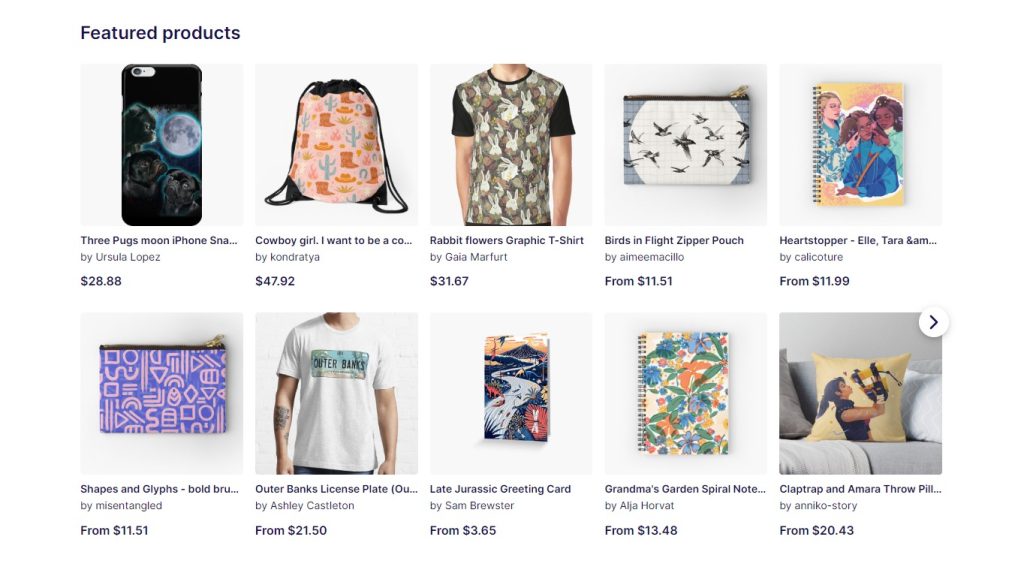 This Print On Demand platform has a quite varied product catalog. You'll find more than 70 items to which you can add your design. One of the biggest advantages of Redbubble is that the more items you customize with each design, the higher the chances of getting sales.
To adapt the designs to the different products, you will have to do it by your own through the editor that you will find in the control panel. This is a fairly simple task that does not take too much time.
That being said, these are the types of products that Redbubble offers:
Stationery: Hardcover and spiral notebooks, magnets, greeting cards, all kinds of prints, canvases, posters and stickers.
Clothing: Classic t-shirts, short-sleeved, long-sleeved or sports t-shirts, pants, socks, hooded and non-hooded sweatshirts, blouses, mini-skirts, scarves, dresses, etc.
Accessories: Caps, backpacks, bags, masks, water bottles, aprons, mouse pads, smartphone and iPhone cases, as well as vinyl.
Home: Cushions, mugs, blankets, clocks, coasters, puzzles, magnets, bath mats, curtains, rugs and duvet covers.
And what are the best-selling products on RedBubble?
While trends and consumer preferences change over time, some products consistently sell better on Redbubble. According to data from the platform itself, these are some of the best-selling products:
T-shirts
Stickers
Mugs
Phone Cases
Art Prints
While these products tend to sell well on the platform, it is essential for artists to keep up with current trends and make their designs based on them. Offering a diverse range of designs and products can help increase an artist's chances of success on Redbubble.
Prices and profit margin when you sell on Redbubble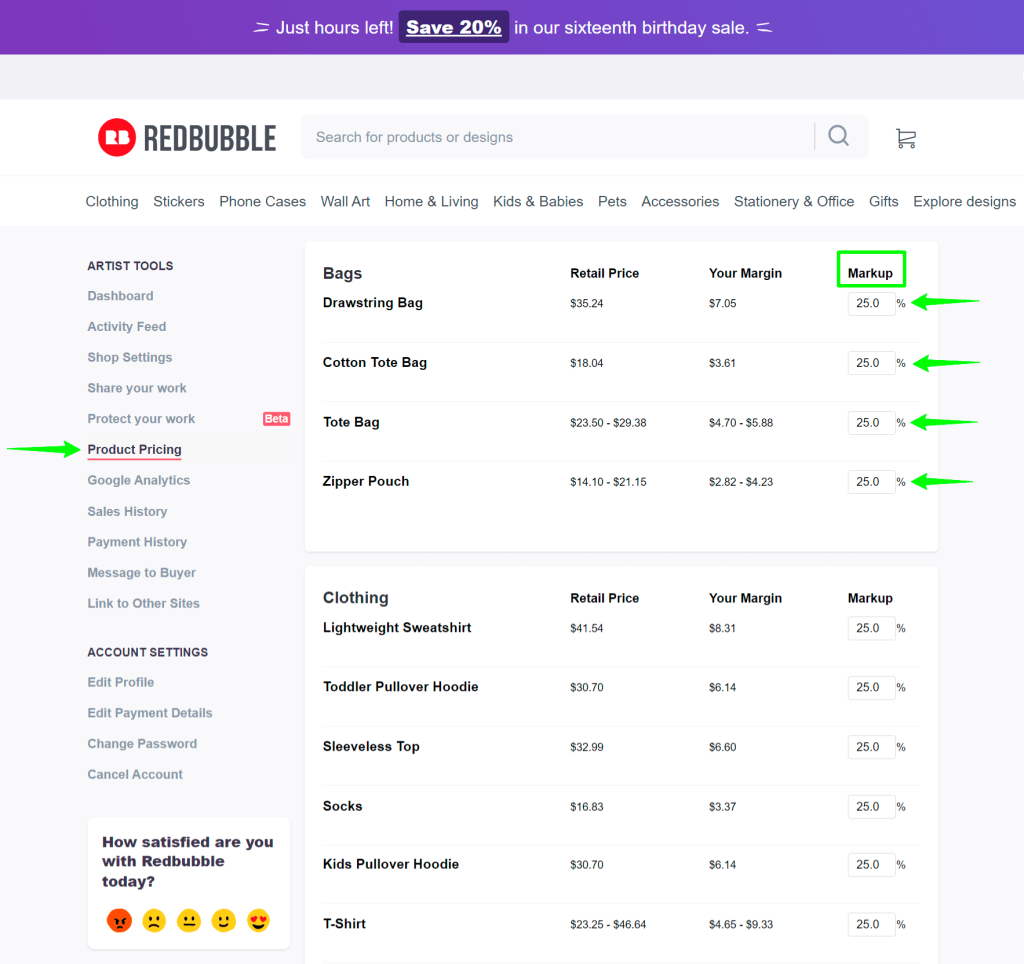 The profit margin for any seller on Redbubble is free and you can configure it as you wish. However, keep in mind that buyers come into play, and if you set the price too high, sales can be affected. Redbubble's recommended margin is 20%, but there are certain products (especially those of low value) such as stickers, where you can increase the margin to 50-100% without affecting your sales.
To edit the margins, simply log in to your Redbubble control panel, click on "Account Settings" and go to the "Product Pricing" tab.
There you will see the "Markup" box next to each product, and you can enter the percentage you want for each product. Once you enter the percentage, you will see the update on the "Retail Price" and "Your Margin" values.
Below, to give you an idea, you can see a list with the potential earnings per product in USD if you apply a margin of 20%, as recommended by the platform:
| Product | Selling price | Your margin ($) | Profit margin (%) |
| --- | --- | --- | --- |
| Notebooks | $12.40 – $19.83 | $1.71 – $2.73 | 20% |
| Badges | $3.61 – $3.87 | $0.50 – $0.53 | 20% |
| iPhone or iPad cases | $17.13 – $46.86 | $2.36 – $6.45 | 20% |
| Laptop cases | $39.12 | $5.39 | 20% |
| T-shirts | $16.80 – $47.78 | $2.31 – $6.58 | 20% |
| Socks | $17.13 | $2.36 | 20% |
| Scarves | $27.41 | $3.78 | 20% |
| Mini-skirts | $37.22 | $5.13 | 20% |
| Hooded sweatshirts | $40.44 | $5.57 | 20% |
| Blouses with or without sleeves | $33.64 | $4.63 | 20% |
| Light sweatshirts | $31.70 | $4.37 | 20% |
| Flared dresses | $60.78 | $8.37 | 20% |
| Backpacks | $55.50 | $7.64 | 20% |
| Water bottles | $19.48 | $2.68 | 20% |
| Masks | $11.19 | $1.54 | 20% |
| Greeting cards | $2.09 – $4.27 | $0.29 – $0.59 | 20% |
| Prints | $9.39 – $264.56 | $1.29 – $36.44 | 20% |
| Canvases | $59.48 – $133.85 | $8.19 – $18.44 | 20% |
| Posters | $11.12 – $27.86 | $1.53 – $3.84 | 20% |
| Mugs | $13.41 | $1.85 | 20% |
| Cushions | $19.00 – $47.58 | $2.62 – $6.55 | 20% |
| Magnets | $7.82 – $10.04 | $1.08 – $1.38 | 20% |
| Duvet Covers | $87.68 – $131.53 | $12.08 – $18.12 | 20% |
| Bags | $10.63 – $19.14 | $1.46 – $2.64 | 20% |
| Stickers | $2.69 – $19.43 | $0.37 – $2.68 | 20% |
How to sell your designs on Redbubble?
If you want to know how to sell on Redbubble to get the most out of this platform, here are some tips.
1. Choose a market niche
Before you start selling on Redbubble, it is essential to identify your target audience by selecting a specific niche market. We assume that you are competing with thousands of designers, so it is important at the beginning to avoid making designs about different niches so that you have more visibility within a topic.
This will help you focus your efforts to create designs that will attract customers' attention, which will likely result in higher sales. When choosing a niche, consider the audience's passions, interests or trending topics. Researching competitors and popular designs within your chosen niche can also provide you valuable information.
⮕ Read our article about Print On Demand niches
2. Create your own designs
Once you have chosen a niche, you will have to assess whether to do the designs on your own or delegate that task to a graphic designer.
If you have graphic design skills, motivation and, above all, time, you can make your own designs with the help of a graphic design tool, or by modifying images acquired through art libraries.
The tools I use the most to make Redbubble designs are Envato Elements, Canva and Vecteezy. Canva allows you to make designs quickly, and Envato Elements and Vecteezy provide an interesting way of downloading artwork that can be used in the designs. If you want to know more about these tools, you can check the articles about them.
Another important aspect to consider is whether your designs meet Redbubble's intellectual property guidelines and requirements.
3. Hire a graphic designer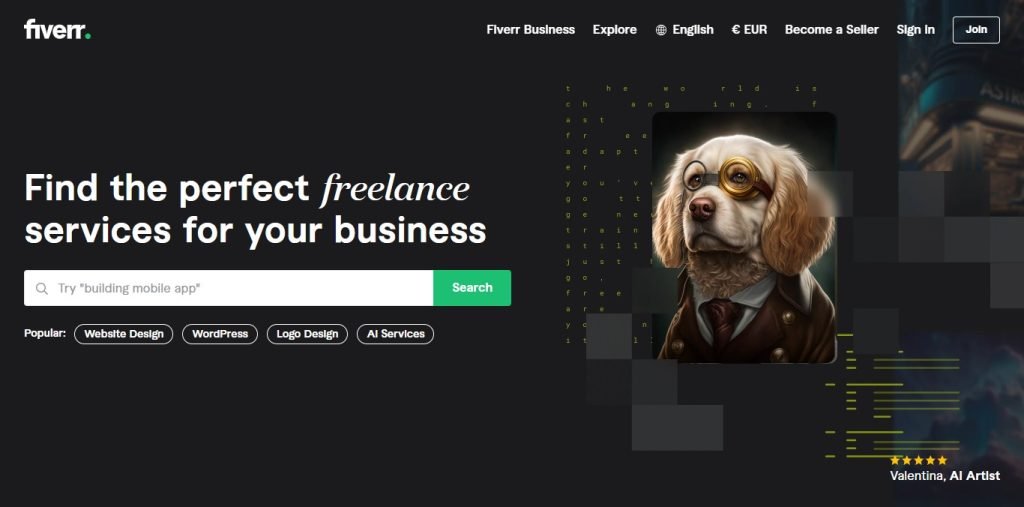 If you don't have the skills or time to create your own designs, consider hiring a professional graphic designer to bring your ideas to life. On platforms like Upwork and Fiverr you can find hundreds of freelance designers specialized in creating print-on-demand artwork.
Provide clear design instructions and communicate your expectations, making sure the final product fits your niche and target audience. Remember to respect copyright laws and avoid using protected materials in your designs.
In our experience, this is the fastest and most efficient option, since working with experienced designers speeds up the tasks. As a recommendation when choosing a designer, I recommend that you compare similar services from different designers and look at the ones with the highest and best ratings.
Redbubble Alternatives
Undoubtedly, Redbubble is one of the largest and most prominent Print On Demand marketplaces today. However, there are also other good Redbubble alternatives that you can use simultaneously to sell your designs.
1. Sell on other marketplaces
In order for you to sell your Print On Demand designs, it's worth exploring alternatives beyond Redbubble to reach a wider audience and diversify your sales channels. Here are three other popular marketplaces to consider for your print on demand business:
Spreadshirt is a well-known platform with more than 100,000 daily visitors. Here customers can find clothing and accessories with all kinds of designs related to their passions. Enter the platform to see the designs targeted to any niche market.
⮕ Read our guide about how to sell on Spreadshirt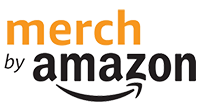 Amazon Merch on Demand is the Print On Demand section of Amazon, the largest online store on the planet. If you use this platform, your products will appear on Amazon, the top sales-generating platform on the Internet, where users buy comfortably.
⮕ Read our guide about how to sell on Amazon Merch on Demand

Zazzle is a platform very similar to Redbubble. This well-known print-on-demand marketplace offers a wide range of customizable products, from apparel and home decor items to stationery and gifts. Zazzle's design tool makes it very easy to create and sell designs.
⮕ Read our guide about how to sell on Zazzle
2. Sell through your own online store
You may have figured out how to sell on Redbubble, but if you want to take even more advantage of the potential of your designs, or you prefer to have more control over your customers and sales, you can create an online store on a custom domain.
This way, instead of uploading your designs to an external platform, you'll be taking control of the sales process. When users access your website, they will only see your designs (not those of other competitors) and you will be able to have higher profit margins.
To be able to market your products, you will first have to choose among the best e-commerce platforms which is the best solution for your project. From our experience, Shopify is the best option in general since it is the most advanced e-commerce software on the market. However, other options like Wix eCommerce or PrestaShop are good choices as well.
Subsequently, in order to sell your Print On Demand items, you will need to choose a good Print On Demand (POD) provider. Our favorite companies, based on our own experience, are Printful and Printify.
Summary and conclusions
Selling designs on Redbubble can be an interesting option for artists and entrepreneurs who want to enter the print-on-demand market without having an online store. The platform offers an easy-to-use interface, a wide range of customizable products and access to a large customer base, making it an attractive option for both newcomers and experienced sellers.
Diversify your sales channels by exploring alternative print-on-demand platforms such as Spreadshirt, Amazon Merch on Demand and Zazzle, which can help you reach a wider audience and increase your revenue potential.
However, knowing the level of competition, we believe it is a better option to explore the possibility of creating an online store where users do not see products from other competitors.
In conclusion, selling on Redbubble is not an easy task, but it can be profitable for those who are willing to invest time and effort in creating amazing designs. In order to have more options to sell, it is recommended that you concentrate your efforts on a single niche where you can make yourself visible and strong.
Want to Learn More?
Frequently Asked Questions
Do I have to pay to use Redbubble?
No, this marketplace allows you to upload your designs for free. Quite simply, when a design is sold, Redbubble will pay you the amount corresponding to your profit margin.
Can I sell on other sites similar to Redbubble?
Yes, of course, you can. You can also sell on other similar marketplaces like Spreadshirt, Merch by Amazon or Zazzle. Additionally, you can also open your own online store to have more control over your business.
What are some good tips to sell better on Redbubble?
The most important thing is that you create stunning, niche-specific designs. Also, keep an eye on current trends and customer preferences to make sure your designs remain relevant. Finally, optimize your product listings with catchy titles, detailed descriptions and relevant tags to improve search visibility.
What are the best-selling products on Redbubble?
In general, the best-selling products on this marketplace are t-shirts, stickers and mugs (in this same order). In a smaller scale, phone cases and art prints are also selling well.