Spreadshirt is a great online marketplace for Print On Demand products where you can sell your designs completely free of charge. If you are looking for a way to sell your designs without worrying about manufacturing, shipping or customer service, this is an excellent option. In this guide we will discuss how to sell on Spreadshirt and what are the main advantages and disadvantages of this process.
This marketplace brings together creations from top graphic designers and entrepreneurs looking for a way to generate passive income. If you want to know more about how Spreadshirt works and its features, stay with me in this guide 😉
What is Spreadshirt?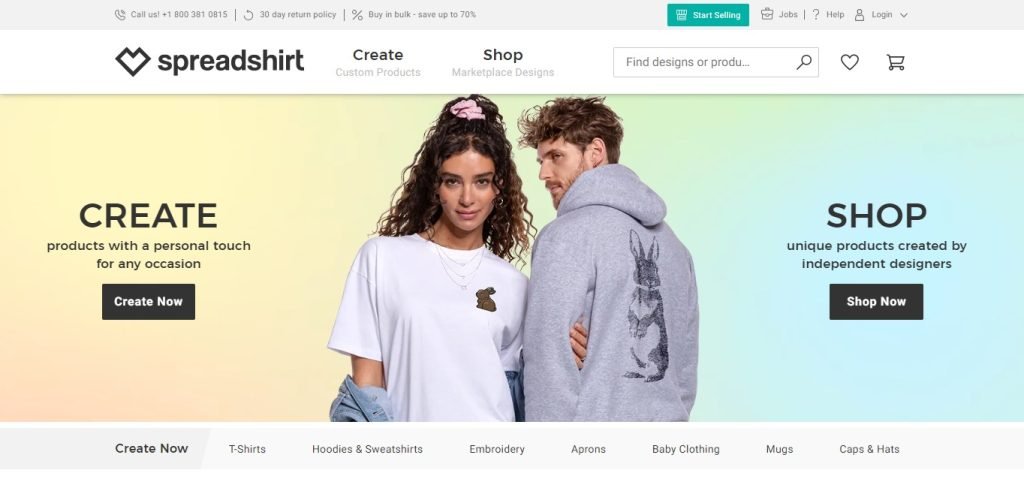 Spreadshirt is a large Print On Demand e-commerce platform focused on manufacturing textile products and accessories. Established in Leipzig (Germany) in 2002 by Lukasz Gadowski, it has become one of the most important marketplaces in the market. Currently, it has more than 100,000 active sellers around the world and has manufactured more than 5.5 million products.
This success has been made possible by the company's primary goal of offering the largest range of designs to hundreds of thousands of buyers worldwide through unique designs created by independent artists and designers. This business model rewards creativity and allows creators to earn income in this way. Its annual revenue is estimated at around 110 million USD.
How Spreadshirt works?
Spreadshirt is a platform that allows users to create, buy and sell products with unique designs created by sellers. Those designs can be printed on products such as T-shirts, sweatshirts, mugs and other accessories. The company operates through a print-on-demand service, which means that items are created and printed only when an order is placed. Below, you can see a summary of how this company works.
How Spreadshirt works:
Design creation: You can use the design tools provided by the platform itself or directly upload your ready-made designs.
Product selection: Once you have finished your designs, you can select which products you want to apply your designs to. Spreadshirt offers a wide range of products thanks to its large catalog.
Set a price: You have the possibility to set a price for each product that will be marketed with your design. Spreadshirt sets a base price for each item, which covers the cost of production and shipping, so you must add your profit margin.
Open a store: Any seller can open their own online store within the platform or choose to create a parallel store. You can customize it by adding a name, description and logo. You can open an account on Spreadshirt to start selling.
Order fulfillment: When a customer places an order, Spreadshirt takes care of the production, printing and shipping process, so you don't have to worry about anything.
Earn money: For every sale made through your store, you will earn commission based on the margin set. The platform usually pays out earnings on a monthly basis.
Customer service: You don't have to worry about anything in this regard. Spreadshirt handles customer inquiries and returns.
In short, Spreadshirt is a very simple and transparent platform that allows you to get started as a seller in two different ways. The platform will take care of all the fundamental aspects of the production and shipping process, so I encourage you to focus on the task of creating the best designs.
Spreadshirt Pros
If you are curious about the advantages of using Spreadshirt, in this section we are going to talk about the most important ones:
Global presence: Spreadshirt is active in 18 countries, on 3 continents (Europe, North America and Oceania), with a volume of visits of more than 130,000 potential buyers per day.
Extensive product catalog: They offer more than 200 products to sellers so they can design original items.
Integrated design tool: Create designs completely from scratch with the help of its customization tool. You can add your own design and make modifications by adding text, images or changing the color of the product.
Multiple sales channels available: You can sell your designs on the Spreadshirt marketplace (in two different ways) or if you prefer to avoid having your designs placed next to those of your competitors you can create an online store and work with Print On Demand companies such as Printful, Printify, Gelato or SPOD (owned by Spreadshirt).
Simplicity and instant registration: Sign up in minutes without tedious login requests. Additionally, as soon as you access Spreadshirt, you can start selling quickly and easily. The control panel does not require advanced knowledge and also includes a help and recommendations center.
Spreadshirt Cons
As with any tool, there are always disadvantages. Keep reading to learn about some of the most common issues you may have to consider.
Limited control over profit margin: Spreadshirt is almost unique in the sense that it does not allow sellers to choose their profit margin. A disadvantage that limits control over any sale made on the platform.
A large number of sellers: If you are a buyer, this is an advantage, but when you are the one selling, things change. More than 100,000 sellers are a major competition when it comes to getting sales.
Little control over your store: As in most similar companies, you are subject to a series of rules for selling your products. Violating these rules can lead to your seller account being canceled or unilaterally closed.
What Spreadshirt products can you sell?
Spreadshirt has a wide selection of Print On Demand products. There are over 200 items that you can sell on which you can lay out your designs. Remember that the more products you customize, the better your chances of making sales.
When it comes to the layout of the designs, you shouldn't have any difficulty. The platform has a very useful and simple integrated tool that will speed up your work. With this tool you can manipulate design elements, customize product options and preview your design before publishing it.
Keep in mind that the quality of the printed products will depend on the resolution of the images and illustrations used in your design, something you should take great care to avoid returns. Be sure to use high resolution images and use the file formats and dimensions recommended by Spreadshirt for optimal results.
That said, let's see what kind of products you can sell through this marketplace.
What products can you sell through Spreadshirt?
Clothing: Classic and long-sleeved t-shirts, tank tops, hooded and non-hooded sweatshirts, polo shirts, jackets and dresses.
Children and baby items: T-shirts, bodies, caps, bibs, sweatshirts, souvenirs for parties (birthdays, baptisms, Easter, etc.) and themed products.
Accessories: Cloth bags, backpacks, fanny packs, caps and hats, bandanas, pins and phone cases.
Household and other items: Mugs and cups, stuffed animals, bottles, pillowcases, aprons, reusable gift bag, etc.
Stationery: Mouse pads, magnets and stickers.
Prices and profit margin as a seller
At Spreadshirt, the price of the designs depends on the market country, the type of product and the sales channel. As I have already mentioned in previous sections, one of the disadvantages of this platform is that it does not allow you to choose the profit margin of each sale. This is bad news, but it can have a positive side.
If all Spreadshirt products cost the same, the customer will not be influenced by pricing and, therefore, creativity will come more into play. If you create very attractive and innovative designs, things should be easier.
Even so, your profits will be subject to a series of variables such as the country of sale, the type of product or the channel through which the sale has been achieved. In addition, if discounts are applied or sales are produced by advertising campaigns, the profit margin may also be reduced.
It is important to note that, in some countries, Spreadshirt also sells your designs on Amazon or eBay, so the rate is different. You can check the potential earnings from the sale of each product on the official website.
How to sell your designs on Spreadshirt?
After getting to know how Spreadshirt works, it's time to squeeze out this platform's full potential. Here are some steps to increase your chances of getting sales.
1. Choose a market niche
Clearly, competition on marketplaces like Spreadshirt is very high. Something that, at first glance, forces us to think about adopting a strategy. One of the keys to selling is to specialize in a specific market segment. If you are strong in a specific theme or niche, things should be easier.
Selling on Spreadshirt is similar to any other business. To find a profitable niche around which to make your designs, you must find out how popular it is on the Internet, and the best tool to do this is through Google Trends.
This valuable tool enables you to discover niche markets by providing real-time data on search queries, allowing you to identify emerging interests and consumer demands. I recommend using this valuable information to guide the development of your designs to increase your chances of success in a competitive marketplace such as Spreadshirt.
Example:
Suppose we want to make designs based on unicorns. Using this tool, we can see how "unicorn" was a trending term with its highest peak in April 2017. Since then, it has progressively dropped.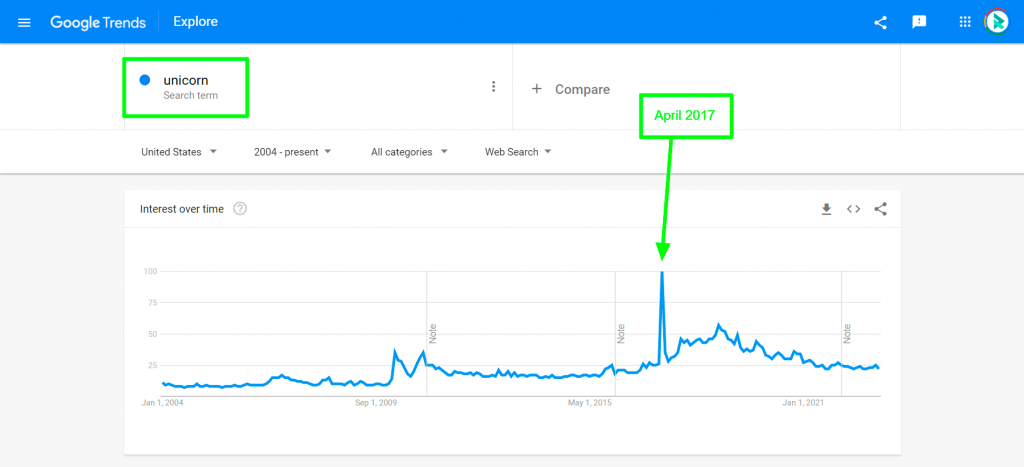 This tells us that the best time to create unicorn-related designs was at the end of 2017. Therefore, it is important that before designing values different niches.
⮕ Read our article on Print On Demand niches
2. Make your own designs
When planning your designs thanks to this type of tools, you should also use the best tools to accelerate the creation of designs. Think that you need a good volume of high quality designs around a niche or market segment.
I have tried each one of them, and they are part of my daily life. My favorite tool for shaping designs is Canva since I find it perfect and very complete for this particular task. When I need any vector or graphic element, I turn to Envato Elements (I pay an annual subscription to ensure unlimited downloads) and Vecteezy.
Thanks to this set of resources you can find professional designs that attract the attention of buyers. However, remember that you must create your own original designs, modifying the materials you download and not plagiarizing the work of other graphic designers. If you do not do so, you could lose your account.
3. Hire a graphic designer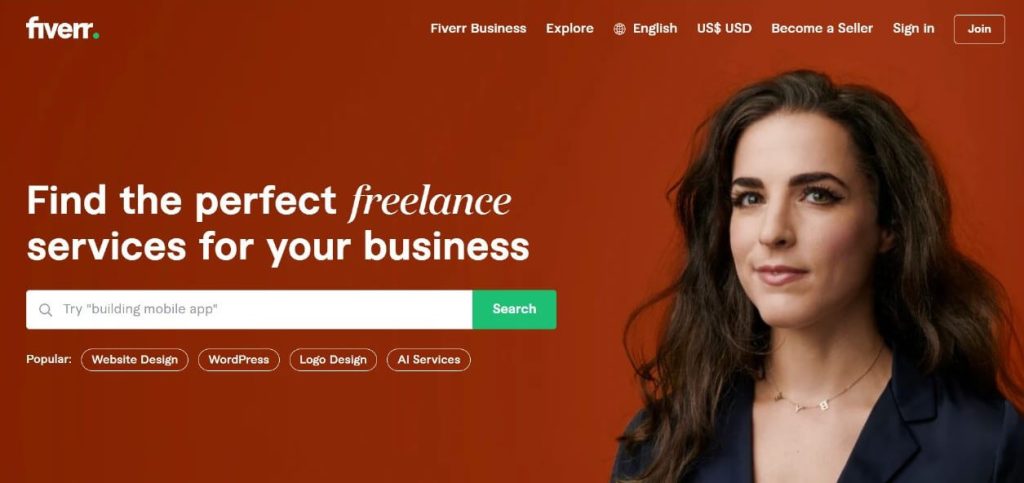 Another different scenario is to delegate these jobs to freelancers to do the designs for you. If you do not have enough artistic knowledge and do not know how to use graphic design tools, it may be interesting to turn to professionals in the sector. There are sites like Fiverr or Upwork that allow you to hire "low cost" graphic designers to make the designs for you.
In these marketplaces there are dozens of designers who make designs for Print On Demand products and have experience in doing this type of work. To find a good graphic designer I recommend that you compare the different services they offer and look at the ratings they have received.
This format is the one we have used the most as it allows you to get very good designs based on your preferences and it is scalable. When hiring the services, it is important that you explain precisely how you would like the designs to be.
Spreadshirt alternatives
The good thing about marketplaces that sell Print On Demand products is that they offer a broad range of interesting possibilities.
On one hand, you can sell your designs on multiple marketplaces at the same time and increase your chances of selling.
On the other hand, you can also open an online store that works on autopilot so that when an order comes in, it is automatically processed by a third party that takes care of the order's manufacturing and shipping to your own customer.
1. Sell on other marketplaces
Redbubble has been operating since 2006. It is considered one of the most important POD marketplaces and has quite a large variety of products.
⮕ Read our guide about how to sell on Redbubble

Zazzle is one of the marketplaces with the largest amount of products available. There are currently more than 500 different products available to sellers. Undoubtedly, it is another good option to start an online store.
⮕ Read our guide about how to sell on Zazzle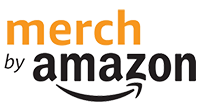 Amazon Merch on Demand allows you to sell print-on-demand products on the world's largest and most important online store. If you sell your designs through Jeff Bezos' company, your products are somehow associated with this popular brand and shipped through the Prime program (free one-day delivery).
⮕ Read our guide about how to sell on Amazon Merch on Demand
2. Sell on your own online store
We have seen so far how to sell on Spreadshirt, but you should also consider the possibility of avoiding selling your designs on marketplaces, where your artwork must coexist with other designers. To do this, you can create an online store and delegate the production tasks to Print On Demand companies and have greater control over customers and higher profit margins. Of course, managing an online store takes more time and effort than selling on marketplaces.
If you choose this option, you can create your store using one of the most popular Ecommerce platforms on the market, such as Shopify (our favorite), Wix eCommerce or Jimdo, among others. Once the store is created, you can choose and connect it with one of the best Print On Demand providers that exist today. Our favorites (and the ones we have worked with) are Printful, Printify and Gelato. They are all reputable companies and each is a good fit for a particular type of project.
Summary and conclusions
In our opinion, Spreadshirt is a platform to consider for those who want to sell Print On Demand products, offering a complete service to both design sellers and buyers. This marketplace allows you to sell a wide variety of products (greater than other marketplaces), and is very easy to use thanks to its built-in customization tool.
Its presence in 18 countries means that it has a very large volume of visitors. To mention a negative aspect of this platform, I could mention that unlike other platforms, Spreadshirt establishes a fixed profit margin. If your goal is to sell your designs and maximize the chances of selling, do not hesitate to upload your designs to this platform.
Want to Learn More?
Frequently Asked Questions
Why can some designs be rejected by Spreadshirt?
Beyond thinking about copyright infringement, Spreadshirt also rejects designs for poor quality, commercial reasons or misuse of tags. Also, do not upload content that includes hate speech or any disturbing element may be removed.
Can I have more than one account on Spreadshirt?
As of January 19, 2021, Spreadshirt stopped allowing multiple accounts. This resulted in a unification of accounts and, according to the company itself, helps to avoid excessive withholding tax.
What is the difference between Spreadshirt and Spreadshop?
Spreadshirt is a marketplace where thousands of different sellers live together and earn revenue based on a fixed margin. Spreadshop is the opposite, an online store where you promote your designs, there is no competition and you choose how much to earn.
Can I integrate Spreadshirt with an external platform?
The Spread group has SPOD, a division specialized in serving businesses and online store owners. This tool can be easily integrated with Shopify, WooCommerce, Magento or Squarespace and has an API so you don't have integration problems.