If you have landed on this article, you are probably looking for ideas for Print On Demand niches, since you are likely planning the designs you are going to sell. After a significant process of analysis, we have been able to compile some of the best Print On Demand niche ideas for this year. Check them out to see which ones might be the best fit for your business and, of course, bring your ideas to life!
Selecting a good niche is crucial to be successful in this type of e-commerce. The perfect niche is one that is in high demand, has low competition and targets a wide enough audience. If you want to discover the best niche ideas stay here until the end of the article, you won't regret it 😎
What is a Print On Demand niche?
First of all, it is interesting to know in brief what is Print On Demand. Through this business model, any entrepreneur or designer can create an online store to sell designs and artwork.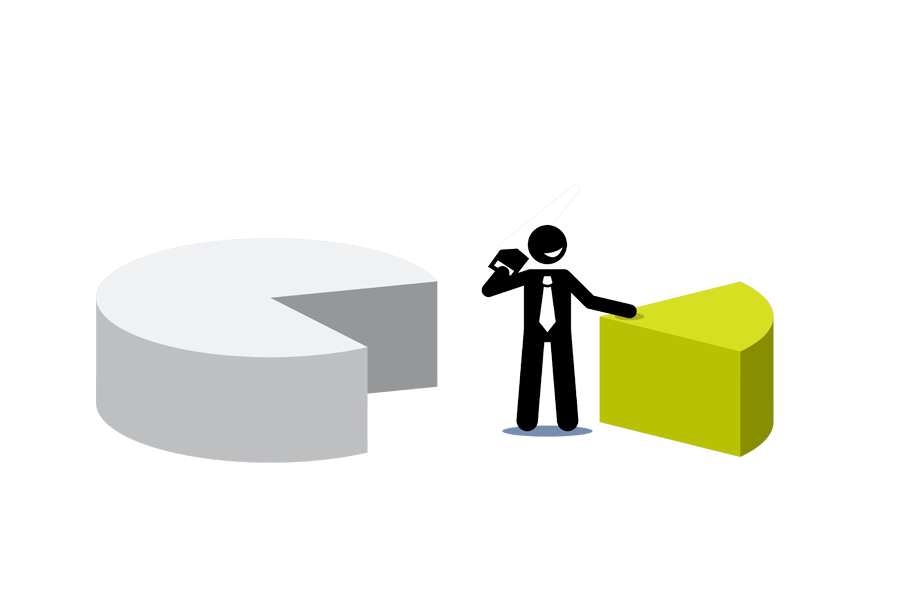 Print On Demand (POD) is an e-commerce business model that allows the seller, without the need for inventory, to delegate to a third party everything related to the production and shipment of products.
In other words, when you sell an item, Print On Demand companies manufacture and ship it directly to your customer. This model is very interesting because it allows you to sell without the need to have stock of products, warehouses or printing machinery.
Now that you have a clearer idea about this concept, let's talk about niches in Print On Demand.
What are niches in Print On Demand?
A niche or market segment is a specific part of the whole market, which seeks to attract and offer products to a specific group of people. This group of people share similar needs and characteristics as well as specific emotions and passions.
Summarizing and to show you some examples, we can say that cat lovers belong to the same market niche. Other examples of niches could be fishing enthusiasts or people who identify with a political ideology. All of them are niche segments made up of people who have a set of characteristics in common and specific passions.
To get started in Print On Demand you need to select a market segment and think about how you are going to create those designs or how you are going to delegate them to someone who has talent. Poor designs will never succeed, so try to focus on quality over quantity.
Which Print On Demand niche should I choose?
Choosing the right niche market is essential if you want to succeed and differentiate yourself from your competition. But how can you come up with those niche ideas that make the difference? Well, an interesting starting point is to use the free Google Trends tool.
Thanks to this Google tool you will be able to find out which niche is most popular within a category. For example, if your idea is to make print-on-demand designs based on different animals, it is interesting to know which one is more popular or if any of them is trending.
To be more specific, I bring you the example of unicorns. These mythological creatures became very fashionable in April 2017. There was a real rush in the market to purchase any kind of unicorn based item. Here you can see the graph.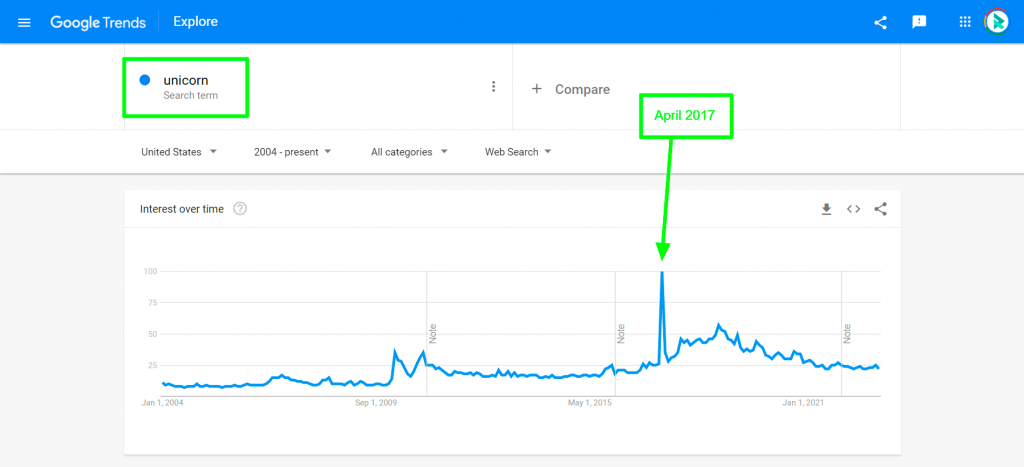 Following this idea, if you are able to make designs related to a trending topic, you will have many more options to generate sales. Our recommendation is that you can find more stable niches than this one I have exposed you since you should also look for the long term.
Generally, low competition niches for Print on Demand are the most interesting as they allow you to have more stability and position yourself as a leader in that segment.
It's nice to be able to "surf the waves" in Print On Demand and ride the winning horses but it's also the case that those trends over time can fade. From our experience, ideally, niches should be stable over time with an upward trend.
Mixing Print On Demand niches to stand out
Another technique that works very well is to mix two niches in the same design.
This method allows you to differentiate yourself much easier in the market and it will be easier to generate sales. The reason? It's simple, because you appeal to two specific passions of a person. If those two passions converge, it is easier to close a sale.
When you mix two print-on-demand niches you decrease the number of real competitors. This is very effective as it is much easier to stand out in front of potential customers.
Let's take a look at this example:
Which one do you think can sell better?
Indeed, the avocado-shaped cat will most likely perform better, as it is not only positioned for cat lovers, but also for avocado fanatics.
The reason? In today's highly competitive market, you can find tens of thousands of designs that simply feature cats. You are just one among many. Anyone looking for cat mugs is likely to find other designs they like more than yours.
On the other hand, if you choose to make a design that targets cat lovers who are also passionate about avocados, you may find yourself with few competitors. That way, it will be easier to generate sales because you are combining two passions in the same design.
Keys to success when choosing a Print On Demand niche
As in any project you undertake, it is essential to create a marketing strategy that takes into account different relevant factors to generate sales. The most important are those related to the customer profile, the market in which we are going to place our products, and the analysis of competitors.
1. Define the profile of your ideal customer or buyer persona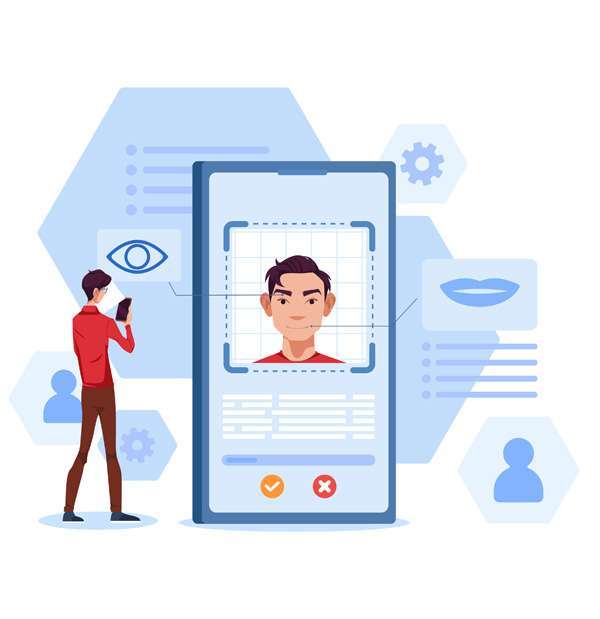 You are probably familiar with the expression "target audience". It is a term widely used in marketing and advertising to define who your potential consumers are.
The buyer persona or ideal customer is something similar that refers to a person with specific ethnographic (age, sex, preferences, etc.) and psychosocial (sensitivity, behaviors, qualities…) characteristics. People who meet a certain profile will be considered our ideal customers. For each product or service created, a different buyer persona can be defined.
To give you an example, you yourself, who have reached this article, belong to Reactiva Online's target audience. You are probably a designer, an artist or an entrepreneur. Your buyer persona profile could be that of a 28 year old woman or man, passionate about entrepreneurship, with a higher education and a medium income level.
Once you have defined this, the next thing to do is to outline who your ideal buyer persona is. You can do this by asking yourself the following questions:
What are the physical or psychological characteristics of your potential customer?
How do they spend their free time in their personal lives?
What does a user expect to find when visiting your online store?
How high is the educational level of your potential audience?
What needs are they looking to cover with the purchase of the product?
How would you define what their passions and desires are?
These are just some of the most important questions you can ask yourself when creating a buyer persona profile, but feel free to include all the extra questions you think are appropriate. Finally, create a detailed user profile that perfectly describes your ideal customer.
2. Determine the market you are going to target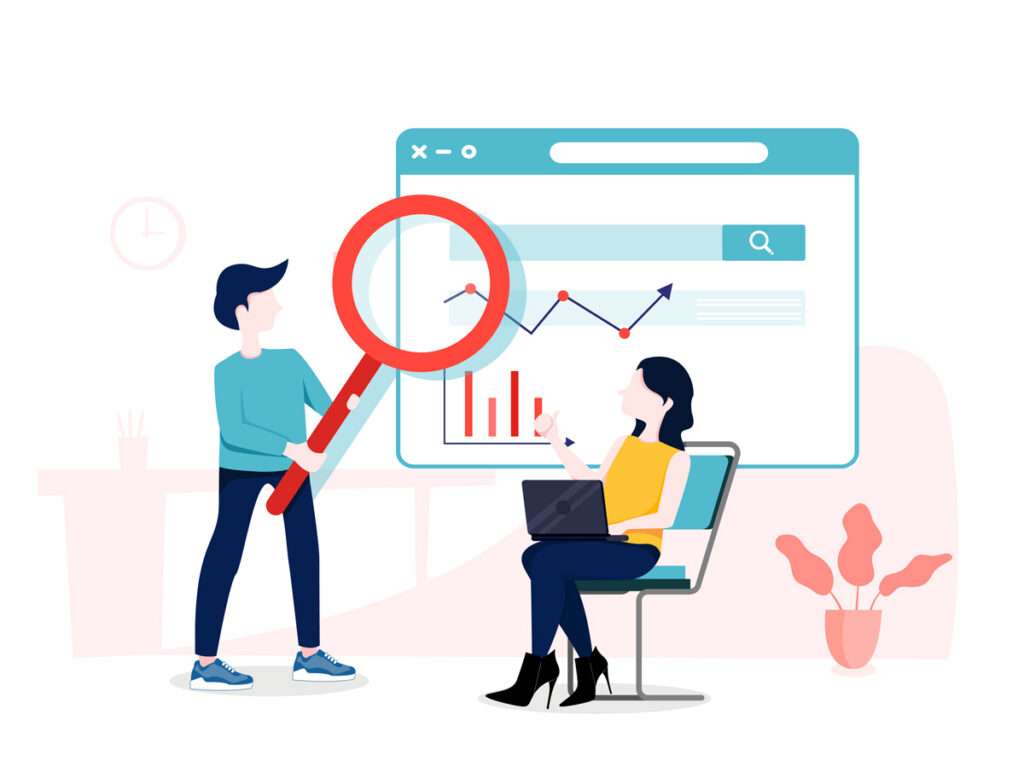 Setting up an online store to sell your own designs is definitely a crucial step if you want to succeed in your project. Based on your experience in e-commerce, you can choose to sell locally (within the same country), in an economic region (countries within a common market) or worldwide.
If you are a beginner, you can start by targeting a single country. It will be easier for you to manage everything, and it is also a good way to test if your designs are a good fit for a smaller audience. Once you have consolidated your print-on-demand project, it's time to consider expanding your target market.
Selling in a common market or economic region will allow you to increase sales and expand your business by avoiding the problem that in some cases your customers may have to pay customs duties. Thanks to the free movement of goods, you will minimize bureaucratic processes and your customers will not have to worry about customs.
Finally, selling internationally is something more suitable for people with some experience in e-commerce. Everything is more complex, starting with shipping, the possible problems with customs and even the different cultures and consumer trends in each country. Selling a design to a specific audience in one country is not the same as selling to an equivalent audience in other countries. Preferences and ways of consuming change from place to place.
3. Evaluate the level of competition
Except on specific occasions when you are very innovative or new trends emerge in the market, you will find competition around a niche. The existence of competition should be seen as a positive thing, as it helps you to know if there are people willing to buy certain products. It helps you evaluate whether that market segment is producing sales.
To find out if there is a higher or lower level of competition in a specific niche, you can search on Google to find and identify your competitors. Take a look at them and analyze these online stores in depth to find out what are their main strategies.
4. Choosing a good Print On Demand company
Over the past few years we have been able to work with many Print On Demand companies, and at the same time we have learned from mistakes and successes.
There are more and more companies offering Print On Demand services, but we recommend that you work with companies that have been established for many years in the market. Having worked with some start-up companies as well as companies with Chinese factories, the experience has not been good.
On the other hand, when we have worked with leading companies in the industry, everything has worked much better. Finding the right product and supplier for your needs requires careful analysis of each market option. Our preferences are definitely Printful, Printify and Gelato, which you probably already know.
They are well-established companies that give peace of mind when it comes to providing good products and services to customers. Both have a consolidated work system and thousands of customers worldwide. It is important to have good partners when starting a project of this type.
There are also other companies about which we have a good opinion. Here is a brief summary of the best POD solutions.
🏆 Best Print On Demand companies
Best Print On Demand Niche Ideas
With all that said, it's time to look at what we have promised; Print On Demand niche ideas.
Remember that it is important that you build a business around a specific niche that appeals to a particular group of people. Ideally, you should choose a niche that will allow you to incorporate other related niches when the project is consolidated.
In the field of on-demand printing, especially when you are starting out, Julius Caesar's famous phrase "Divide and conquer" makes perfect sense. The strategy of targeting a specific niche is essential to gain authority on a topic. This will make it much easier to beat your competitors.
With nothing more to add, let's list some ideas for popular Print On Demand niches:
Animals and Pets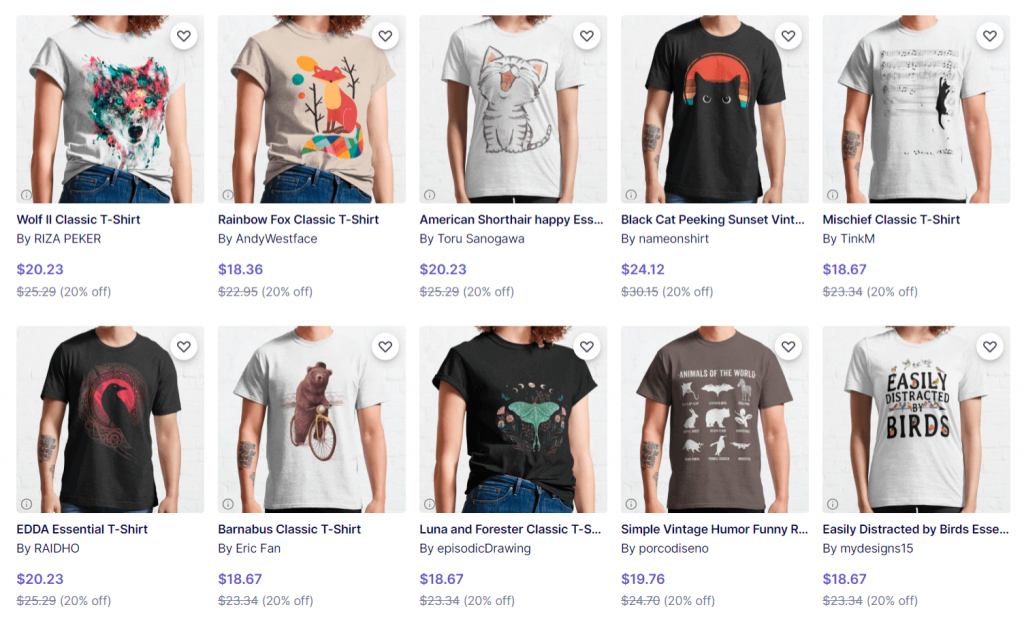 Animals and pets are for many people one of their greatest passions. There are many people whose love for animals is so strong that they end up buying dozens of products with illustrations of their favorite animals. It becomes a recurring birthday gift for any pet owner or animal lover.
If you plan to approach this type of niche, here are some best-sellers ideas.
Dogs: Dogs are the most common domestic animals, and for this reason, they are one of the most popular niches that exist. These friends are so loyal to humans that they generate a great passion among those who have been able to enjoy their company.
Cats: The great rival of canines and, for many, the kings of homes. You can make cat designs dressed as superheroes, related to memes or representing different cultures.
Hamsters, guinea pigs and chinchillas: Who doesn't like hamsters or guinea pigs? These tiny creatures are absolutely adorable. On the web you can find designs of them sleeping, playing with their toys or expressing lots of emotions.
Dinosaurs: It doesn't matter that millions of years have passed since their extinction, these prehistoric creatures will never be forgotten. You can make products for parties, birthdays or special events that include these creatures.
Animals that arouse tenderness: Hedgehogs, alpacas, lorises, squirrels, owls or koalas (and many others) are adorable animals that arouse special tenderness among the public.
Activism, Politics and Social Causes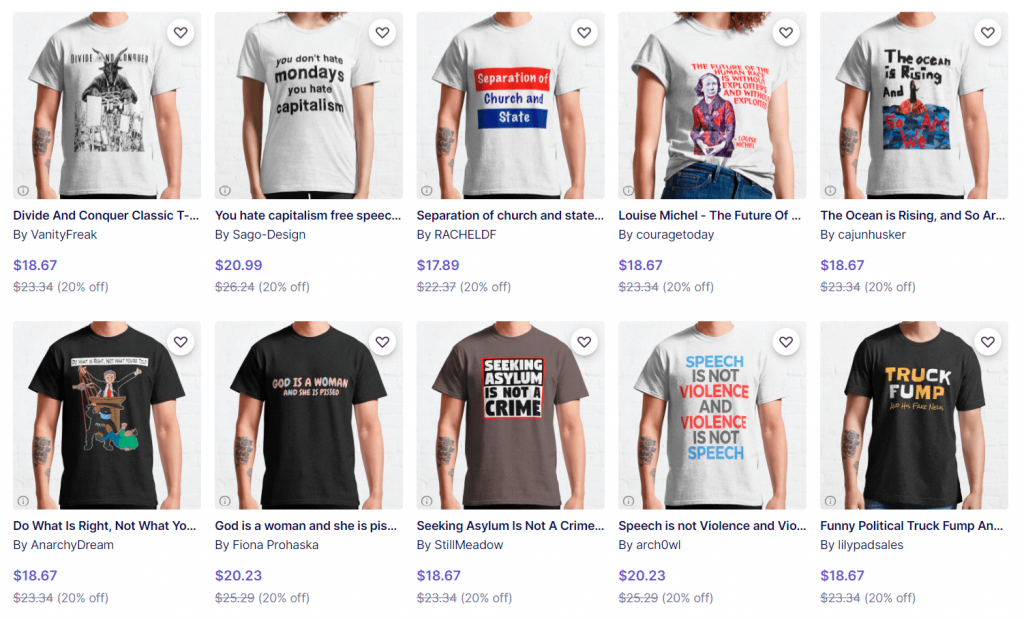 Nowadays, many groups of people have been driving movements, especially of a political or social nature. This rise of specific movements and groups in society is a perfect source of inspiration for your Print On Demand store. The niches that stand out in this category are:
Veganism: Closely following the previous niches, veganism is a lifestyle that is linked to the protection of animal rights. If you want to design around this, you can combine it with the previous categories or for example use vegetables turned into characters.
Politics: Some people enjoy and feel proud of the values represented by different political ideologies. For this reason, creating custom designs for these groups could be a good idea. You can create representative phrases or link it to politicians and important personalities.
Ecologism: This topic is also trending and often linked to politics. This has led to the creation of activist movements around the world and therefore, groups of people concerned about this issue. Therefore, it is up to you to create related designs, emphasizing aspects relevant to climate change or pollution.
Patriotism: Some countries feel very close to their culture. The United States would be a perfect example of this. So, don't hesitate to use flags, iconic characters or cultural aspects to create your art.
Religion: There are more than 3 billion believers of different religions in the world. If this subject interests you, do not hesitate to represent the thoughts and illustrations of each religion.
Feminism: For several years now, this movement has been bursting with strength around the world, and especially politicians are making allusions to this issue. You can create illustrations about the collective, look for historical women related to the movement or represent feminism in other ways.
LGTBIQ+ Collective: Every year, in June, the LGTB collective makes manifestations in the streets of many cities around the world. You can design illustrations related to this topic. You can focus on different sexual orientations, gender identities, or represent the collective through symbols.
Families and Relationships
There are people around us who deserve the best in the world. These would be our family members, partners and friends. With this in mind, you can point your artwork to common gifts that are made in the realm of personal and family relationships.
Mothers: Mothers represent tenderness and the daily effort to bring their family forward. You can make illustrations about Mother's Day, the hobbies they have or simply make phrases referring to them.
Fathers: Just like mothers, fathers are the other fundamental family backbone. You can make designs to celebrate the Father's Day, illustrate related phrases or draw funny cartoons, among others.
Sisters or brothers: This family bond can inspire you to make beautiful designs. You can create combined works with other people in the family, or together with their pets. You can also try to make humor with everyday issues related between siblings.
Boyfriends or girlfriends: Love shown towards a person is a very popular niche idea that you can explore. To give you some ideas, you can always represent typical dating situations, allude to movie scenes or use witty phrases around this topic.
Friends: There are people who grow and spend great moments together. A friendship that consolidates as time goes by. This connection can be expressed in many ways through symbolism, phrases or drawings linked to friendship.
Humor and Internet Memes
Who doesn't like to laugh? Humor is something that a lot of potential buyers are attracted to. What's more, it could be the biggest niche in the entire Print On Demand arena. It's something that brings joy to life, so adding it to everyday products can be a great idea.
You can use memes, graphic images or jokes among others. Memes can be found everywhere on the Internet, the largest library of humor ever.
Professions and occupations
Professions and occupations are another great niche market that you can explore. The pride and passion with which many people work is reason enough for this niche to have a considerable audience. You can create products that allude to particularly vocational professions such as:
Firefighters: This professional collective represents a multitude of values and becomes the perfect niche. Many family members and friends may want to give gifts related to this profession. Design graphics and symbols related to this profession, the water, the fire or phrases of courage and bravery.
Nurses and doctors: This is another large population group. Nurses and doctors have a lot in common. These occupations are usually very vocational, and they use certain instruments and are in direct contact with patients. Take advantage of these issues to create your artwork!
Teachers: Behind a good teacher, there is always someone passionate about education, art or culture. Use your creativity to make POD designs in relation to this work using related symbols such as orlin, graduations or different subjects.
Cops: This is a widespread profession in which thousands of people work. Also, law enforcement officers are the protagonists of many series and films. This will give you hints on how to create your illustrations. Whether you compose a crime scene, draw weapons or allude to criminalistics, they will all be good ideas.
Programmers and computer scientists: It is one of today's trendy professions due to the rise of technology. Programming and IT is one of the big niches in the Print On Demand market. In particular, the different coding languages can help you create customised products that refer to the collective. You can make very original designs and bring a bit of humour to this booming profession.
Entrepreneurs: Does this niche ring a bell? 😄 Although it may not seem like it, entrepreneurship can be one of your best allies. We all know how complex entrepreneurship is and how difficult it is to make a space for yourself in the market. Therefore, you can use motivational phrases or create illustrations in reference to professions such as bricklayers, painters, bakers, hoteliers, consultants, psychologists, etc. There's plenty to choose from.
Truck drivers and transporters: The transport sector is another important pillar you can focus on. Many truck drivers and carriers are self-employed and are united by long or recurring journeys throughout the year. You can make illustrations related to trucks, use phrases related to this profession or illustrate different route coordinates or cities.
Hobbies
There is no doubt that if you want to find good ideas for print-on-demand niches, hobbies have a lot to offer. This category has a large number of potential buyers. Because who doesn't like to have fun in their spare time? Here are a few ideas for you:
Fishing: This is an outdoor activity highly appreciated by amateurs and experienced fishermen. Something that will probably allow you to create designs for a really wide audience. Think about fishing rods, fish, boats or different styles of fishing.
Skateboarding: It's the sport of many young people today. As a plus, you will know that many fans will end up buying a personalized product of this subject to show it off to their friends. To make your designs, take the typical clothing of the skateboarding world or skating rinks as guidance.
Video games: If one thing is clear, it is that video games are one of the niche markets that could generate the most profit for you. Only with the authority of a few influencers and YouTubers, this market is growing. Design controllers for consoles, represent scenes from games or use different phrases that are common among videogame lovers. Be careful not to use trademarks or registered objects in the designs.
Astrology and tarot: Astrology and tarot are both growing topics when it comes to print-on-demand. Astrology focuses on the study of the position and movement of the stars, through which it is intended to know the destiny of people and predict events on earth. Tarot, on the other hand, tries to interpret facts, perceptions or emotional states. An interesting niche, especially in these turbulent times.
Travel: A passion for many and a dream for others. The travel niche allows you to develop a multitude of concepts and ideas. You can create illustrations with the coordinates of different cities, represent monuments or symbolize the experience of traveling. Illustrating maps can also be an excellent idea.
Music: Music is there wherever you go in your daily life. It can be heard in elevators, supermarkets or advertising spots, among other places. This indicates that there are many music fans who represent a huge pool of potential buyers. Explore the magic of musical notes, bring instruments to life or write lyrics. Let your imagination run wild!
Events and Special Occasions
Special occasions and celebration events have become another valuable market for Print On Demand's e-commerce. Sooner or later, birthdays come around, Christmas approaches and important events occur. Therefore, having a product catalog inspired on these occasions can be very profitable.
Birthdays: The day of gifts for excellence. Here you have a wide range of possibilities to illustrate on the basis of people who have a birthday. You can illustrate the year of birth, mention the decade in which someone was born or simply create original phrases to surprise with.
Christmas: A very special date that many people look forward to, especially for the youngest members of the family. There are thousands of ideas that you can design taking this holiday as your blueprint. References to Christmas carols, Santa Claus or the Three Wise Men are just a few ideas.
Valentine's Day: Valentine's Day is another of those key dates marked on the calendar. It is a very special day for many couples who focus on finding the perfect gift.
Weddings or engagements: The search for original and personalised gifts for weddings is always important. Without any doubt, you will be able to create a multitude of designs around these events.
Copyrights and Trademarks
Once the different popular Print On Demand niches have been analyzed, it is important to address the issue of intellectual property. It is common that you can come up with great ideas that could be a success, but unfortunately you will not be able to develop them because they are protected by intellectual property rights. It is likely that you see designs on the web using copyrighted images and names, but my recommendation is to avoid such practices as they can get you into trouble.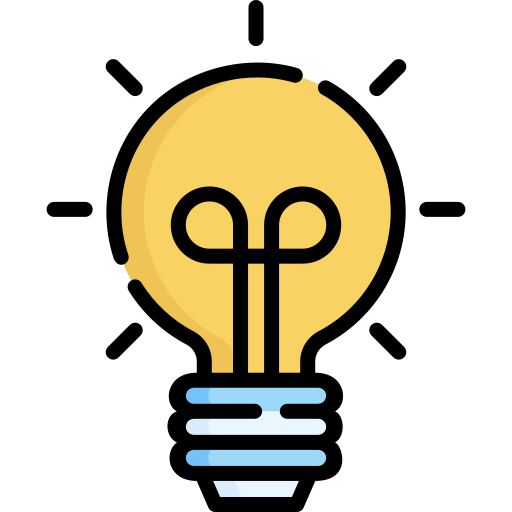 Intellectual property (IP) is the set of rights enjoyed by the author of any work related to the scientific, literary or artistic field, where authorship is recognised and the ability to exploit it commercially is respected on an exclusive basis. The best known types of IP are copyright, patents, trademarks and trade secrets.
My advice is to always avoid creating works that may infringe these intellectual property rights. This publication should not serve as legal advice, but I recommend that you act with caution or seek professional advice. If you are ever in doubt, it is best to consider that the artwork is subject to copyright.
Here are some tips you can keep in mind to make sure you don't break the law:
Avoid using any trademarked or copyrighted material
Check copyright and trademark registrations
Make sure you create original designs and own the content you are going to market
Seek professional legal advice
Where to Get Designs for Your Print On Demand Niches
Choosing the right design for your print-on-demand niche is crucial in determining the success of your project. The design must not only be visually appealing, but also relevant to the niche you are targeting. There are two main possibilities for getting designs for your print-on-demand niches, depending on your time, budget and design skills. In this section we will explore both options in detail.
Option 1: DIY
If you have a flair for design and some free time, you can create your own designs using tools like Canva and Envato Elements. These platforms offer a wide range of templates and elements that can be customized to suit your niche and target audience. You can experiment with colors, fonts and layouts until you get the perfect design for your products.
Option 2: Hire a freelancer and scale quickly
If you prefer to focus on other aspects of your print on demand business or lack the necessary design skills, hiring freelance graphic designers from platforms like Fiverr or Upwork is a viable alternative. By outsourcing the design process, you can tap into the expertise of talented designers and ensure that your products feature high-quality, professional designs that resonate with your target audience.
Summary and conclusions
Choosing a niche that attracts the attention of your potential buyers is not easy. We recommend that you choose a stable niche that has been on an upward trend in recent years.
In our experience, the vast majority of the niches mentioned in this article are interesting to start in this field. The evergreen niches for Print On Demand as well as the passion niches are generally the most profitable.
An interesting idea for you to stand out from your competitors is to combine two niches together. Also remember to relate your designs to people's most sensitive side: emotions. Print On Demand products are bought because users are passionate about a topic, so the buyer must feel completely identified with what they are going to buy.
We hope you found this article useful. Here are some other related articles that I think you may find useful 😉
Want to Learn More?
Frequently Asked Questions
What is a Print On Demand niche?
A print-on-demand niche is a specific market segment made up of people with a common set of characteristics and passions. One of the most recommended strategies in this type of e-commerce business is to create an online shop around a specific topic or niche market.
Which are the most popular print-on-demand companies?
The best known companies in the print-on-demand sector are Printful, Printify or Gelato. These are well-established and experienced companies that can help you produce and ship products with your own designs and creations.
How to find a good Print On Demand niche?
In the print-on-demand field, it is recommended to choose a niche market to help you narrow down your audience and create products around a specific group of people. To find profitable niches that are trending, you can use tools such as Google Trends, Google Ads Keyword Planner and other SEO tools to help you find out which search queries are most used by your potential customers.
Why is it recommended to focus on a specific Print On Demand niche?
Choosing a specific niche to develop your Print On Demand store is essential. This helps you to focus your efforts and specialise in a particular topic and enjoy less competition. It is also easier to find and target potential customers segmented by specific passions and interests.
What topics are popular for Print On Demand niches?
The most popular print-on-demand niches are those related to animals and pets, activist movements or social causes, family and relationships or internet humour and memes among others.