If you have landed on this article it is because you are looking for the best Printful alternatives. Finding other sites like Printful is not an easy task, since, from our experience and after having worked with many POD suppliers, it is one of the best global solutions that exist in the Print On Demand landscape.
I am well aware that choosing a partner for your e-commerce project can be a complex task, but it is something that has happened to everyone. We've also made some bad decisions and that's why we bring you this article.
If you want to know the best alternatives to Printful, I recommend you stick with me until the end of the article 😉 Let's get started!
Printful alternatives: Why should you look for them?
First of all, I would like to make a brief mention about the reasons that may lead you to look for different POD companies.
Printful's product prices are high
The truth is that Printful has product prices that are considerably higher compared to other POD competitors. This is something that can be crucial when choosing a Print On Demand partner. On the other hand, regarding shipping rates, the company offers lower prices than other companies, something that can also influence your decisions.
As we explained in our Printful review, one of the reasons for these high prices is that the company offers higher quality products than other providers, which is an important aspect to consider when serving your customers.
In addition, the company has in-house production facilities, something that probably drives costs up, but they also have more control over the production and shipping process, something that ultimately benefits you.
Printful's product range is not enough
Another reason that may lead you to explore other alternatives to Printful is the product range. Although this is one of the companies with the largest product catalog, there are certain categories of items that do not have many variations. Depending on the niche market you are targeting you may need to explore other Printful competitors.
What are the best Printful alternatives?
In recent years, the Print On Demand model is emerging as an alternative to traditional dropshipping.This is a type of e-commerce that really brings extra value to customers, it has become more attractive to entrepreneurs, artists and designers, something that has increased the number of companies offering these types of services.
Therefore, I bring you a detailed list with the best alternatives to Printful where we will see the pros and cons of each Print On Demand solution, so that it can help you when choosing. After the list, we show you a comparison table so you can see the most significant differences.
Established in 2015, Printify is a company with more than 4 million sellers worldwide that manufactures more than 10,000 products every day thanks to its partner factories.
From our point of view and thanks to having worked with this company, this is probably the best Printful alternative. This company stands out from its competitors by offering very competitive prices, especially with the premium plan. Unlike Printful, the company does not have its own production centers, so it delegates production to more than 100 partners in countries such as Germany, Australia, Canada, China, Slovenia, Spain, United States, Latvia, Netherlands, Poland, the United Kingdom or the Czech Republic.
Having said that, this provider is very interesting if you are going to market your products in a single country or a common commercial region.
In case you plan selling internationally, you should know that each partner factory is located in a different place and each one has its own production process, so products can be manufactured with slight variations. It is also worth noting that if you want to manufacture in different locations, and you need different factories, the purchase prices may vary and therefore alter your plans. If you opt for the same manufacturer worldwide and want to sell in all countries, you will have to deal with the handicap of higher shipping rates, longer shipping times and possible customs charges to your customers.
Printify Pros
Printify Cons
Who is Printify best for?
For those who are looking for a provider with the idea of selling in a single country or a common commercial region
For those looking for very competitive production prices
⮕ Read our complete Printify review
Gelato is a fast-growing print-on-demand company that we consider to be the second best alternative to Printful. This company was founded in 2012 in Oslo (Norway), and currently has a presence in 33 countries around the world, offering services that allow you to manufacture and ship customized products very quickly.
The success of this Print On Demand supplier is due to multiple factors, among others the originality and quality of their products and the competitive prices they offer. Its product catalog includes more than 100 products and it has up to 100 production centers. Regarding shipping costs, we can point out that they are reasonable and delivery times are below those of its competitors.
Who is Gelato best for?
For those who are looking for a supplier with very high quality products and original products
Those who are looking for excellent customer service.
⮕ Read our complete Gelato Print On Demand review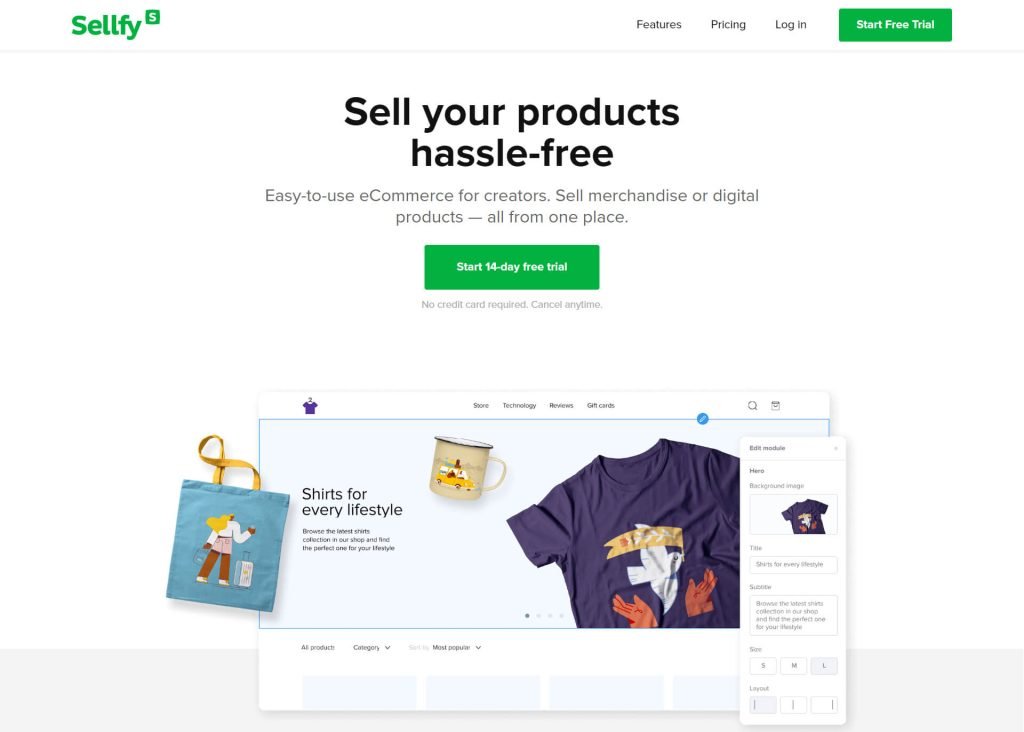 Trusted by over 60,000 creators and artists to date, Sellfy is an e-commerce software that came into existence in 2011. Sellfy is an all-in-one eCommerce platform that offers multiple solutions in digital and physical products, including print-on-demand (POD) services.
This solution allows users to sell physical products, digital products and subscriptions, through a simple and intuitive platform. Thanks to Sellfy's production network, users can expect fast and reliable delivery, with products typically delivered within days in the United States, Canada, Europe and other parts of the world.
If you are looking for both a software and a Print On Demand provider, this may be a good solution for your needs. You can take a look at their plans and pricing.
Who is Sellfy best for?
For those looking for a complete solution to create an online store that includes Print On Demand services
For users considering selling subscriptions or POD products
Inkthreadable is a Print On Demand company based in Blackburn, England. Established in 2013 by Alex and Amy, the company has successfully completed over 1.2 million orders that have been manufactured entirely in the UK.
Inkthreadable offers a range of organic, sustainable, and recycled products to meet the growing demand for eco-friendly and socially responsible products. In addition to these eco-friendly products, this company also uses water-based, non-toxic inks and dyes in their printing process, which are less harmful to the environment and human health compared to traditional printing methods.
Finally, their excellent customer service will be with you every step of the way if you have any doubts or questions. You can contact them via email or live chat, and even by phone.
Inkthreadable Pros
Inkthreadable Cons
Who is Inkthreadable best for?
For those looking for a provider that manufactures in the United Kingdom
For those looking to create organic, sustainable and recycled collections
SPOD is a company that belongs to the Spread group, known worldwide for having one of the most important Print On Demand marketplaces, Spreadshirt.
The main reason why SPOD is a good alternative to Printful is because of their experience in this area. To give you some context, in 2020 they manufactured over 9.8 million products and currently have their own manufacturing infrastructure.
One of the elements that stand out about this company are the production lead times, which are the best in the print-on-demand industry. In 95% of the cases, the products are shipped within 48 hours, something that allows customers to enjoy a satisfactory service. Additionally, unlike other Print On Demand companies, SPOD's shipping costs are calculated based on the total value of each order, not per unit or weight.
SPOD offers competitive pricing for their products, which means that you can make a profit while still offering your customers affordable prices.
Who is SPOD best for?
For those who are looking for a provider with a broad product catalog
For those looking for very fast production lead times
Gooten is a New York-based print-on-demand company with production facilities and distribution centers in various locations around the world. Like other Print On Demand providers, such as Printify or Gelato, Gooten does not have its own factory network, but outsources production to external factories in more than 30 countries. Basically, they manage an extensive global supply chain and make sure to work with the best manufacturers.
This provider offers quality services at the level of other prestigious companies in the business, and has an average success rate of 95% in terms of turnaround times. It is also a proven Print On Demand company, having manufactured and shipped over 4 million items to date.
Who is Gooten best for?
For those who are looking for a provider that can manufacture in a large number of countries
For those who are looking for original products that other POD companies do not offer
Comparative table of Printul alternatives
In the following table, we bring you a summary with a comparison between Print On Demand providers, so that you can have an overall idea of each company's size.
Company
Product range
Production Facilities
Production Times
Production facilities
Printful
+ 444
17
2-7 days
United States, Mexico, Canada, Brazil, Spain, Latvia, United Kingdom, Japan and Australia
Printify
+ 763

65
2-7 days
Germany, Australia, Canada, China, Slovenia, Spain, United States, Latvia, Netherlands, Poland, United Kingdom and Czech Republic
Gelato
+ 90
130
2-6 days
32 countries – Brazil, Canada, Mexico, United States, France, Germany, Spain, United Kingdom, Australia, China, Japan and New Zealand
⮕ Complete list
Sellfy
+ 90
4
2-7 days
United States, United Kingdom, Canada and Europe
Inkthreadable
+ 250
1
3-5 days
United Kingdom
SPOD
+ 200
4
2 days
United States, Czech Republic, Germany and Poland
Gooten
+ 150
40
2-5 days
United Kingdom, Canada, Brazil, Australia, Czech Republic and Korea
Note: Data are subject to variations
Table updated: June 8th, 2023
Summary and conclusions
From our point of view, there are several solid alternatives to Printful, such as Printify, Gelato, Sellfy or Inkthreadable, with a wide product catalog. Besides, if you are looking for a more specialized provider such as ShineOn (customized jewelry) or Picanova (posters and canvases), we also recommend them. The sites we have mentioned in this list are proven companies with years of expertise in the Print On Demand arena.
It is also important to mention that we do not recommend working with Chinese POD companies. Having worked with several of them, we have found that the quality level of the products is generally low. You will also have to deal with problems related to long shipping times and customs where packages are often held up.
Want to Learn More?
Frequently Asked Questions
What is the best alternative to Printful in terms of price?
The best Printful alternative in terms of product pricing is Printify. This supplier has very competitive prices, especially if you subscribe to the premium plan for $29/month, an option that we recommend. There are also other companies with very competitive prices, but they are usually base all the production in China, something we do not recommend. Production in China means longer delivery times and possible problems with product retention at customs.
What is the best alternative to Printful in terms of production and shipping times?
The best alternative to Printful in terms of production time is SPOD, with an average of 2 business days. On the other hand, the best POD solution in relation to shipping times is Printify with an average of 2 to 7 business days.
What is the best alternative to Printful in terms of product quality?
In terms of product quality, while Printful is a provider that offers high-quality, your best alternative is Gelato. It may not be the provider with the largest product catalog, but there is no doubt about the quality of the products offered by this Norwegian company.
Are Chinese providers a good Printful alternative?
From our own experience, Chinese POD companies are a poor choice. If your project is going to rely on a Print On Demand company that produces in China, you are likely to have problems with product quality and long shipping times. Even if the prices of the products are attractive, we do not recommend you to start such a project.