If you have reached this article, maybe you are about to start your Print On Demand online store, but you still don't know the differences between Printful and Printify. I am writing this article first-hand since I have found myself in the same circumstances, so I will try to recommend you which Print On Demand company can be the best for each case. In this article, we will make an extensive comparison between Printful and Printify.
There is no doubt that Print On Demand is here to stay since it is an e-commerce model that allows you to run a business without the need for inventory. In the last few years we have become aware of the great potential of these two Print On Demand companies that are market leaders and operate worldwide.
In this article, I will try to clear up doubts and we will try to highlight the differences between Printful and Printify. In case you haven't already done so, I also recommend that you read our analyses in the Printful review and the Printify review.
Now let's focus on what's important: Which is better Printful or Printify? 🧐
Printful vs Printify: Main Differences
The first thing I want to do is to give you an overview of the main differences between Printful and Printify so that you can quickly see some key points. Below, you can see a general summary that we will analyze extensively later.
Production capacity: Printful can manufacture your products without depending on external companies. In contrast, Printify needs the production of its partner factories (external companies) in order to complete the supply chain. In short, Printful has greater control over the production process, something that allows them to better predict product demand.
Infrastructure: Printify has much more diversified operations thanks to a network of more than 100 partner factories in different countries. Printful, on the other hand, has 13 production centers (most of them owned) and is present in all continents except Africa.
Pricing: It is important that you consider subscribing to Printify's Premium plan for $29/month to access a 20% discount on their products. In general, Printify's prices are considerably lower than Printful's prices.
Production and shipping: Printify's products are produced in different factories that are not owned by the company, something that makes it difficult to ship some products due to high shipping rates and customs fees. Printify, on the other hand, has its own network of factories and applies an identical production process, which makes it easier to ship products internationally.
Brand management: Printful has many more options for order customizations. Among other things, Printful offers you the option to insert custom clothing labels, print your logo on the packing slip, add thank you cards, or include your branded stickers on every order.
Integrations: Printful can be integrated with many more platforms than Printify, however, both integrate with the most popular software. In case you're wondering, both companies can integrate with Shopify, Wix eCommerce, WooCommerce, BigCommerce, Squarespace, PrestaShop and Etsy among many others.
These are just some of the most remarkable differences in this comparison between Printful and Printify. Let's dig deeper into the article, before giving you an opinion about both providers.
How do Printful and Printify work?
After having seen the main differences between Printful and Printify, it is time to continue clarifying the ideas so that you can identify the company that best suits your needs. How about a brief summary of how both companies work?
1. How Printful works
Printful is a company founded in 2013 and is known as one of the top print-on-demand companies, reaching $289 million in revenue by 2021 and having produced and delivered over 60 million products to date.
The main difference with Printify is that it has full control over the entire production and supply chain, something that is more important than it may seem at first glance. Printful takes care of sourcing raw materials, processing them into products, and handling and packaging the products. Finally, it coordinates shipments with transport companies.
In-house production means that the production process they carry out is almost identical in all their manufacturing centers. This means that you can sell the same designs anywhere in the world, knowing that the final customer will always receive the same product.
For example, if you have an online store that sells leggings all over the world, Printful will manufacture the product and ship it from the factory that is closer to the customer. This is not the case with Printify.
Another important aspect to note is that by having production centers in the USA, Spain, Mexico, Australia, Latvia, Canada, Japan, Brazil and the UK, you don't have to worry too much about products being taxed or blocked at customs. In this way, your customers will not have to pay tax fees and the process of receiving the product will be more satisfactory. This is neither the case with Printify.
2. How Printify works
Printify is a company founded in 2015, which has more than 4 million sellers worldwide and an estimated revenue of more than $80 million according to Growjo.
In contrast to Printful, they do not have their own production facilities. What they do is to delegate such production to the more than 100 factories located in the US, Europe, China, Australia, UK and Canada. This means that the products are not produced identically in all locations and adds some variability in pricing depending on who the producer is.
It should be noted that if you want to produce the same designs from different locations, purchase prices may vary and this may affect your plans. If you choose the same producer and you want to sell worldwide, you will have to deal with the handicap of higher shipping prices and possible customs fees for your customers. This supplier is more interesting if you are going to sell in the same country or common commercial region.
It is also worth mentioning the Premium plan offered by this company. If you subscribe to the plan for $29/month, the company rewards your loyalty with a 20% discount on products. Thanks to this plan Printify's prices are significantly cheaper than those of Printful.
As you can see, there are noticeable differences between Printful and Printify that are very interesting to analyze. There are many management aspects that you should be aware of before opening an online store and choosing any of the Print On Demand companies. Printful and Printify are quite different, that's why it is essential that you know the key aspects to make good decisions.
Printful vs Printify: Features Comparison
When choosing our main provider, it is important to analyze, one by one, the most relevant features of each company.
Regarding these companies, here you have a comparative table so that you get a general idea of all their features. Later we will also go over a pricing comparison, analyze the ease of use of both services and take a look at the variety of products offered.
Comparison of the main features between Printful and Printify:
As you can see, both companies have a fairly similar structure. They are Print On Demand suppliers that handle almost all tasks, from creating products to processing orders, as well as managing the shipments.
Pricing Comparison: Printful vs Printify
As in any business, profitability is a basic pillar. Both companies offer a free plan for all those entrepreneurs who want to get started in this area. However, each of these companies has their own peculiarities.
Another aspect that stands out from other companies is that Printful and Printify are very transparent regarding their costs and transactions. You will not find any hidden charges and you will always have the information properly displayed.
1. Printful Plans
There are currently three Printful plans; one free and two paid plans. After having worked with this company, it should be noted that the free plan is more than enough to develop your project. This plan offers the necessary tools to develop your POD project, while the premium plans provide extra functionalities, which are also interesting but not necessary.
Printful's free plan includes the following features:
Customization of +444 products
Integration with a multitude of platforms
Mockup generator
Promotions creator
Free mockups and print files
Customizable mockup generator to give a more professional feel to your online store
+2400 free clipart images
The Printful Plus plan costs $9/month and basically allows you to use a custom mockup builder, a social media post and ads builder, and a tool that allows you to remove backgrounds from images.
Printful Pro, meanwhile, is another premium plan priced at $49/month that offers (in addition to what's included in the Plus plan) a keyword analysis tool for Etsy, exclusive clipart images, premium images and access to a selection of carriers.
2. Printify Plans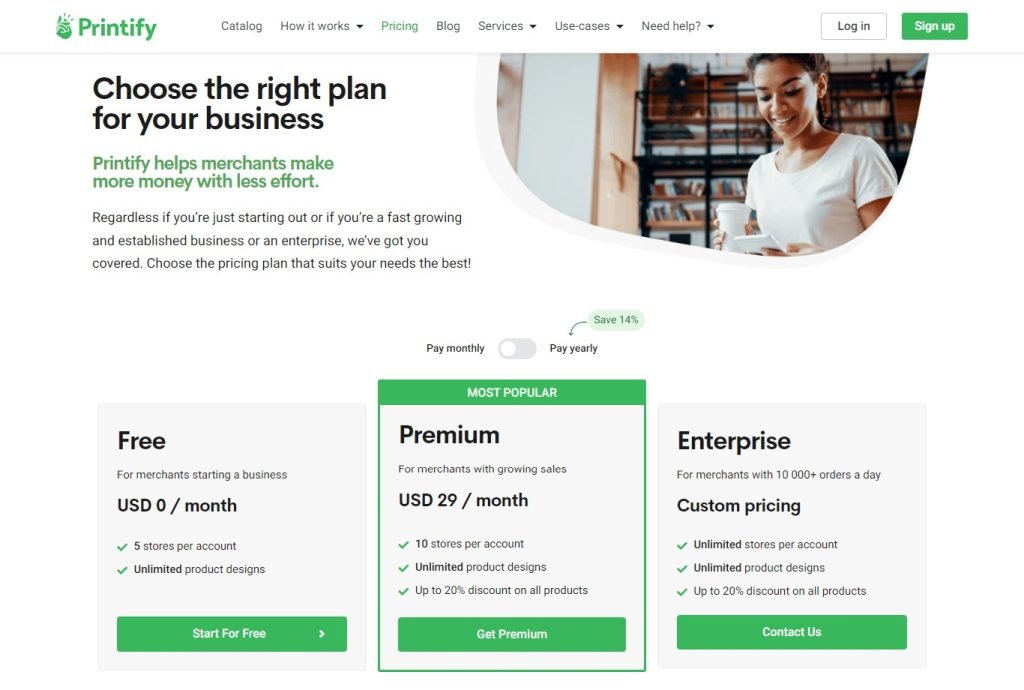 Regarding Printify plans, our recommendation is different from Printful. The premium plan will allow you to optimize costs thanks to its advanced features and, in particular, the 20% discount they offer. As soon as you make a few monthly sales, you will amortize the price of the subscription.
With this premium plan, which costs $29 per month, you only need to make a small number of sales to get the full price of the premium plan.
Printify's free plan includes the following features:
Mockup generator
Multi-platform integration
24/7 customer support
Manual orders
Unlimited product design
Extra features with the Printify Premium plan:
10 stores per account
Personalized orders
20% discount on all products
Advance testing of any new features
In addition to this plan, for larger projects, you have the Enterprise plan, which has no specific fee and offers unlimited stores. It also allows you to get your own customized API, as well as a dedicated account manager and customer service exclusive to your brand.
3. Printful and Printify Product Pricing
At this point, it is necessary to talk about the prices of the products, which are generally quite higher in the case of Printful. Since the production of this company is made in their own facilities, (and probably have higher fixed costs) they focus on offering higher quality products than their competitors. This is important, but it should also be mentioned that the quality of Printify's products is generally good.
Here you have some examples to give you an idea so that you can see price differences in similar products. The comparison is made between the prices of Printful products and the prices of Printify products using the Premium plan with a cost of $29/month.
Printful and Printify product pricing comparison:
As you can see, there is a noticeable price difference between products. Now let's focus on the differences between shipping costs.
4. Printful and Printify Shipping Prices
As we have previously pointed out, a factor associated with product pricing that you should take into account is the shipping price. This can change your perception depending on the characteristics of your project, since Printify's shipping costs are quite variable depending on the shipping destination.
As mentioned at the beginning of this article, Printify delegates the production of products to different factories. Sometimes, there are products that are only produced on one continent, and that might be a problem that changes your plans. Here is a practical example so you can see the differences.
Example
Let's say we want to open a leggings online store focused exclusively on the German market.
Unit production cost:
Printful: Leggins all over – $30.25
Printify: Women's Cut & Sew Casual Leggings – $16.60
Manufacturing location:
Printful: United States and Latvia
Printify: United States
Shipping rates:
Printful: $4.59
Printify: $9.39 (international shipping)
Final prices (production + shipping):
Printful: $30.25 + $4.59 = $34.84
Printify: $16.60 + $9.39 = $25.99
This basically implies that if you work with Printful, the legging is more expensive overall. However, it will be produced in Europe, so shipping times will be shorter and the products will not be held up in customs as Europe is a common market.
On the other hand, if you work with Printify, which has significantly lower production prices, but does not have its own network of factories on different continents, the product will have to be shipped from the United States to Germany. This would have two direct consequences: higher shipping rates and delivery times and the possibility of the product being stopped at customs.
Ease of Use: Printful vs Printify
Regarding the ease of use, I promise you won't have any problems. Both platforms are intuitive and relatively easy to use, although it is true that each one has its own peculiarities. Let's take a look at some of them!
1. Printify Dashboard
In the case of Printify, accessing the platform is a breeze. All you have to do is sign up to the platform with your email address. Once you enter it, you will see a minimalist, well-organized and easy-to-configure control panel.
Once inside, you will be able to compare products, learn about their features and when you are ready for the next step, start designing. If you already have your designs ready, you can upload them to the platform and modify what you see necessary. It has a drag-and-drop system that allows you to add products with just a few clicks.
In case you do not know how to use any functionality, you can contact their 24/7 customer service. You also have available a help center to solve your doubts.
2. Printful Dashboard
When we talk about the ease of use of Printful, we have to say that it is similar to Printify. When you are inside you can see quite a few more sections compared to Printify and a clean interface designed for beginners. There are no major differences between the two companies, so you can try them out without fear.
Product comparison: Printful vs Printify
We've come to another interesting point in the comparison between Printful vs Printify. Both suppliers have the most extensive product catalogs in the market and stand out far ahead of other POD companies.
In this section, it is worth mentioning that Printify has more types of articles, probably due to the fact that it has many associated factories.
Printful and Printify product range:
Stationery: stickers, notebooks, notepads, folders, postcards, etc.
Accessories: phone cases, backpacks, tote bags, wallets, mugs, canvases, posters, etc.
Footwear: boots, sneakers, flip-flops, heels, etc.
Clothing: t-shirts, blouses, polo shirts, crew neck t-shirts, shirts, leggings, hats, jackets, sweatshirts, etc.
I invite you to take a look at their catalogs.
1. Printify's best-selling products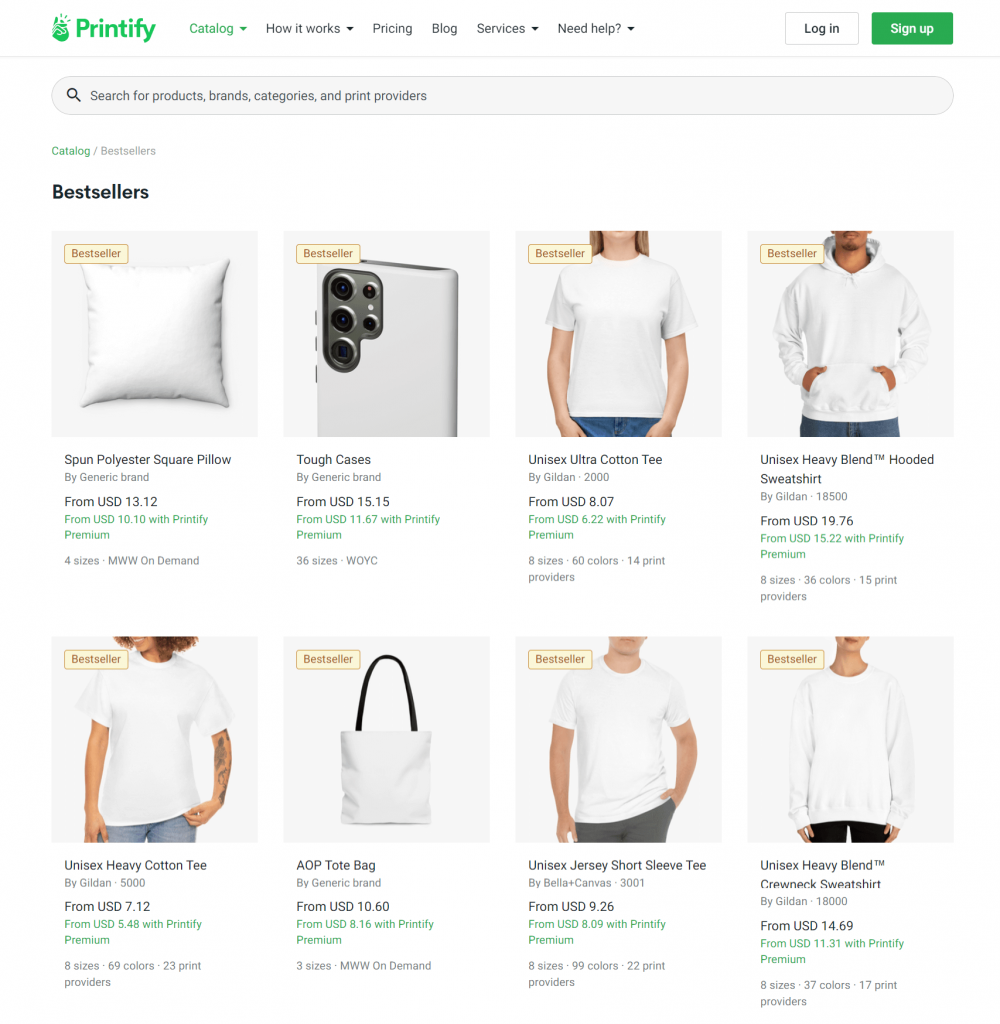 Among Printify's best-selling products, we can find:
Unisex t-shirts
Sublimation socks
Vertical matte posters
High top and low top sneakers
Spiral notebooks
Pillows
Cloth bags
Smartphone cases
Sweatshirts
Caps
2. Printful Best-Selling Products
Among Printful's best-selling products, we can find:
Unisex All-Over bomber jackets
All-Over backpack
Men's All-Over tracksuit pants
All-Over Swimsuit
Unisex t-shirts
Matte posters
Glossy white mugs
Unisex hoodies
Caps and hats
iPhone cases
Printful and Printify integrations
Integrations are another factor to take into account. Through integration between different software, we can connect different types of platforms.
If you are going to choose between Printful or Printify to sell your Print On Demand products, you will have to connect these providers with other platforms or marketplaces.
Here is a small summary table with the integrations each company offers:
From what you can see, Printful outperforms Printify in number of integrations, offering a wider range of integrations.
Production and shipping times: Printful vs Printify
Another key aspect of Print on Demand is to choose a reliable and serious Print on Demand provider that meets production and delivery times.
We have worked directly with both companies and we can assure that they are serious and very reliable, although they have some different aspects between them.
As we have previously explained, Printify depends on external manufacturers. This means that the company does not have direct control over the production process and package shipping. In this regard, it should be noted that Printify establishes strict guidelines with partner manufacturers. Generally, production and shipping lead times are good. As for international shipments, turnaround times are longer and this may be perceived by customers as a "worse service".
On the other hand, Printful has its own manufacturing facilities, so it can control the entire production and shipping process with greater guarantees. Turnaround times are very good since they have factories on all continents.
All in all, in terms of production and shipping lead times, Printful would rate slightly higher than Printify.
What other Print On Demand options are there?
There are many other Print On Demand companies that may be good options to consider. Below, you can see three interesting options:
Gelato
Gelato is a POD supplier with a smaller product range, but with a very remarkable quality. Production times are very reliable and the price range of their products is medium. It has a wide production network.
Sellfy
Sellfy is another good option as it is a complete solution that includes the software to create your online store and Print on Demand services. They offer about 100 customizable products, their prices are competitive.
Summary and conclusions
In our opinion, and after working first-hand with both companies, we can assure you that both Printful and Printify are the best Print On Demand providers you can find in the market. It is difficult to choose one of them, because depending on the type of e-commerce project you are going to carry out, one or the other may suit you.
If you are looking for a high quality partner with fast delivery and you are targeting a market of any size (especially the international market), Printful may be the best partner for you.
On the other hand, if you are looking for a competitive price and you are targeting a more specific market (a country or regional market) then your best partner may be Printify. If you are selling globally I would not recommend this option as much due to customs and longer delivery times.
We hope you found this article helpful. If you have any further questions please feel free to leave your comments below 😉
Want to Learn More?
Frequently Asked Questions