Nowadays, developing an e-commerce business is much simpler than it was years ago. In recent years, we've seen that the possibilities for developing an online store and setting it up to run on autopilot have improved dramatically. If you're thinking about getting started in the print-on-demand business, and you want to read the most extensive Printify review, you've come to the right place 😏
Review of: Printify
Price: Free (installation)
Registration: You can Sign Up for Free. Offers a premium subscription for lower prices
---
Rating
Features: 9/10
Ease of use: 9/10
Help and support: 7/10
Overall Score: 8.3/10
Pros
✔️ Very competitive prices
✔️ Good production and delivery lead times, except for international shipments
✔️ A broad range of products (more than 400 products)
✔️ Large network of manufacturers
✔️ Orders can be managed automatically
Cons
❌ To enjoy the discounted prices, a premium subscription (USD 29/month) is required.
❌ Longer shipping times to sell internationally
Summary
Printify is a Print On Demand (POD) platform established in 2015 by James Berdigans and Artis Kehrisque that offers Print On Demand services.
Printify has surpassed 4 million customers and manufactures more than 300,000 products per month.
The company also has the largest network of "non-owned" Print On Demand factories, with more than 100 partner production sites around the world.
Online stores based on Print On Demand are growing fast all over the world as they allow you to sell customized products without the need for machinery, product inventory and warehousing. These factors are key for many designers, artists and entrepreneurs to be able to sell their designs without having to deal with a large infrastructure.
In this article we are going to make a complete analysis of Printify, one of the best Print On Demand companies to give you our opinion after having worked first hand with this supplier.
Let's get started with this in-depth Printify review! 😉
What is Printify and How Does it Work?
Printify is one of the most popular companies offering Print On Demand services. The company was established in 2015 by Janis Berdigans, Artis Kehris and Gatis Dukurs. Since then, Printify has surpassed 4 million customers and produces more than 300,000 products per month.
It also stands out for having more than 100 production partners around the world. Its main competitive advantages are the low prices compared to other POD companies and its huge product catalog (more than 750 products) currently available.
The Print On Demand model leaves product manufacturing and logistics in the hands of a third party, in this case, Printify. This means that when you receive an order from a customer, it is automatically sent to the factory, which is responsible for printing, packaging and shipping the product to your final customer.
Unlike other Print On Demand companies such as Printful, which handles the entire production chain, it should be noted that Printify is not a manufacturer, but acts as an intermediary between your business and factories located all over the world. The company has production agreements with more than 100 facilities in the US, Europe, China, Australia, the UK and Canada.
To work with this provider, you only need to sign-up for free and then connect your account with your online store or the marketplace from which you are going to sell. From our experience, Printify is a great partner especially if you are going to sell in a specific country or in a common customs-free market. If you intend to sell internationally you may be more interested in Printful's option as they produce the same products in different continents around the world. I recommend you to read our Printful review.
Company
Product range
Production Facilities
Production Times
Production facilities
Printful
+ 444
17
2-7 days
United States, Mexico, Canada, Brazil, Spain, Latvia, United Kingdom, Japan and Australia
Printify
+ 763

65
2-7 days
Germany, Australia, Canada, China, Slovenia, Spain, United States, Latvia, Netherlands, Poland, United Kingdom and Czech Republic
Gelato
+ 90
130
2-6 days
32 countries – Brazil, Canada, Mexico, United States, France, Germany, Spain, United Kingdom, Australia, China, Japan and New Zealand
⮕ Complete list
Sellfy
+ 90
4
2-7 days
United States, United Kingdom, Canada and Europe
Inkthreadable
+ 250
1
3-5 days
United Kingdom
SPOD
+ 200
4
2 days
United States, Czech Republic, Germany and Poland
Gooten
+ 150
40
2-5 days
United Kingdom, Canada, Brazil, Australia, Czech Republic and Korea
Note: Data are subject to variations
Table updated: June 8th, 2023
Printify Pros
Prices: Prices are relatively low.
Lead times: Good production and shipping lead times, except for international shipments.
Quality: Products are generally good, although there are some deficiencies in products that require DTG printing.
Variety: A wide range of products are available (more than 700 products).
Production: It has a good and growing network of manufacturers located in the USA, Canada, UK, Germany, Czech Republic and China. You can choose the manufacturer by location.
Software: Printify's platform is modern and intuitive.
Images: The tool includes a good quality mockup generator.
Integrations: There is a wide range of integrations with the main Ecommerce platforms and marketplaces.
Printify Cons
Branding: There are limited branding customization options (only neck tags in some cases).
Monthly fee: It is not mandatory to pay for the Premium plan ($29/month), although it is recommended as it implies a 20% discount on all products.
Production: The same products are not manufactured in all facilities, which makes it difficult for you to sell internationally. As a result, international shipments are somewhat slow.
Who is Printify for?
Printify is a good choice for people who are just starting out or for those who have experience in the world of Ecommerce. This company is recognized as one of the best Print On Demand solutions in the market thanks to the more than 4 million customers that trust this brand.
The key to attracting such a high volume of customers is the very low prices it offers. Compared to other POD companies, it is the most competitive in this area. If you are going to sell in a specific country or in a common market (for example, the European Union or the United States) it is a very interesting option.
The Print On Demand model is a good fit for fashion lovers, artists, creative people and entrepreneurs who want to start selling their designs.
Tip: Our recommendation is that you work with reputable Print On Demand companies, not with newly established suppliers in the market. In the POD market it is very important that you find a reliable partner for the development of your Ecommerce business. Avoid Chinese POD companies because although they offer better prices, they have much slower shipping, more problems with returns and customs complexities.
Printify Products You Can Sell
As mentioned before, Printify is not a manufacturer. It is an intermediary that reaches agreements with different factories based on quality and production criteria.
Currently, this is the print-on-demand site with the largest product catalog. These are the main categories and custom products that you can sell:
Men's clothing: T-shirts, hoodies, sweatshirts, long sleeve t-shirts, tank tops, sportswear, leggings and footwear.
Women's clothing: T-shirts, hoodies, long-sleeved sweatshirts, tank tops, skirts and dresses, sportswear, swimwear, shoes and leggings.
Children: T-shirts, sweatshirts, long sleeves and baby clothing.
Accessories: Face masks, phone cases, bags, socks, underwear, hats, baby accessories, mouse pads and others.
Home and decor: Mugs, bottles and glasses, canvases, posters, postcards, ornaments, notebooks, magnets and stickers, home decor, bath towels, blankets, pillows and pillowcases, pet products and kitchen accessories.
Printify does not determine product quality. It is true that they check the quality of their production partners, but this is not something that can be attributed to the company. That depends on the quality of the suppliers you choose to print your designs. A positive aspect is that you have more than 65 factories you can choose to work with.
Tip: Before you start selling with any Printify partner, you should place a sample order to check the quality, delivery times and the full service they offer.
Printify Best-Selling Products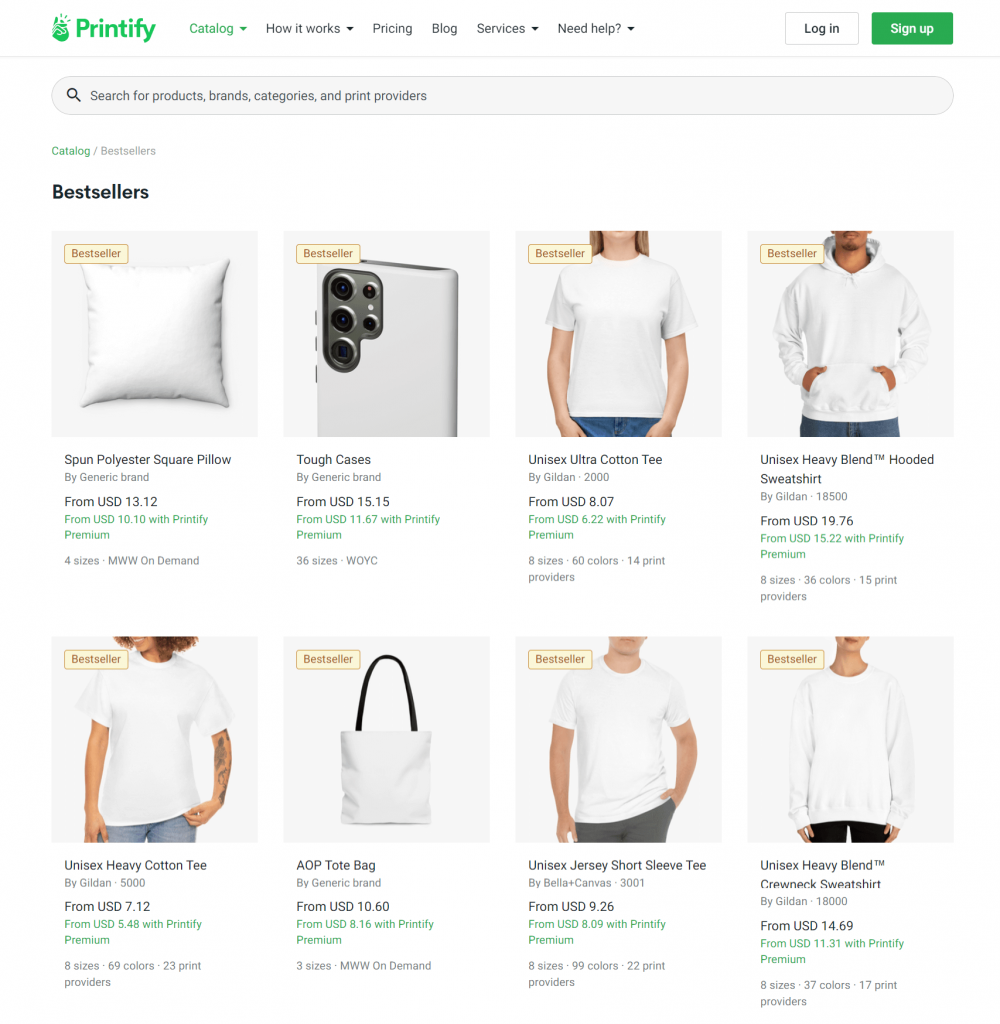 Printify's best-selling product group in September 2022 was apparel. It accounted for 62.38% of all items sold. In Printify's Top 10 best-selling items, four are different types of t-shirts, and two are sweatshirts. You can see Printify's best-sellers list at any time on the official website.
In the following table, you can see which have been Printify's best-sellers in September 2022.
| Product Name | Sales Volume (%) |
| --- | --- |
| Unisex short sleeve t-shirt – Bella Canvas 3001 | 25.32% |
| Unisex thick cotton t-shirt – Gildan 5000 | 20.55% |
| Unisex sweatshirt – Gildan 18000 | 5.84% |
| Kiss-Cut stickers | 3.76% |
| Unisex hooded sweatshirt – Gildan 18500 | 3.41% |
| Softstyle unisex t-shirt – Gildan 64000 | 2.54% |
| Men's cotton t-shirt – Next Level 3600 | 1.99% |
| Cloth mask | 1.90% |
| Premium matte vertical posters | 1.83% |
| Mug 11 oz. | 1.23% |
Data extracted from Printify.com
Printify Pricing
When partnering with any POD company, it is important to consider the pricing of plans, products and shipping. These are important elements for pricing your products and knowing what your profit margins will be. Let's talk about these aspects.
1. Printify plans
Printify has three different plans for the use of the platform that you can check in the pricing section.
On the one hand there is the Free plan that simply requires your registration and you can start using it especially at the beginning. You only have to pay for each order you place with the factory.
Secondly, we have the Premium plan which is the one we recommend the most. This plan has the main advantage that for $29/month you can have a 20% discount on most Printify products. This plan allows Printify to have more stability and therefore gives you access to really unbeatable prices.
Finally, there is the Enterprise plan that allows you to negotiate pricing with Printify only valid for merchants with more than 10,000 orders per day.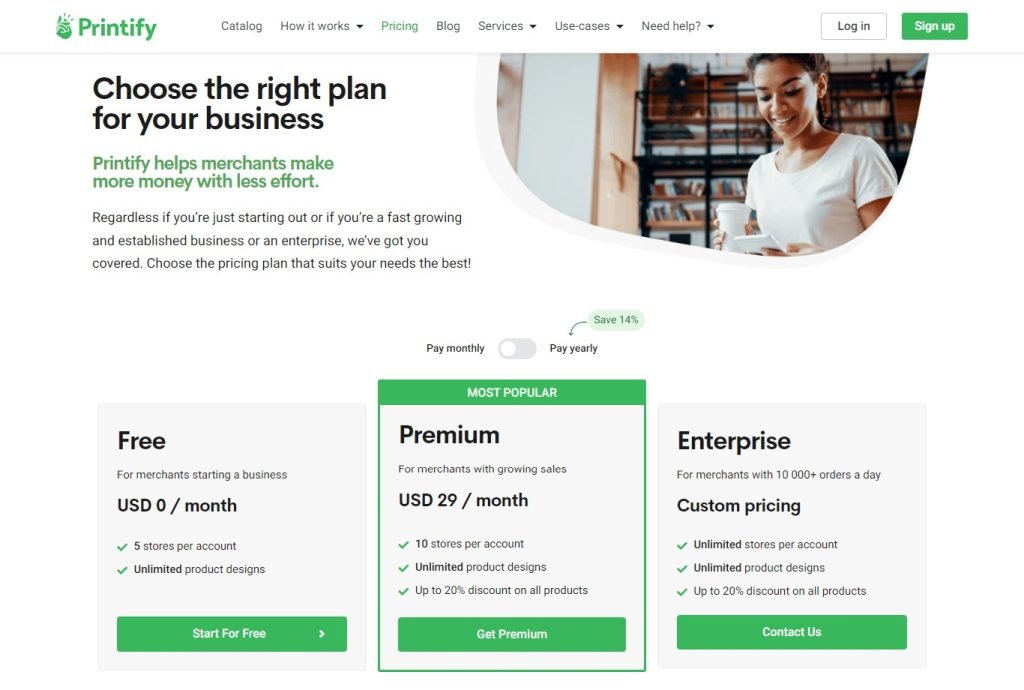 2. Printify product pricing
In this second part we want to talk about the pricing of Printify products.
The first thing to note is that overall, compared to most Print On Demand companies, Printify's prices are the most competitive in the market.
It is true that there are some Chinese companies that offer better prices on products, but we do not recommend you to work with them due to the problems that exist with shipping, customs and product quality.
There are also some factories associated with Printify that are established in China, so we recommend you to consider alternative partners in Europe or the United States.
Below, you can see a table with some examples that illustrate the difference in the price of Printify products depending on the plan you choose:
| Product | Printify Free | Printify Premium |
| --- | --- | --- |
| T-shirts | Starting at $6.31 | Starting at $5.48 |
| Sweatshirts | Starting at $14.69 | Starting at $11.31 |
| Long sleeve t-shirts | Starting at $13.36 | Starting at $10.29 |
| Sneakers | Starting at $27.61 | Starting at $21.26 |
| Women's swimsuits | Starting at $15.75 | Starting at $12.13 |
| Skirts | Starting at $15.06 | Starting at $11.60 |
| Dresses | Starting at $16.60 | Starting at $12.78 |
| Leggings | Starting at $21.55 | Starting at $16.60 |
| Tote Bags | Starting at $6.48 | Starting at $4.99 |
| Mugs | Starting at $4.63 | Starting at $3.56 |
| Posters | Starting at $3.25 | Starting at $2.51 |
| Canvases | Starting at $8.01 | Starting at $6.17 |
Prices of Printify products in U.S. dollars. Shipping costs are not included.
Table updated on February 13, 2023.
3. Printify shipping rates
Printify's shipping prices depend on the partner company you work with.
As mentioned earlier in this review, Printify, unlike Printful, does not have its own factories. That is why shipping costs are set by the partner factories. If you want, you can visit the shipping rates section and there you will be able to see the costs established by each company.
Finally, we show you a comparative table of shipping prices of the main POD companies:
Company
Monthly Fee
Price ranges (Apparel)
Price ranges (Others)
Shipping Prices
Printful
$0 – 49
$9 – 60

$7 – 45
Starting at $4.20
Printify
$0 – 29

$6 – 60
$3 – 82
Prices set by the associated factories
Gelato
$0 – 99
$6 – 30
$4 – 88
Starting at $6.25
Sellfy
$29
$12 – 58
$2 – 37
Starting at $3.50
Inkthreadable
$0
$8 – 88
$5 – 45
UK: starting at $2.64
Europa: starting at $7.25
USA: starting at $8.81
SPOD
$0
$8 – 65
$2 – 17
Starting at $4.50

Gooten
$0
$9 – 60
$20 – 330
USA: starting at $3.49
International: starting at $6.99
Note: Some price variations may occur. Prices in US dollars.
Table updated: June 8, 2023
Printify Integrations
Integrations make it possible to unify the different aspects of an online store.
These integrations are important and useful to ensure that orders are synchronized between the Ecommerce software and the POD company's software.
That's why Printify offers integrations with the most popular tools and marketplaces, so you don't have to worry about it.
In this comparison table you can see the integrations available between the main Print on Demand companies and the most popular e-commerce platforms.
Note: Certain variations in integrations may occur. Last update: February 10, 2023
Printify shipping and production times
Printify's production time varies depending on several factors, such as the time of year, product stock status and the size of the order placed. In most cases, orders are produced within 2 to 7 working days after the order is placed.
Printify also provides an average production time for each product and manufacturer based on data collected over the last 30 days. You can find this reflected in each product sheet.
On the other hand, you must take into account several factors that affect shipping times:
Factory location
Product destination
What is the shipping company
In the shipping rates section you can see the list of Printify print providers. There you can see both the shipping costs and the estimated delivery time depending on the place where the shipments are sent.
Tip: Our recommendation is that you choose a supplier located close to the market you are targeting, to reduce shipping times. If you are targeting the international market, it is more complex. You would have to look for a supplier that ships internationally in optimal timeframes.
Best Printify Alternatives
Printify may be the best option to work with your POD store because of its competitive prices. It stands out as a great Print On Demand provider, although it is not the only one in the market that offers quality services.
Among our favorite Printify alternatives, you can find other brands such as Printful, Gelato, Sellfy, Inkthreadable, Gooten or SPOD among others. From our experience, the best tools on the market are Printful, Printify and Gelato.
Printful is one of the most consolidated options in the market. This is perhaps the largest Print On Demand company in terms of volume of customers and orders processed to date.
It has a very solid infrastructure and organization as well as a very broad product range. Their main advantage is that they have their own factories on all continents, except Africa, so they can control the entire production process. They also have some associated production centers that allow them to provide a better service.
⮕ Read our Printful review
Gelato is a high-growth company that wants to become the leading Print On Demand company. The company that offers highly original products at reasonable prices generally below Printful.
Compared to other services, Gelato does not have such an extensive product range as they have a product catalog of around 100 units. It should be noted the quality of their products and the ease of use of their platform.
Summary and conclusions – Printify Review
In our opinion Printify is one of the best (if not the best) Print On Demand company you can work with. It is a reliable company that stands out for offering the best prices in the market. Printify can be a good travel partner for your POD business.
Among its most negative aspects it is worth mentioning that it does not have its own factory network, so they do not directly control the production process. What they do is to reach agreements with third party companies that will manufacture your products.
This company is a great choice if you are going to target a specific market (a country) or a specific commercial region that allows you to avoid potential problems with customs and shipping times. If you plan to sell internationally, you may value Printful as a better solution.
If you have any questions about this Printify review, let us know in the comments below 😉
Frequently Asked Questions