As marketers, entrepreneurs or small business owners, we are constantly looking for ways to make a good impression on our website visitors. Splash pages are unusual tools that can help you improve your online presence. But what exactly is a splash page, how can they be used in your digital marketing strategy, and what makes them effective?
In this comprehensive guide, I'll explain everything you need to know about splash pages, covering their features and their potential impact on your website's performance. Grab a pen and paper and let's start breaking down these types of pages to help you understand how they can improve the user experience and boost your brand identity 😉
What is a Splash Page?
A splash page is a type of landing page that users reach before accessing the main content of a website. This is basically a start screen that is often used for users to set their navigation preferences, to promote a new product or service, or to guide visitors to specific sections of a website.
A well-designed splash page can help attract and retain user attention, reinforce brand identity and improve the user navigation. In general, it is important that the design and implementation is well planned in order to add functionality and efficiency to the website.
On the negative side, splash pages can disrupt the user experience, cause frustration to users and increase the website's bounce rate. In addition, splash pages can also have implications for search engine optimization (SEO). They could potentially negatively impact results in the major search engines if they lack substantial content or proper keyword usage.
🏆 Best Splash Page builders:
Splash Page vs Landing Page
Having explained the concept, it's time to know the differences between splash pages and landing pages.
Splash pages and landing pages differ in their purpose, structure and level of user interaction. Understanding these differences is essential to analyzing whether splash pages fit your specific marketing objectives.
If we focus on the user experience, a splash page works as an interruption, while a landing page is where the visitor intentionally lands to get more information about a product, service or offer. To help you understand what the main differences are, we have prepared this table below.
Differences between Splash Pages and Landing Pages:
| | Splash Page | Landing Page |
| --- | --- | --- |
| Purpose | Provide initial information, disclosures or set preferences before entering the main website | Provide detailed information and drive users toward a specific action or conversion, such as a sale or registration |
| Content | Minimal content, with brief messages, language selection options, age verification or promotional information | Detailed content focused on a specific product, service or offer, with key information, benefits and call to action (CTA) |
| Call to Action | Usually a subtle CTA to confirm preference selection, explore an offer or skip the step | Often several explicit and prominent CTAs are used to get the user to convert |
| Navigation Options | They do not usually exist. Sometimes elements are added that allow skipping the step | They are usually limited or eliminated to avoid distractions |
| Design | Often simple and straightforward, aiming to not distract from the main objective of entering the website | Usually more complex and strategic |
| Use of Media | Minimal use of media, often with a simple graphic or logo | Extensive use of media, including high-quality images, videos, and infographics to convey the message |
| Conversion Goal | To guide users to the main website or meet legal and preference requirements | To prompt visitors to complete a specific action like signing up, making a purchase, or downloading a resource |
Splash Page vs Landing Page
So, in essence, the most important thing is to differentiate them by their forms of use. A splash page is an introductory screen, designed for a brief interaction, while a landing page is a destination with specific marketing objectives, designed to encourage the user to complete a desired action.
Anatomy of a Splash Page
There is no standard way or specific how-to guide for creating a good splash page, as it depends on many factors. Each page is unique, as it must satisfy the needs of the users who land on it.
In this section we will break down the critical components of splash pages and also highlight the delicate balance that must be maintained between appearance and usability. Each element will be discussed with special attention to its purpose and best practices for implementation.
Whether you are a web designer, marketer or a curious reader, I hope this analysis will provide you with valuable insights into the elements you can incorporate into your page.
Creating a compelling splash page involves various components, each contributing to the overall user experience and goal conversion. Let's take a look at them below.
List of the key elements of a Splash Page:
Heading: This is usually the first thing that visitors see. Try to use a concise and clear headline and make sure it describes precisely what the user needs to do in order to move to the next screen.
Subheading: As an optional element, you can include a subtitle that provides context or additional details to give the user a clearer idea of what to do.
Visual element: As a visual element you can add a background image, a video or an illustration that represents your brand.
CTA (Call to Action): Splash pages usually have several CTA buttons. They often allow the user to set navigation preferences or go to specific recommended sections. Sometimes a "skip" button is also included, which allows the user to go to directly to the homepage of the site.
Navigation links: These pages often incorporate various links, but they are usually different from the usual website navigation. Make sure they are easy to find and understand.
Logo: Your company's logo should be clearly visible on the splash page. It serves as a form of brand recognition and adds credibility.
Loading speed: The loading speed of your splash page is critical. A slow page can increase bounce rate and visitor abandonment. Make sure it loads fast on the different devices.
Colors and typography: The color scheme and font styles used should align with your brand identity. They play a crucial role in setting the mood and tone of the page, enhancing readability, and drawing attention to key elements.
Note: Among the items mentioned in the list, not all components need to appear on a splash page.
How to create a Splash Page
Creating a splash page is easier than you think. There are several ways, depending on your level of technical knowledge and the time you have available. Below, I will briefly explain the three main ways to do it.
Using a Splash Page builder
This solution is perfect for those with basic to intermediate technical knowledge or for those who want a quick and advanced solution.
Splash Page builders such as Leadpages, Swipe Pages and Unbounce offer an easy way to create these types of pages. These tools include a large number of pre-designed templates that you can customize to fit your brand. You can easily drag and drop elements, add text and images, and integrate your Splash Page with other marketing tools.
Some of these platforms also offer advanced features, such as A/B testing and analytics, which can help you optimize your splash page for better performance.
Using a CMS like WordPress
If you already have a website and use WordPress, or plan to create one soon, you can easily implement a splash page within your website. For this, you will need to install plugins like Elementor or OptimizePress (our preferred option) to build your custom splash page.
This method requires a bit more technical knowledge compared to using a splash page builder, but offers more flexibility and control over your design.
Hiring a Freelancer
The last scenario is that you want to delegate the creation of a splash page to a third party. In this case, you can do it by hiring the services of a trusted digital marketing agency, although the price will be the highest compared to the previously mentioned options.
The other option is to look for freelance web designers. On platforms like Fiverr and Upwork you can find dozens of professionals specialized in creating landing pages at reasonable prices. I invite you to take a look at these sites and in case you find a freelancer who has good skills and customer ratings, you can contact the professional to explain how you want your landing page to look like.
10 Best Splash Page Examples
In this section, we are going to explore some of the best examples of splash pages that have caught our attention on the Internet. These examples highlight different techniques, unique design elements and successful strategies that make these splash pages excellent models that you can use when creating one.
Whether you're a designer, marketer, or business owner looking to improve your online presence, you will probably find valuable ideas in these eye-catching examples.
1. J. K. Rowling
J. K. Rowling is a British writer, film producer and screenwriter very popular thanks to her Harry Potter book series. If you access her official website, you will land on a very striking splash page that gives you two possibilities: access the news and information section or access the section of the published books.
What do we like the most?
Uses two high-impact background images
Call to action buttons use a different and clear message
Uses branding elements such as her handwritten signatures
Visit the splash page: J. K. Rowling
2. Zara
Zara is a world-renowned Spanish clothing and accessories retailer founded in 1975. The flagship brand of the Inditex group, one of the world's largest fashion retail groups, uses a splash page to allow users to select their preferred location and language, before redirecting them to the respective online stores.
What do we like the most?
The background image is stunning and represents fashion perfectly
Displays two drop-downs for easy selection
The CTA is very clear "GO" and indicates to the user that will be redirected
Visit the splash page: Zara
3. Budweiser
Budweiser is a globally recognized brand and one of the best-selling beers in the United States that uses a splash page for users to confirm their age to access the website. It asks for the typical fields of day, month and year of birth.
What do we like the most?
It uses the most prominent elements of the brand, such as the logo and the corporate color palette
The headline asks the user directly about age
The call-to-action button indicates "Enter" so that the visitor already knows that a redirection exists
Visit the splash page: Budweiser
4. Eric Clapton
Eric Clapton is a prominent English rock and blues guitarist, singer and songwriter, known as one of the most influential and important guitarists in history. The official website shows a splash page with three main options: an option to request a pre-order of the latest song, a link to listen to the single on YouTube and the option to enter the website directly.
What do we like the most?
Shows an awesome background image of the new version of the song "Moon River"
Some elements of the image move, including a snow effect that makes the page more dynamic
Three very clear CTA buttons are used
Visit the splash page: Eric Clapton
5. Angry Birds
Angry Birds is a popular video game franchise created by Finnish company Rovio Entertainment. This game full of iconic characters features a splash page where the user is redirected to a section explaining the details of the game and another where the user will be shown a pop-up window to download the game.
What do we like the most?
The background images are eye-catching and are displayed using a slider
The main "Download Now" call-to-action button is displayed in white, while the secondary button uses a dark color that goes unnoticed
The logo gives strength to the brand
Visit the splash page: Angry Birds
6. Rizla
Rizla is a leading rolling paper brand created by the Lacroix family in France in 1796. This historical brand uses two splash pages where the user must confirm country and age to access the company's website.
What do we like the most?
Attention-grabbing headline and clear subtitle
Clear and precise CTA buttons with two options available
The logo is prominently displayed
Visit the splash page: Rizla
7. Crazy Egg
Crazy Egg is a well-known web analytics tool that provides visual heatmaps, scroll maps, and other interactive visual analytics to understand user behavior on a website. The objective of this splash page is to take the user to the registration page in order to convert.
What do we like the most?
A title and a subtitle are displayed explaining the benefits of the tool
The call-to-action message on the button is used to highlight the benefits that registration can bring to the user
Offers the possibility to skip the step and let the user know more about this software
Visit the splash page: Crazy Egg
8. Gap
Gap is a well-known American clothing and accessories brand founded in 1969. When accessing the official website, a splash page appears that geolocates the visitor and suggests a redirection to the U.S. store or to the store based in the visitor's home country.
What do we like the most?
Two attractive background photos are used to represent the brand's business
The text is clear and easy to understand, and explains to the visitor the reasons for the redirection
Clean and minimalist design in line with Gap's brand identity
Visit the splash page: Gap
9. In Pieces
"In Pieces" is an innovative interactive exhibition that creatively merges the worlds of technology, art and environmental advocacy. Using modern web technologies, this exhibition presents a collection of endangered species. After an introduction, a splash page is presented where the user must click on the CTA button to view the exhibition.
What do we like the most?
The creative level of the presentation is amazing
Clear CTA with matching colors and typography
The title and subtitle explain to the user what will be shown in the exhibition
Visit the splash page: In Pieces
10. Getty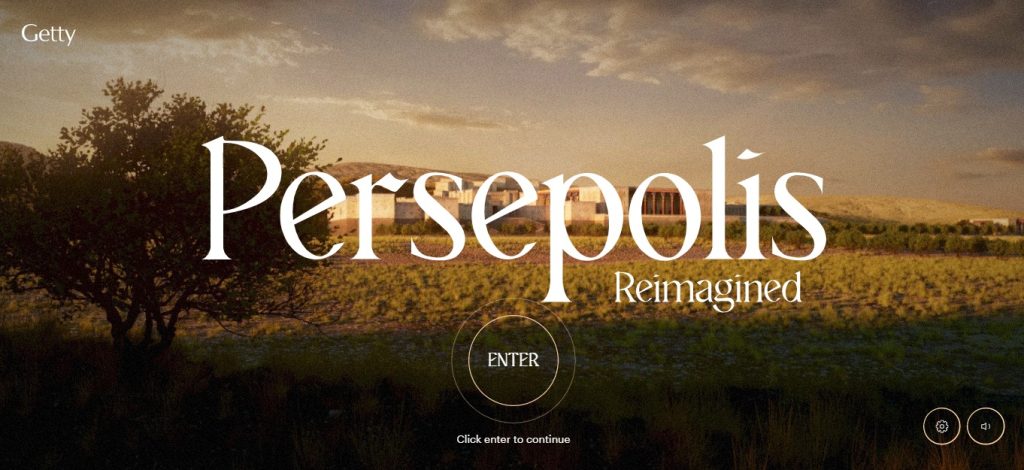 Getty is a cultural and philanthropic institution dedicated to the presentation, conservation, and interpretation of the world's artistic legacy. To introduce Persepolis, the capital of the Persian Empire during the Achaemenid era, they have created an immersive web experience that displays a splash page to start the virtual tour.
What do we like the most?
The splash page serves as the access to the virtual tour
This site is an immersive web experience with an outstanding design
CTA button uses motion effects to attract the visitor's attention
Visit the splash page: Persepolis Reimagined
Tips and best practices for Splash Pages
If you are thinking about creating a Splash Page, this can be a good idea for several reasons.
First, depending on the type of splash page you want to create, it can provide a strong impact on visitors. Since it is one of the first things a user sees when visiting a website, you can design it to instantly grab attention with eye-catching images, engaging animations or a compelling message. This initial impact can be key to keeping users on your site.
These types of landing pages can also help improve the user experience. Consider whether you can increase user satisfaction before they browse and, ultimately, whether you can use them to boost conversions. Therefore, you should first consider whether you need to use a splash page in your online project.
Tips for creating Splash Pages:
Define a clear purpose: Before creating a splash page, you should be clear about its purpose. As mentioned above, you can use it to advertise a new product, guide users to a specific action, collect user preferences or provide a visually appealing introduction to your brand.
Keep it simple: These pages usually have minimal content. Avoid cluttering your landing page with too much information. Keep the design simple and the message clear.
Use a clear CTA button: Be sure to include a clear and compelling call to action. Think that the user should easily understand what to do and what will happen next.
Ensure fast loading times: In general, splash pages tend to have a higher bounce rate. To try to minimize this, it is key that page load times are fast by optimizing images and other elements.
Make it mobile-friendly: As you know, a significant portion of website traffic comes from mobile devices. To prevent users from abandoning, make sure your landing page looks and works on different screen sizes.
Test and optimize: Monitor the performance of your landing page using analytics tools and consider A/B testing different elements to see what works best.
Take care of SEO: If not implemented carefully, splash pages can potentially impact SEO. Keep your content relevant and provide a skip option for those who want to go directly to your homepage.
Having mentioned these tips and best practices, I must re-emphasize the idea that splash pages should improve the user experience, not hinder it. Try to do a complete analysis before launching it.
Frequently Asked Questions
Do splash pages affect SEO?
Yes, splash pages can affect SEO, often negatively. Since splash pages often have minimal content, they can cause search engine ranking problems. In addition, if a splash page delays users from getting to the main content of a site, this could negatively affect the user experience, potentially increasing bounce rates.
What are the best splash page builders?
There are many tools that allow you to create splash pages and other types of landing pages. Some of the most popular ones on the market and with many advanced options are Leadpages, Swipe Pages, Unbounce, and OptimizePress (especially suitable for WordPress users). They stand out for their ease of use and advanced functionalities.
How is a splash page different from a homepage?
A splash page and a homepage have different purposes and contain different types of content. On the one hand, splash pages are pages that the user meets before landing on the website itself. Their main purpose is to create a strong and immediate impact or to facilitate a specific user action before the user enters the main site. On the other hand, a homepage is the main page of a website. It serves as a central hub from which users can navigate to all other parts of the website.
What is the difference between a splash page and a pop-up?
A splash page and a pop-up have different purposes and appear in different contexts within the user's navigation experience. On the one hand, a splash page is a full screen that users see at the beginning when they visit a website. On the other hand, a pop-up window occupies part of the screen and represents a small interruption that may occur at any time during the navigation.