For years now, e-commerce, and especially print on demand, has grown exponentially, becoming a great opportunity for entrepreneurs and retailers. In this article I want to introduce you to SPOD Print On Demand, a company unknown to many people, but which has a great projection.
In this article we want to analyze SPOD, a company that has many advantages and also some disadvantages that should be clarified. If you want to know more about this Print On Demand company, stay with me until the end of the article to know all the details of this SPOD review.

Review of: Spod
Price: Free (installation)
Registration: You can sign up for free
Rating
Features: 8/10
Ease of use: 9/10
Help and support: 7/10
Overall Rating: 8.5/10
Pros
✔️ Competitive product prices
✔️ Production lead times are usually less than 2 business days
✔️ A broad range of products (over 200 products)
✔️ The company offers over 50,000 free designs
Cons
❌ Small number of integrations
❌ Only has factories in North America and Europe
❌ Does not allow packaging customization
Summary
SPOD is a Print On Demand company created 20 years ago by the Spread group, known worldwide for Spreadshirt, an online Print On Demand marketplace. SPOD produces more than 50,000 products per day, and 95% of orders are shipped within 48 hours.
This company stands out for its excellent prices and its extensive catalog of more than 200 products.
In this review, we will take a closer look at SPOD's features and benefits to help you decide if it's the right solution for your business needs. So sit back, grab a cup of coffee, and keep reading to learn more about this exciting print-on-demand company.
What is SPOD Print On Demand?
SPOD is a company that belongs to the Spread group, known worldwide for owning one of the most important Print On Demand marketplaces, Spreadshirt. The company, with more than 20 years of experience in the sector, was created to further professionalize the POD and dropshipping model with the idea of becoming a reliable partner for Ecommerce businesses.
In 2020, they produced more than 9.8 million products and achieved the satisfaction of almost all consumers (99.3%). Another aspect to take into account is that the company has its own factories, something uncommon in this type of companies that often work with external manufacturers. At present, its facilities are located in Las Vegas (United States) and in some European countries, such as Germany, the Czech Republic and Poland. This network of factories allows you to sell with very short lead times in both North America and Europe.
How does SPOD Print On Demand work?
SPOD is an interesting partner for all those entrepreneurs, artists and designers looking to generate income without needing to stock products. This Print On Demand (POD) platform takes care of the entire process that stems from a sale. When you sell a product, SPOD manufactures it and ships it to the final recipient. This means you don't have to worry about manufacturing and logistics. Any problems that may arise from this activity will be solved by SPOD, which offers a pretty good customer service in case you have any problems.
Moreover, integrating this platform with your online store is relatively easy. SPOD integrates easily with major e-commerce platforms such as Shopify, WooCommerce, Magento or Squarespace. To start selling your products, simply register with SPOD, link your online store and start uploading your own designs.
Company
Product range
Production Facilities
Production Times
Production facilities
Printful
+ 444
17
2-7 days
United States, Mexico, Canada, Brazil, Spain, Latvia, United Kingdom, Japan and Australia
Printify
+ 763

65
2-7 days
Germany, Australia, Canada, China, Slovenia, Spain, United States, Latvia, Netherlands, Poland, United Kingdom and Czech Republic
Gelato
+ 90
130
2-6 days
32 countries – Brazil, Canada, Mexico, United States, France, Germany, Spain, United Kingdom, Australia, China, Japan and New Zealand
⮕ Complete list
Sellfy
+ 90
4
2-7 days
United States, United Kingdom, Canada and Europe
Inkthreadable
+ 250
1
3-5 days
United Kingdom
SPOD
+ 200
4
2 days
United States, Czech Republic, Germany and Poland
Gooten
+ 150
40
2-5 days
United Kingdom, Canada, Brazil, Australia, Czech Republic and Korea
Note: Data are subject to variations
Table updated: June 8th, 2023
SPOD Pros
Undoubtedly, selecting a Print On Demand (POD) provider can be a complicated task. Most providers have very good proposals and compete with each other to offer the best services.
These are some of the most important advantages of SPOD:
Variety: It is, without a doubt, one of the suppliers with the largest variety of products along with Printify and Printful. Today you can market more than 200 products through SPOD.
Delivery times: By far, the most differentiating factor of this company. The production of your orders is done in just 2 working days, so deliveries are really fast.
Prices: It is a company with very competitive prices. It is worth noting that the price ranges of the products are between $6 and $26. The use of the platform is free (you pay for each order placed) and is not subject to any subscription.
Ease of use: Its platform is intuitive and designed for beginners. It is very easy to find all the functions and organize your design catalog.
Resources: If you don't work with a graphic designer you can use designs from other professionals. SPOD opens a library of over 50,000 free designs.
SPOD Cons
Of course, all that glitters is not gold. We can also find some problems and inconveniences with SPOD, which you should evaluate.
These are some of the disadvantages of SPOD:
Production: There is no doubt that SPOD is an efficient company, but it should be noted that it only has 4 factories in the United States and Europe. This implies that if you are going to sell in countries outside these markets, shipping times may increase and some packages may have problems at customs.
Integrations: Although you will be able to integrate it with any platform in some cases you will need to have the help of an expert. It has integrations with platforms like Shopify, WooCommerce, Squarespace and Magento. In other cases you will have to use its API.
Branding: It does not allow packaging customization.
SPOD product catalog
SPOD's product catalog is of a medium size, with around 200 products available for you to sell. It is not the company with the most variety, and it is far from Printify the company with the largest volume of products (more than 763 products), but you will find a wide range of possibilities.
SPOD's most important product categories are textiles for men, women, children and babies. SPOD also offers a selection of eco-friendly products made from sustainable materials, such as organic cotton T-shirts and recycled polyester sweatshirts.
In addition to the variety of products available, SPOD stands out for offering a wide range of colors in its textile products, unlike other companies with smaller catalogs. There are also options for different printing methods, such as screen printing, digital printing and embroidery, depending on the product and design.
Below are some of SPOD's most popular products:
Clothing: You have different types of t-shirts (long-sleeve, short-sleeve, sleeveless, strapless…), sweatshirts (with or without hood or zipper), shirts, dresses, pajamas, pants, sports and organic clothing.
Children's items: Bibs, baby outfits, hats, pajamas, t-shirts, sweatshirts, blankets and all kinds of accessories.
Souvenirs: Bags, backpacks, aprons, handkerchiefs, phone cases, stickers, Christmas products, mugs, glasses, caps, socks, stickers, etc.
Stationery: Calendars, notebooks, notepads, posters, canvases, etc.
If you are just getting started in print on demand, SPOD offers a considerable range of products to get you started. You can enjoy the peace of mind that comes with working with a company with over 20 years of experience and backed by Spreadshirt, one of the largest POD marketplaces. Both the quality of their products and their prices are generally good.
SPOD Print On Demand Pricing
With SPOD, forget about paying monthly fees. Its platform and services are available to anyone who wants to open an online store. You will only have to pay for the product when you sell it.
In this section we will analyze the two main areas that affect prices: product prices and shipping prices.
1. SPOD product pricing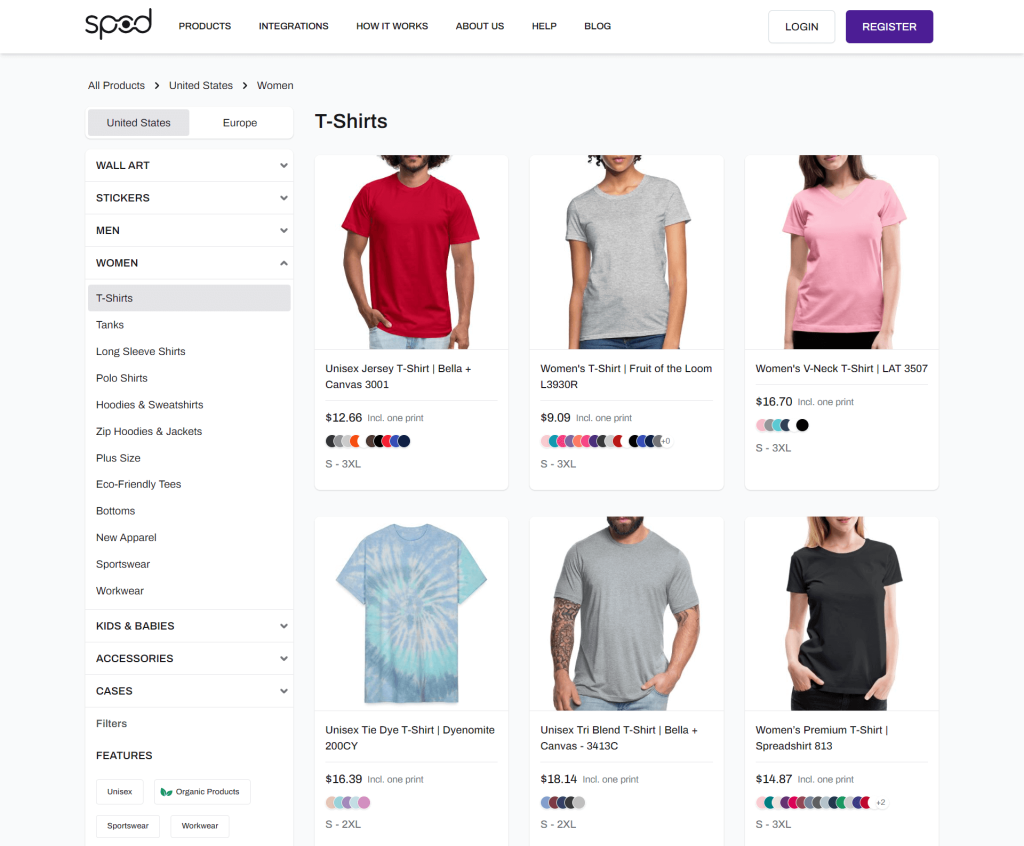 SPOD offers competitive pricing, with t-shirts starting at $8.17 and sweatshirts starting at $20.14. They also offer volume discounts, with lower prices per unit for larger orders.
SPOD's pricing is generally competitive compared to other Print On Demand companies, although prices may vary depending on the specific product and customization options selected. It is always a good idea to check prices regularly as they may change over time. Compared to the leading companies, SPOD's prices are generally lower than Printful's, but slightly higher than Printify.
The following table shows some of the prices of the company's most popular products in order to give you a more detailed idea:
| Product | Price |
| --- | --- |
| T-shirts | Starting at $8.17 |
| Eco-friendly t-shirts | Starting at $14.24 |
| Long-sleeve t-shirts | Starting at $14.59 |
| Sweatshirts | Starting at $20.14 |
| Caps | Starting at $10.85 |
| Baby bodysuits | Starting at $11.68 |
| Baby bibs | Starting at $8.02 |
| Pillowcases | Starting at $10.42 |
| Smartphone cases | Starting at $12 |
| Stickers | Starting at $2.17 |
| Mugs | Starting at $8.11 |
| Cloth bags | Starting at $7.19 |
| Aprons | Starting at $15.76 |
| Socks | Starting at $12.36 |
| Posters | Starting at $8.92 |
SPOD product prices in U.S. dollars. Shipping costs are not included.
Table updated on February 28, 2023.
It is also interesting that you can get a broader idea about the prices compared to other Print On Demand companies.
Below you can see a table summarizing the price ranges of each company.
Company
Monthly Fee
Price ranges (Apparel)
Price ranges (Others)
Shipping Prices
Printful
$0 – 49
$9 – 60

$7 – 45
Starting at $4.20
Printify
$0 – 29

$6 – 60
$3 – 82
Prices set by the associated factories
Gelato
$0 – 99
$6 – 30
$4 – 88
Starting at $6.25
Sellfy
$29
$12 – 58
$2 – 37
Starting at $3.50
Inkthreadable
$0
$8 – 88
$5 – 45
UK: starting at $2.64
Europa: starting at $7.25
USA: starting at $8.81
SPOD
$0
$8 – 65
$2 – 17
Starting at $4.50

Gooten
$0
$9 – 60
$20 – 330
USA: starting at $3.49
International: starting at $6.99
Note: Some price variations may occur. Prices in US dollars.
Table updated: June 8, 2023
2. SPOD shipping prices
SPOD offers several shipping options for its print-on-demand products, and prices vary depending on the shipping method selected, the destination country and the weight of the package.
Many POD companies are not very transparent when it comes to shipping times and rates, and in this regard, the company has created a shipping calculator, which allows you to easily determine how long deliveries will take based on destination and order value.
Depending on the destination country, you can find up to three types of rates. For international orders, SPOD offers several shipping options depending on the destination country: standard shipping, premium shipping and express shipping. Prices vary depending on the shipping method and weight of the package.
Tip: It's important to note that pricing isn't the only factor to consider when choosing a POD company. Other factors, such as product quality, printing technology, shipping options, and customer service, should also be taken into account. Ultimately, the best platform for you will depend on your specific needs and priorities.
SPOD Print On Demand Integrations
Are you wondering if SPOD will be able to link to your online store? Everything points to the fact that you will have no problem integrating this platform. However, there are some things to keep in mind.
SPOD can be directly integrated with platforms such as Shopify, WooCommerce, Squarespace or Magento, as well as with major marketplaces such as Etsy, Amazon or eBay (via a third party app).
It can also integrate with other platforms via its API. However, here comes the downside. Using an API can be difficult for those who do not have enough knowledge. If so, you will have to hire the services of a programmer or IT developer to do it for you.
In the following table you can see the SPOD integrations with the most popular platforms.
Note: Certain variations in integrations may occur. Last update: February 10, 2023
Alternatives to SPOD
If you have reached this section and you still don't know if this Print On Demand provider is the right one for you, don't worry, there are other good alternatives to SPOD.
Although SPOD is a popular and reliable print-on-demand platform, there are other, better-known companies that also have a very solid structure. Let's take a look at some of SPOD's competitors:
Printful is the Print On Demand industry leader by volume of customers and products manufactured to date (over 60 million). The company has its own factories, so it has maximum control over the production process and logistics.
Overall, choosing Printful as your Print On Demand partner can be a good idea for those looking for high quality products, an easy to use platform and fast shipping at low cost.
⮕ Read our complete Printful review
Printify is a POD company that stands as Printful's great rival. It has a large product catalog and offers very competitive prices compared to other companies. Its main disadvantage is that it does not have its own factory network, so it delegates the entire production process to third party companies.
⮕ Read our complete Printify review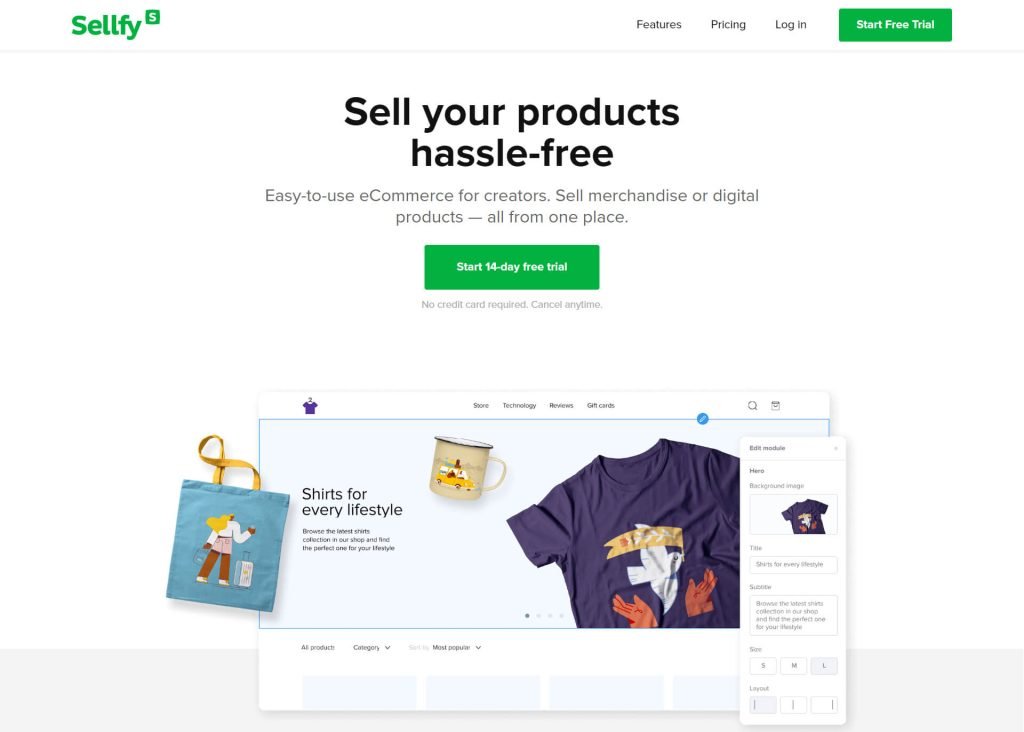 Sellfy is an e-commerce platform that allows you to create your online store and also offers Print On Demand services (within the platform itself). This software allows you to sell physical products, digital products and even subscriptions. It requires a paid membership to use it and the product catalog is somewhat limited.
Summary and conclusions
In our opinion, SPOD is an ideal company for those looking for experience and professionalism at a reasonable price. It is a company that has been in the industry for about 20 years and therefore has the infrastructure and expertise to offer Print On Demand services.
Where we see room for improvement is in terms of product variety and delivery times. It has a medium-sized product catalog and the standard delivery times (the cheapest option) are quite high.
In general, SPOD is a good option, but Printful and Printify can also be good alternatives that you should consider. We invite you to check out our reviews of other print-on-demand companies 😉
Want to Learn More?
Frequently Asked Questions
What are the production and shipping times for SPOD?
SPOD typically produces and ships orders within 2 business days after the order is placed. Regarding shipping times, SPOD offers several options depending on the destination country: standard shipping, premium shipping and express shipping. Shipping times vary considerably depending on the shipping method chosen.
What integrations does SPOD allow?
This supplier can be integrated with absolutely any platform. You can easily integrate it with Shopify, WooCommerce, Squarespace or Magento. In all other cases, you will have to use the API.
Can I sell SPOD products worldwide?
No. There are several countries to which SPOD cannot ship. You can check the complete list of all countries that are excluded.
Does SPOD allow the use of custom labels or packaging?
No, SPOD uses packaging and labels devoid of any branding or brand identification.